MinistryWatch's Top 10 Stories for the Month of July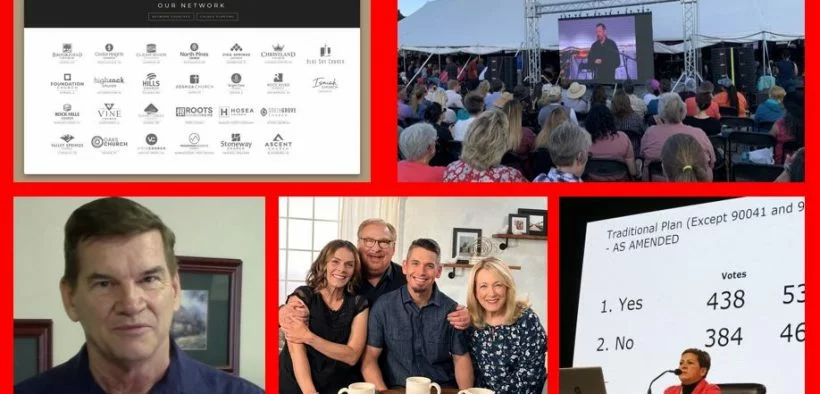 The following stories had the most page views at the MinistryWatch website during the month of July. We present them here in a "countdown" format, from 10 to 1. The first few sentences of each story are reproduced below. To read the entire story, click on the link. To read the Top 15 stories of 2021, click here.
10. Pro-Trump Evangelist Mario Murillo Holds 4-Day Tent Revival in Colorado Springs
Controversial charismatic evangelist Mario Murillo recently finished a 4-day revival, The Living Proof Tent Crusade, in Colorado Springs, Colorado. He was joined by worship artist Catherine Mullins. Each night, he spoke to a crowd of over 3,000 people under a 19,000-square-foot tent temporarily constructed on the property of Radiant Church's North Campus. He told supporters God told him to "get in that pulpit and destroy the witchcraft in Colorado Springs." 
9. Saddleback Elders Say No 'Pattern of Abuse' Found in Investigation of New Pastor
Leaders of one of the nation's largest and most prominent congregations say their new pastor has been cleared of allegations of abuse at his previous church. In June, Andy Wood, pastor of Echo Church, a multisite church based in San Jose, California, was named the new pastor at Saddleback Church and the successor to founding pastor and bestselling author Rick Warren. After the announcement, former staffers at Echo raised concerns about the culture at the church, calling it unhealthy. At least one former staffer referred to Wood as abusive. Questions were also raised about Wood's decision to have disgraced megachurch pastor Mark Driscoll, founder of the now defunct Mars Hill Church in Seattle, speak at a leadership conference Wood runs.
8. NYPD: Preacher, Wife Robbed of $1M in Jewelry During Sermon
A preacher known for his close friendship with New York City's mayor was robbed of more than $1 million worth of jewelry Sunday by armed bandits who crashed his Brooklyn church service, just as he was sermonizing about keeping faith in the face of grave adversity, police said. Bishop Lamor Miller-Whitehead, who embraces his flashy lifestyle and can often be seen driving around the Big Apple in his Rolls Royce, was delivering a sermon at his Leaders of Tomorrow International Ministries when police say three robbers walked in. They showed guns and demanded property from Miller-Whitehead and his wife, Asia K. DosReis-Whitehead, police said.  
7. Monthly List July 2022 – Withhold Giving
Earlier this year, MinistryWatch introduced its Donor Confidence Score. This score is based on the answer to 20 questions that give donors an understanding of the efficiency, effectiveness, and transparency of an organization.  We also ask questions about governance, as well as the organization's commitment to a biblical statement of faith. Organizations that score 65 or above receive a "Give With Confidence" designation from MinistryWatch. Those who score from 40-64 receive a "Give With Caution" designation. Those with a score of less than 40 receive a "Withhold Giving" designation. Today's list includes ministries that fall into the "Withhold Giving" category.  
Access to MinistryWatch content is free.  However, we hope you will support our work with your prayers and financial gifts.  To make a donation, click here.
6. Lawsuit Alleges Miami Pastor Used Church Credit Card to Finance Affairs
Brave Church of Miami and four members of the church's board of directors have been dropped from a lawsuit alleging that its pastor, David Stocker, Jr., engaged in extramarital affairs with at least three members of his congregation and used a church credit card to fund activities, including a trip to New York City. Stocker remains the sole defendant in the case filed May 24 in Miami-Dade Circuit Court by Peninsular Florida District Council (PenFlorida), an Assemblies of God umbrella organization that oversees more than 300 churches, including Brave Church, the Miami New Times reported. The woman he took to New York and on other trips reported him to PenFlorida and provided investigators with hundreds of texts, photos, and videos as evidence. 
5. Watchdog Group Calls for Independent Investigation of Pastor Steve Morgan and 'The Network'
Steve Morgan is the lead pastor at Joshua Church in Austin, Tex., and the leader of a church planting group called The Network. The Network has 26 affiliated churches in the U.S., the U.K., and Taiwan. A former bookkeeper for The Network told MinistryWatch that The Network asks member churches to pay 5% of their income to The Network, and these contributions add up to about $1.5 million a year. But a group called Leaving The Network says all is not well in The Network. They say Morgan was arrested for sexual assault of a minor in 1987, when he was a 22-year-old youth leader for a church associated with the Reformed Latter-Day Saints. Leaving The Network is calling for an independent investigation, as well as for a commitment to publicly release the investigation when it is complete and the development of policies and procedures to deal with sex offenders in Network churches.  
4. Ted Haggard Faces New Allegations, Launches New Church
Ted Haggard, the former president of the National Association of Evangelicals and founder of New Life Church in Colorado Springs who was brought low by a 2006 scandal involving drugs and sex with a gay escort, has disbanded his second church and founded a third congregation after refusing to address new claims of drug abuse, improprieties with young males, and lack of accountability, according to a July 24 story by Debbie Kelley for The Gazette.
3. What Happened to United Methodists' Proposal to Split the Denomination?
It was the thing that was supposed to save the United Methodist Church. The Protocol of Reconciliation & Grace Through Separation, brokered by 16 United Methodist bishops and advocacy group leaders from across theological divides, outlined a plan to split the mainline Protestant denomination over its disagreement about biblical sexuality and, specifically, the ordination and marriage of United Methodists who identify as LGBTQ. But before delegates to the General Conference, the denomination's global decision-making body, could vote on the widely endorsed protocol, so-called traditionalists went ahead and launched a new denomination, the Global Methodist Church.
2. Former Las Vegas Pastor Sentenced to Life in Prison for Shotgun Murders of Elderly Neighbor and Her Friend
Former Las Vegas pastor Andrew Cote has been sentenced to life in prison after being convicted of the murders of his elderly neighbor and her friend. Cote had been engaged in an ongoing feud with the two victims for more than a decade. According to Oxygen, Cote had been a pastor at Iglesia Bautista de Fe y Amor, which shares a facility with Mountain View Baptist Church in Las Vegas. The victims were 71-year-old Mildred Olivo and her 54-year-old friend Timothy Hanson. 
More than 100 churches are suing the Florida Annual Conference of the United Methodist Church to immediately disaffiliate from the denomination. The lawsuit comes amid a slow-moving schism in the United Methodist Church largely over its stance on biblical sexuality and the ordination and marriage of its members who identify as LGBTQ. And, according to the head of a new, theologically conservative Methodist denomination that recently split from the United Methodist Church, it likely won't be the last.