MinistryWatch's Top 10 Religion News Stories of the Year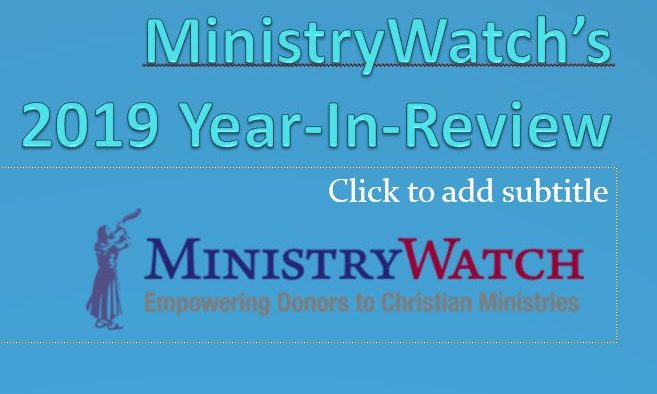 Here is MinistryWatch's list of the Top 10 religion news stories of 2019. 
LifeWay

 Closes All Stores/CBA Goes Out of Business
Acting president and CEO of LifeWay Brad Waggoner announced the "difficult" decision to shut down all brick-and-mortar LifeWay Christian Stores in the United States.  He said it was part of a new retail strategy focused on digital channels "which are experiencing strong growth." The first LifeWay stores opened in 1891, and they sold Bibles, books, Scripture reference tools.  LifeWay is the second Christian retail chain to close due to changing consumer behavior; Family Christian Stores closed all locations in 2017. The combination of the closing of LifeWay and FCS has resulted in the loss over 400 Christian retail locations in the last two years.  In a related story, the Christian Booksellers Association went out of business.  The CBA was established in 1950. 
Christian Relief Workers Step Up During Dorian, Tornados

 
The most powerful storm to hit the Bahama Islands in recorded history, Hurricane Dorian slammed into the northern Bahamas on Sept. 1 with sustained winds of 185 mph. It unleashed flooding that reached up to 25 feet in some areas. Officials reported 67 deaths, hundreds missing, and $3.4 billion (about a quarter of the nation's annual economic output) in damage.  On March 3, killed 23 people in the small town of Beauregard, Alabama.  What these disasters and many others have in common is that Christian groups stepped up to provide aid.  Samaritan's Purse, Convoy of Hope, and many others were part of both the initial and ongoing response to tragedy there and elsewhere.  Christian ministries are suffering credibility problems in this country because of the bad behavior of a very few ministry leaders, but we should not forget the work that Christian ministries do day in and day out to "love their neighbors" and preserve and repair the fabric of our culture. 
8.  Hong Kong Arises – and A Hymn is their Rallying Cry 
Widespread protests began in June over a proposed extradition bill that would have sent people from Hong Kong to mainland China to stand trial. Protests continued after Hong Kong's Legislative Council withdrew the bill in October as demands grew to include greater autonomy for the territory. In local elections on Nov. 24, pro-democracy opposition candidates gained control of 17 of 18 district councils and won nearly 90 percent of the 452 seats.  "Sing Hallelujah To The Lord" became the unofficial anthem of the protests.  The song was written by Linda Stassen in 1974 as part of a music composition class. 
7.  Impeachment Politics 
Led by U.S. Rep. Adam Schiff, D-Calif., House Democrats began a process to impeach President Donald Trump over what they say were attempts to use aid to pressure Ukraine into investigating political rival Joe Biden and his son's work in that country. In a GOP report, U.S. Sen. Marsha Blackburn, R-Tenn., argued that the Democrats had not proven their case: "They don't like the president, so they're going to try to boot him out of office."  Whatever the causes or motivations for the impeachment, it was nonetheless an historic event, one of the biggest stories of any kind of the year, and the role evangelical ministry leaders played in the "spin" of the impeachment proceedings will impact those ministry leaders for years go come.  By year-end, support for Trump among evangelicals, which up until now has been rock-solid, was starting to show signs of wear. 
Christianity Today Editorial

 
The timing of Christianity Today Editor Mark Galli's editorial about Donald Trump was impeccable.  Perhaps it was because it released on a slow news day after the hangover of weeks of impeachment hearings.  Or maybe it was because this is the sort of story the mainstream media loves to cover:  Evangelicals eating their own.  Whatever the reasons, Galli's editorial immediately provoked response.  A group of 200 evangelical leaders signed a letter denouncing Galli, and another (though much smaller) group of leaders quickly signed a letter supporting him.   
Decline of the Boy Scouts of America

 (and the rise of 

TrailLife

 USA)

 
The Boy Scouts of America (BSA) is not a Christian ministry, but it has been an indispensable part of the fabric of American life for a century, and thousands of churches and ministries have worked with the Scouts since 1910.  The Scouts have been in decline for decades, but this year saw a quick series of dramatic events.  Among them:  Significant declines in membership, unsustainable financial losses, the near doubling of membership fees in a desperate attempt to stem the flow of red ink, and the mortgaging of Philmont Scout Ranch, the organization's valuable asset.  The good news is that other organizations, including the distinctively Christian-based TrailLife USA, has risen to stand in the breach left by the BSA. 
#

ChurchToo

 Movement

 
Sexual abuse in the church has become a "front and center" issue.  Rachael Denhollander's book What Is A Girl Worth? has played a major role.  But so have exposes in "The Houston Chronicle" about sexual abuse in the Southern Baptist Church.  A conference in Dallas hosted by the SBC called "Caring Well" moved the conversation forward dramatically.  Church leaders including Boz Tchividjian (Billy Graham's grandson) and Kay Warren have helped to raise the visibility of this issue in the church. 
Chick-Fil-A Changes Giving Policy
Chick-Fil-A Foundation's decision to change its giving policies was indicative of a relentless campaign by LGBTQ and other secular activists to banish the expression of Christian ideals from public conversations.  But Chick-Fil-A's story is particularly instructive and egregious.  Not only did they stop giving money to long-established Christian organizations such as the Salvation Army and the Paul Anderson Youth Home, the CFA Foundation gave money to the Southern Poverty Law Center, which has done more than perhaps any organization in American to demonize Christian groups.  For many long-time Chick-Fil-A supporters, the move felt like a betrayal. 
James MacDonald

D

isqualified 

for 

M

inistry

 
Former pastor and radio preacher James MacDonald is no longer fit for ministry, said the elders of Harvest Bible Chapel, the megachurch MacDonald founded in the Chicago suburbs in 1988.  In a statement released Nov. 3, the church elders found MacDonald was prone to anger, "had a pattern of improperly exercising positional and spiritual authority over others to his own advantage," and sought to profit from the church's ministry.  "Because of these findings, James was biblically disqualified from the position of Elder, meaning he did not meet the spiritual standards to which a Harvest Bible Chapel Elder is held," the statement read. "The Bible does not teach that disqualification from ministry is permanent; however, with the scope of the damage caused by his behavior, James will not be able to serve again as an Elder or Pastor of Harvest Bible Chapel."  MacDonald was fired by the church's elders in February for conduct "contrary and harmful to the best interests of the church," after months of controversy.  This story is more about the credibility of the church and the need for the church to reform itself, by God's grace, of course.  It's also a hopeful story about how that is beginning to happen. 
 

The Persecuted Church

 
We saw a significant increase in Christian persecution in the past year, according to the group Open Doors.  According to the group's World Watch List, the most difficult countries for Christians are:  North Korea (1), Afghanistan (2), Somalia (3), Libya (4), Pakistan (5), Sudan (6), Eritrea (7), Yemen (8), Iran (9), India (10) and Syria (11).  Another group, Release International, said more than 200-million Christians face violence or persecution for their faith. 
Honorable Mentions: 
Stories that almost made the list include:   
Transgender athletes

 taking over women's sporting events

 

Kanye West, Justin Bieber, and others using their celebrity status to talk about faith

 

Death of Rachel Held Evans

 

Josh Harris

, author of "I Kissed Dating Goodbye"

 abandoning his 

marriage and his 

faith

 

United Methodists strengthen ban on LGBT clergy and 

same-sex marriage, and the 

Western Conference declares a "safe harbor" of LGBT clergy

 

Continued "Rise of the 

Nones

."  

A 2019 Gallup poll finds only about half of Americans have ties to a house of worship, down from 69 percent two decades earlier. A Pew Forum polls says 26 percent of Americans are now 

"

Nones

,

"

 or those identifying with no religion.