Chick-Fil-A's Truett Cathy Helped Give Paul Anderson Youth Home Its Start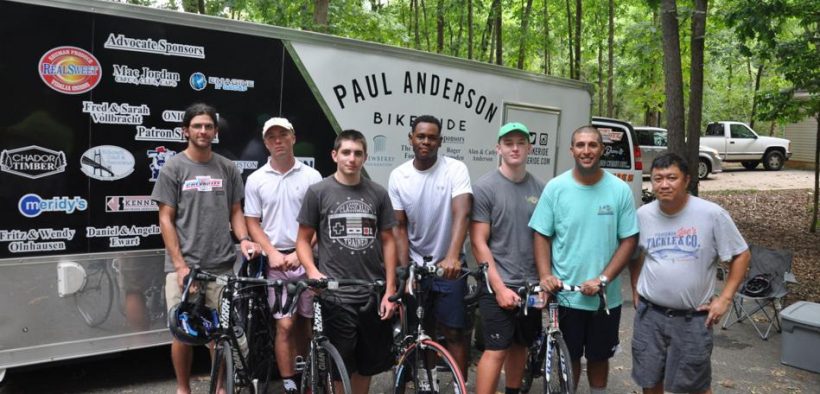 When Paul Anderson won a gold medal in powerlifting at the 1956 Melbourne Olympics, he became a global celebrity.  This sport had been dominated by the Soviet Union in international competition, and Anderson's defeat of the Russians – and everyone else – became a Cold War symbol.
Anderson became known as "the strongest man in the world," and he used his celebrity status to travel the world and talk about his Christian faith, often combining his testimony with feats of strength.  Men and boys responded powerfully to his display of "muscular Christianity," so Anderson would often speak and perform his feats of strength in "reformatories" that housed both youth and grown men together.  Anderson was appalled by this arrangement, and dreamed of a Christian youth home that would take boys out of these situations.
Speaking in the south Georgia town of Vidalia, a town best known for its sweet onions, he shared his dream with some of the organizers of the event.  Local leaders said they would give him 50 acres if he would make his dream come true there, and in 1961 the Paul Anderson Youth Home was born.
Anderson had a penchant for publicity.  One of his first publicity stunts was to ride a bicycle from Vidalia to Omaha to generate publicity – and money – for his fledgling ministry.  One of his first stops was just south of Atlanta.  He stopped at a restaurant called The Dwarf House, run by a young restaurateur named Truett Cathy.  Cathy had heard of Paul Anderson.  Everyone had.  He was also taken by Anderson's dream, so he gave Paul Anderson 25 dollars.
"It was the first gift to the Paul Anderson Youth Home," said Steve Leonard, a spokesman for the PAYH.  It was also the beginning of a long and fruitful relationship between Paul Anderson Youth Home, Truett Cathy, and the restaurant that The Dwarf House evolved into:  Chick-Fil-A.
"Truett Cathy served on our board for many years," said Leonard.  "He and Paul had a close relationship, and Truett was one of our strongest supporters."
Leonard would not comment on Chick-Fil-A's recent decision to drop Paul Anderson Youth Home from the list of ministries it supports.  "We loved Truett and continue to love and pray for the entire Cathy family," Leonard said.  "They've been very generous to us over the years."
Instead, Leonard said, the ministry is focused on the future.  After a couple of years of financial struggle, "The Lord has blessed us with a good year," and PAYH remains committed to serving youth.
Serving youth at PAYH takes place in small groups.  No more than 20 young men, aged 16 to 21, are in residence there.  Most of them arrive with drug or alcohol problems.  Many start out not wanting to be there, but realize that the alternative is jail.  The average stay is 18 months, which is long enough for real transformation to occur.  The vast majority of the residents – more than 90 percent, according to Leonard – become drug-free and finish high school.  They either graduate from PAYH's accredited high school, or they complete their GED.  Many go on to college.  Some take advantage of PAYH's vocational training in plumbing and electricity.
For years, Leonard said, PAYH charged no fee.  Today, families pay up to $3100 per year, a fee that includes room, board, and tuition for the school.  The annual budget for Paul Anderson Youth Home depends on the year, but in recent years has typically been between $1.5- and 2-million.  (To read the full MinistryWatch report on Paul Anderson Youth Home, click here.)
Among the annual fundraisers for PAYH:  an annual 500-mile bike ride each summer to commemorate the ride in which Paul Anderson and Truett Cathy met for the first time.
It's also worth noting that just because Chick-Fil-A dropped corporate funding of Paul Anderson Youth Home, that doesn't mean PAYH will stop receiving all support for Chick-Fil-A.  Billy McClarnon plans to make sure of that.
Thirty years ago, in 1989, a 16-year-old Billy McClarnon was facing a 20-year prison sentence.  A judge gave him a second chance at PAYH.  Billy McClarnon got clean and sober, accepted Christ during his time there, and today he operates his own Chick-Fil-A restauarant in Florida.  He is a member of the PAYH Board of Directors, and is what PAYH calls a "GateKeeper," a monthly financial supporter.  (You can watch a short video in which Billy McClarnon describes his time at PAYH here.)
"Paul Anderson Youth Home gave me a second chance, hope, a family, and the Holy Spirit," McClarnon said.  "They saved my life."