MinistryWatch Enhances Financial Efficiency Rating Formula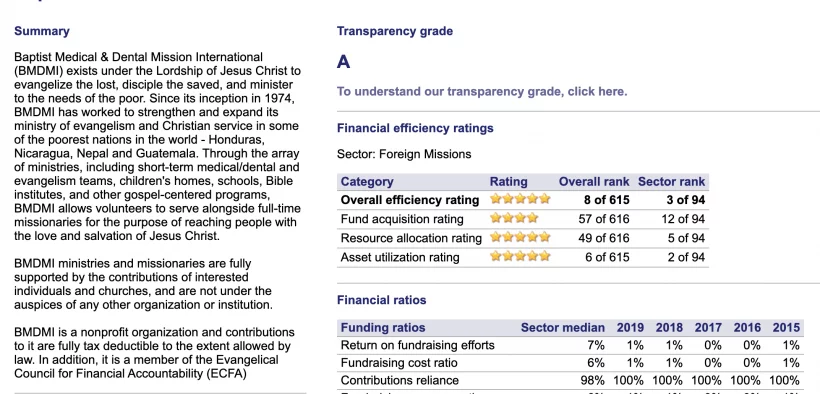 MinistryWatch has enhanced its Financial Efficiency Rating so that ministries will be rated in comparison to those in its peer group, and not in comparison to every ministry in the database. The formulas at the heart of the rating system, however, remain unchanged.
The effect of this change will be a truer "apples-to-apples" comparison of the ministries in the database, leading to a more accurate portrayal of the financial efficiency of rated ministries.
"The MinistryWatch Financial Efficiency rating has been a part of the MinistryWatch database from the beginnings of the ministry in 1998," said MinistryWatch founder Rusty Leonard.  "And it has served donors well.  This improvement makes the Financial Efficiency Rating even more helpful to donors"
This revision was made possible by the rapid growth in the number of ministries in the database over the past year.  The MinistryWatch database now has financial data for more than 630 ministries, representing nearly $28-billion in donations.
Warren Cole Smith is the president of MinistryWatch.  He said, "Until recently, we didn't have enough ministries in the database to allow rankings by ministry category.  Now we do, and it will be easier to see how similar ministries compare to each other.
Much of the rating system will remain unchanged.  (You can read how MinistryWatch arrives at our rankings here.)  The top 13 percent of ministries will receive a 5-star rating, but now the 5-star ministries will be the top 13 percent in each ministry category.
Smith said, "The net effect will be very little change in the total number of ministries receiving 5 stars, but some re-shuffling.  We have determined that about a third of the ministries in the database had their ratings impacted."
Certain categories, such as relief and development ministries, tended to have a preponderance of high ratings because of higher than normal levels of cash and in-kind donations in relation to the physical infrastructure needed to support those groups.  On the other hand, those organizations with lots of assets – such as colleges and universities and Christian camps – were often relegated to the bottom tiers of the MinistryWatch rating system even though they might be operating efficiently relative to others in their peer group.
"No rating system is perfect," Smith said.  "However, we believe that the MinistryWatch Financial Efficiency Rating, plus our Transparency Grades, give donors powerful tools to help them become more effective stewards of the resources God has entrusted to them."