Ministry That Said Bible "Miraculously" Produced Oil Has Shut Down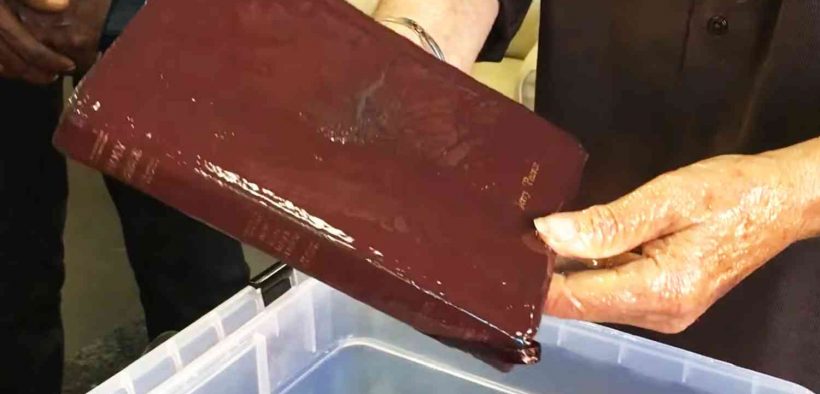 A ministry centered around a Bible that "miraculously" produced oil has shut down following an investigation by the Chattanooga Times Free Press that tied one of the ministry's leaders to large purchases of mineral oil.  
Jerry Pearce of Georgia-based ministry His Name is Flowing Oil was identified by clerks at a local Tractor Supply Co. store as a regular customer, purchasing gallons of clear mineral oil that looked similar to the oil that Pearce said flowed from his personal Bible.  
His Name is Flowing Oil began in 2015 when several Dalton residents witnessed oil running down the walls of a prayer room, according to the Times Free Press. The oil allegedly began flowing from Pearce's Bible a year later. 
Some people claimed they were healed of illnesses and addictions when the oil-producing Bible touched their forehead at prayer meetings.  
Although Pearce said the oil only flowed when the Bible was in Dalton, the ministry traveled around the country handing out more than 350,000 vials of the liquid.  In recent months the ministry visited churches in North Carolina, Maryland, California, Pennsylvania, Michigan, and elsewhere.  Future events scheduled for North Carolina, Arizona, and Tennessee have been cancelled. 
When the Times Free Press took samples of the "Bible oil" to University of Tennessee at Chattanooga for analysis, scientists found it was nearly identical to the mineral oil sold at Tractor Supply Co., Discrn reported.  
Pearce said the oil stopped flowing in early January, and that ending the ministry had nothing to do with the investigation, which started about the same time.  
The church where His Name is Flowing Oil held its meetings has told the group it is no longer welcome, according to the Times Free Press.