Megachurch Pastor John Ortberg Kept a Family Member's Attraction to Children Secret

Secrets Ultimately Revealed by Ortberg's Daughter Mallory, Who Now Identifies as a Transgender Man Named Daniel Lavery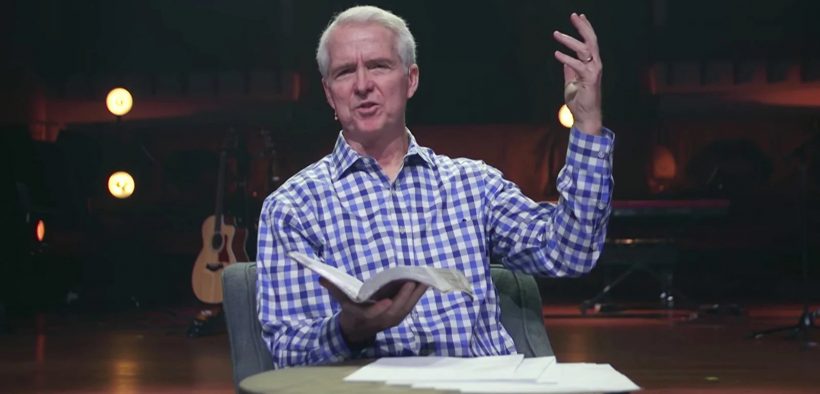 Editor's Note: Some of the references to Daniel Lavery have been changed to match MinistryWatch's editorial policy when referring to transgender people.
In the summer of 2018, a volunteer at Menlo Church came to the Rev. John Ortberg seeking help. 
The congregation member, who volunteered with youth and children at the Bay area megachurch and in the community, had been experiencing "an unwanted thought pattern of attraction to minors" and needed the pastor's support.
After hearing this admission, Ortberg asked if the volunteer had ever acted on that attraction.
The volunteer said no.
Once Ortberg was convinced the volunteer was telling the truth and was not a danger to others, he prayed for the person and offered a referral for counseling and then allowed the volunteer to continue working with children.
In what Menlo Church's elders would later call "poor judgment" and a betrayal of trust, the megachurch pastor did not notify the church's staff of the volunteer's admitted attraction to minors.
He did not notify the church's elder board.
He did not suggest the volunteer stop working with children – in fact, the pastor and his family encouraged the volunteer in his work as a coach of an Ultimate Frisbee team for high school students.  
Instead, Ortberg, the lead pastor of Menlo, kept what he had learned about the volunteer secret from his congregation. 
Especially the volunteer's name: John "Johnny" Ortberg III, the pastor's youngest son. 
But nothing in a church or in a family stays hidden forever.
Concerned about the safety of children in the church and her brother's well-being, Johnny's older sister Mallory, who now identifies as a transgender man named Daniel Lavery, revealed the elder Ortberg's actions in an email to Menlo Church leaders in November 2019 and made a public break with her parents.
The controversy that ensued tarnished the reputation of the father, who'd built a career as a friendly, nonconfrontational evangelical pastor who had mostly avoided culture war battles while promoting seeker-friendly evangelism and conservative values of family and sexuality.
Before coming in 2004 to Menlo Church, a San Francisco-area congregation of about 5,000, John Ortberg and his wife, Nancy, had been teaching pastors at Willow Creek Community Church, one of the nation's largest churches, in the suburbs of Chicago. 
In 2014, Menlo left the Presbyterian Church (U.S.A.) to join a breakaway denomination called ECO, A Covenant Order of Evangelical Presbyterians. The church cited theological differences in the break, which came after years of dispute in the PC(U.S.A.) over sexuality, and paid close to $9 million in order to keep its property.
After the initial Menlo investigation, the Rev. Ortberg took a leave of absence and was reprimanded by the church in early 2020. He underwent a brief restoration process. Then Ortberg, a popular speaker and evangelical leader who played a key role in drawing public attention to allegations of misconduct against Bill Hybels, the legendary founder of Willow Creek, returned to the pulpit and the church hoped to move on.
Lavery wrote in her initial 2019 email that she hoped Menlo's leadership would conduct a "robust, thorough inquiry" into the matter. But in June, believing the church had failed to do so, Lavery posted the email to the church elders — this time revealing Johnny Ortberg's name — on social media.
The revelation that the volunteer was John Ortberg's son raised many questions that remain unanswered. And a group of critics — including Lavery, church members, a former friend of the Ortbergs and others — hope public pressure will cause the church to conduct what they call a more thorough investigation.
Last November, church elders hired an employment lawyer named Fred W. Alvarez, a partner at Coblentz Patch Duffy & Bass LLP, to look at the concerns raised by Lavery. A spokesman for the church's elder board described Alvarez as a respected investigator. Alvarez's official bio describes him as an employment lawyer whose practice focuses on defending employers but lists no expertise in working with churches or abuse.
The church also barred the volunteer from working in its children's ministry and said the volunteer no longer has a role at the church. Church leaders do not expect the volunteer to have any future role at the church, according to a spokesperson for the elders.
The younger Ortberg has also ended his role in volunteering with the Ultimate Frisbee team. 
Since the church wanted the investigation to be independent, with no ties to their pastor, church leaders did not contact GRACE – a leading evangelical group whose name stands for "Godly Response to Abuse in the Christian Environment" — because the group's founder had previously worked closely with the Ortbergs in their efforts to investigate the alleged misconduct by Hybels. The Willow Creek founder, who denied any misconduct, resigned in 2018, followed by most of the church's leadership. An outside panel found that the allegations against Hybels were credible.
Alvarez's investigation, which lasted about six weeks, included interviews with children's ministry staff — past and present — and a review of volunteer records. According to the church elders, the investigator found no allegations of misconduct.
The investigation closed just after Christmas. Church elders reprimanded the Rev. Ortberg for poor judgment and sent him through a "restoration program" that included apologizing to staff.
John Ortberg returned to the pulpit in March, with a sermon titled "Lessons Learned on Leave."
A Brief Investigation 
Lavery – who has cut ties with her family since coming out as a transgender man — was not convinced by the investigation.
According to the church's elders, the investigator did not speak to any parents whose children had contact with the volunteer. The investigator did not speak to any other volunteers who worked alongside the younger Ortberg.
The investigator did not speak to any outside group where the volunteer had a role working with children. During interviews with staff, the investigator did not ask specifically about the volunteer's conduct or reveal there were any concerns about the volunteer.
A spokesman for the church's elder board also told RNS that the investigator decided not to interview the volunteer, deeming it unnecessary.
In addition, the church's elder board repeatedly refused to reveal the volunteer's name, citing confidentiality concerns, describing the person only as someone who was part of the church community and never as someone who had direct family ties to leadership.
"We did not disclose the name of the volunteer during the investigation due to the confidentiality requirements of an ongoing investigation. Once the investigation closed, the results found that there was no indication of wrongdoing," the church's elders told RNS in a statement.
That decision left both congregation members and other organizations where the younger Ortberg had volunteered in the dark, said Jimmy Hinton, a pastor and child abuse prevention advocate.
"In situations like this," Hinton said, "what the leadership needs to realize is that they have the benefit of being in the know and the power to keep everybody else in the dark. And that's a dangerous, dangerous situation for any parent who has a child in that congregation."
Hinton, whose own father, a former pastor, was convicted of abuse in Pennsylvania, said church leaders are often blinded by friendship when it comes to investigating concerns about the pastor or members of a pastor's family.
He does not know if there was any misconduct at Menlo Church. But he sees a great risk that needs to be investigated.
"I think all of us who are not members of that congregation can see this," he said. "Every decision that they made was a really bad decision. We can see that clearly because we're not friends with them. We don't know these people. We're just looking at the facts that are in front of us."
Still Keeping Secrets?
Even Lavery said she knows of no specific instances of misconduct by her brother. Yet given the scope of her brother's work with kids — which included years of mission trips to Mexico — Lavery believes a lengthy and thorough investigation should be in order. That kind of review cannot be done quickly.  "I don't know how you can investigate 16 years of volunteer work in about five weeks over the Christmas holidays," Lavery said.
Johnny Ortberg served for years as a coach with the Gunn Control, an Ultimate Frisbee team made up of students from Henry M. Gunn High School in Palo Alto, California. In November 2019, he sent a note to team members saying he had stepped down because of a family crisis. They received no other information, said Michael Tao, who was team captain for two years.
Tao, who is 18, told RNS in a series of emails that he had seen tweets on social media about his former coach and called them "quite unbelievable." A team member for four years, he said he never saw any inappropriate conduct.
"In the years that he has coached my teammates and me, not only has he been an excellent coach, but also a great person who everyone could share a laugh with," Tao said. "Now I am not refuting the condition which Johnny has, but am putting out there that he is a good person who has never acted on said condition, which Twitter is making it out to be."
Shannon Mather, whose son played with Gunn Control, said she received no information from Menlo Church. She said her son has never expressed any concerns about his coach.
Still, she was angered by the church's handling of the situation and especially at the Rev. Ortberg.
"His silence and secrecy put my child in harm's way," she said. "He was in an admittedly horrible, untenable position and he made the wrong choice."
Lavery said she did not want to name her brother but ultimately felt she had no choice. She believes the church's elders and his father have worked primarily to protect their reputations, rather than finding the truth.
"I'm not naming Johnny out of malice, but he cannot be trusted to set the terms of his work with children," Lavery said.
Lavery also said her father urged her to remain quiet, out of fear that Johnny might harm himself if he were cut off from contact with children.  John Ortberg has denied this allegation, saying he has never considered his son a threat to himself or others.
In an email to RNS, the father expressed both his confidence in the church's investigation and his regret for his actions.
"I am deeply sorry for my shortcomings in handling this situation, and for not fully considering the legitimate concerns of our congregation and my responsibility to ensure the safety and security of everyone who comes through our doors," Ortberg said in the statement. "When my son first spoke to me, I should have immediately asked our church elders for counsel and I should have exerted my full influence to ensure that he did not volunteer again at any event with children and youth."
The pastor also said the church had "extensively investigated" the situation and found "no misconduct or allegations of misconduct towards anyone in the Menlo Church community."
He said he also urged anyone who had knowledge of wrongdoing to report it to authorities. Menlo Church elders have made a similar statement.
"Again, I am deeply sorry about my poor judgment and acknowledge that I betrayed my sacred trust as Senior Pastor," he said in the statement.
Ortberg declined to answer a question about whether he remains fit to serve as a pastor or spiritual leader, saying decisions about his future lie in the hands of ECO and the Menlo Church elders.