Falwell's Use of NASCAR Owner's Yacht Comes Under Scrutiny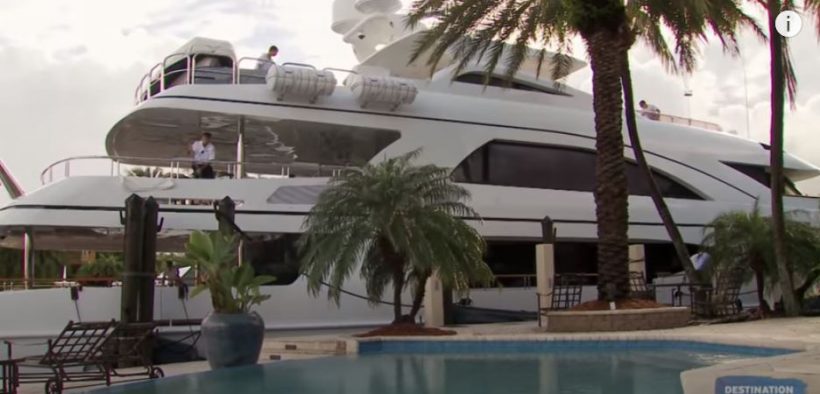 A key reason for Jerry Falwell, Jr.'s departure from Liberty University was an Instagram photo showing Falwell with his pants unbuttoned, on a luxury yacht.
According to Politico, the yacht is owned by billionaire NASCAR team owner Rick Hendrick.  Falwell's family has been using the yacht for family vacations since Liberty University committed to a lucrative sponsorship deal with Hendrick Motorsports.
Though coverage of Falwell's suspension and ultimate resignation from Liberty focused on his personal behavior, the board of trustees said it will launch an independent audit of Falwell's tenure that will include financial dealings, including the NASCAR sponsorship.
Liberty has sponsored a car with Hendrick Motorsports since 2018.  Neither Liberty University nor Hendrick Motorsports has announced the size of the sponsorship, but an annual sponsorship typically costs millions of dollars.   Occasionally the public gets a peek at the cost of these sponsorships.  For example, court filings about the contract later obtained by ESPN indicate Farmers Insurance paid Hendrick Motorsports $8 million for a similar NASCAR team sponsorship.  According to Politico, "a Liberty employee familiar with the university's contract with Hendrick Motorsports said the sponsorship payment varies slightly by year but amounts to roughly $6 million annually."
If Falwell and his family made personal use of Hendrick's yacht as a result of or as a condition for the sponsorship, the relationship raises a number of ethical and potentially legal problems, including the possibility of what the tax code calls "private inurement," which occurs when an officer of a non-profit receives an excessive, undue, or disproportionate share of benefits from a transaction.  Such transactions could be illegal outright if they can be proven to be bribes, or they could – at a minimum – be subject to taxation by the recipient as income. 
Rick Hendrick has a net worth estimated to be about $1-billion.  He made most of his money as the owner of car dealerships.  He also has had a long relationship with Liberty University.  He has spoken at the school's commencement, and his company helped start an auto dealership management program at its business school.
Hendrick has also had previous run-ins with the law regarding under-the-table deals.  When Honda cars were in demand, in the 1980s and 90s, Hendrick gave hundreds of thousands of dollars, automobiles, and houses to American Honda Motor Company executives in exchange for preferred treatment, including increased automobile allocations for his dealerships. Hendrick pled guilty to mail fraud charges and was sentenced in December 1997 to a $250,000 fine and 12 months' home confinement.  He avoided prison time because at the time he had leukemia.  During his trial, he told the court he "may only have a couple of years to live."
Soon after his home confinement period ended, he announced that his leukemia was in full remission, and has remained so ever since.  Despite the fact that the district attorney prosecuting Hendrick called his wrong-doing a "serious crime," Hendrick was granted a pardon by Bill Clinton in 2000, weeks before Clinton left office.
Hendrick's yacht is known for its opulence.  Called "Wheels," it is 164 feet long and has a list price of $35-million.  It also has, according to a promotional video for the vessel, six bedrooms for guests, marble bathrooms, three wet bars and three separate sun decks."  According to Politico, "It carries jet skis, 15 drop-down televisions, and a 19th century dining table made out of North Carolina walnut in its formal dining room, according to a promotional video and brochure for chartering the yacht."  It rents for $200,000 per week.
A Hendrick Motorsports spokesperson told POLITICO that use of the yacht is not part of Hendrick Motorsports' agreement with Liberty University.  According to Politico, "A Liberty spokesperson declined to answer questions about whether use of the yacht was in any way related to the sponsorship agreement."