Faith Comes By Hearing Grows Steadily, Makes Progress in Reaching People with Audio Bible Recordings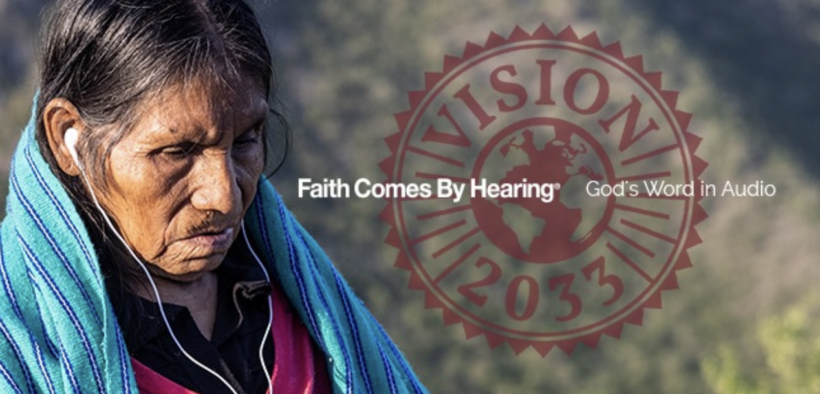 Even during a global pandemic, Faith Comes by Hearing (FCBH) has grown in its support and reach.
The ministry, founded in 1972 as a Christian audio tape lending library by Jerry and Anet Jackson, is working to "record and provide the Word of God in every language that needs it." Today, it provides audio devices with the Bible pre-loaded onto the devices to countries around the world.  It also provides SD cards and other digital storage devices that allows people to listen to the Bible with or without internet or phone connections.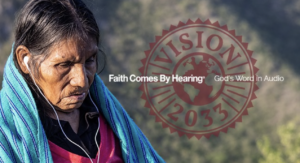 Since 2017, its assets have steadily increased, from $35 million to $63 million.
"In the midst of the COVID-19 pandemic, which dramatically impacted the Audio Bible programs, God has grown Faith Comes By Hearing in getting His Word in every language that needs it not only financially, but in an exponential growth of our Bible listening/watching programs," FCBH spokesperson Deana Day told MinistryWatch in an email.
Over the last five years, FCBH's revenue has grown by 9.5% annually, its assets have grown by 13.4% annually, and its program expenses have grown by 10%.
One driver of that growth appears to be FCBH's partnership with The John Ankerberg Show. Ankerberg regularly features FCBH on his program.  Ankerberg's viewers have donated millions of dollars for audio bibles while also raising the profile of the ministry.
Day added that nearly half of the ministry's assets—$31 million—is the value of the audio recordings of the bible it has produced. They are amortized over an expectant life of 20 years, Day explained.
The ministry's audited financial statement explains that FCBG "incurs substantial costs in developing, recording and mastering indigenous language Bible recordings that are to be sold or distributed. The benefits of those expenditures are not realized until future periods."
Because of that, "all direct and applicable indirect costs of developing and acquiring the Bible recordings are capitalized. Based on experience and research of other organizations performing similar functions, such costs are amortized over 20 years on the straight‐line basis."
Access to MinistryWatch content is free.  However, we hope you will support our work with your prayers and financial gifts.  To make a donation, click here.
At fiscal year-end 2021, FCBH had nearly $23 million in cash assets. Day said most of those assets—$16.8 million—are restricted. The other $6 million in cash assets are kept in reserve to cover approximately four months of ministry expenses.
The majority of ministry revenue is received at year end and thus is restricted to be used for the next year's expenses, Day noted.
In FY2021, FCBH had $18.3 million in expenses.
Faith Comes by Hearing has a donor confidence score of 69 from MinistryWatch, a rating that indicates a donor can "give with confidence." It has a "C" transparency grade because it is not a member of the Evangelical Council for Financial Accountability (ECFA), but it does file a Form 990 with the Internal Revenue Service and publishes audited financial statements on its website.
According to Day, FCBH is not a member of the ECFA because it is "ecumenical not evangelical only." She told MinistryWatch, "We work with Protestant and Catholic churches/people/ministries across the world."
MinistryWatch has rated FCBH with 4 out of 5 stars for financial efficiency. Its asset utilization rating is only one star.
ROI Ministry identifies Faith Comes by Hearing as one of its Top 10 Ministries that "are doing the most for the kingdom of God" so that Christians can be sure their dollars are making a difference.
It particularly identified the Sharing Audio Bibles in Ukraine and Eastern Europe program as effective for reaching 12,500 people at a cost of $41,619.
About 5 years ago, in 2018, FCBH established a Vision 2033 plan to join with other Bible translation ministries to "Finish the Task" of providing God's Word to all the world's people groups in their own language.
When they began the task, there were 4,397 languages still to record. So far, it has completed and released 1,759 language recordings, with 152 scripture recordings finished in 2022. Sixty of those recordings were in Asia and 49 were in Africa.
It uses a variety of methods to accomplish its goals, and it partners with over 700 organizations, such as other translation groups and mission agencies, to produce and distribute the bible recordings.
One of the approaches FCBH has taken to translating the bible is creating oral bible translations that "sidestep the hurdle of having to read and write to translate the Bible."
FCBH says its approach utilizing native speakers and Render software has been critical in making headway in accomplishing Vision 2033.
According to its website, "Render is a software that guides oral communicators in producing oral Scripture for their own language group. One to four audio recordings are pre-loaded into Render to act as references for a new translation. A translator or translation team listens to the reference language(s), translates orally into the target language, and records the new translation in Render."
FCBH continues to innovate in its recording process. According to its Impact Report for 2022, it is releasing a new software recording program this year called Vessel. "Made for our 50 field recording teams, this platform will also serve partner organizations and individuals who have the thirst to record God's Word in their language."
In addition to audio bible recordings, FCBH in partnership with LUMO project has produced a full-length film using the word-for-word text of the Gospels to "provide a multi-language biblical film resource that helps [viewers] engage with the life of Jesus."
The film has been produced in 1,122 languages spoken by 5.5 billion people.