Evangelical Colleges Are Handling COVID-19 Much Like Their Secular Counterparts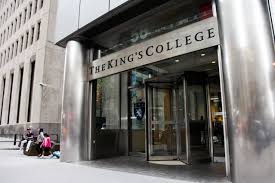 A recent economics class at a small Christian college in Manhattan started much the same as normal, so far as adapting to the coronavirus pandemic has become normal. Students shuffled in wearing masks and sat in seats socially distanced from each other. The college follows a hybrid model, a mix of in-person and online classes. 
Then their professor, Dr. Paul Mueller, removed his mask as he began teaching, against the school's guidelines. Students remained silent until after class, when emails flooded into his inbox. Mueller said in an email that he "felt convicted" that wearing a mask would violate his conscience.
"Even after having a conversation with him over the phone for nearly 40 minutes, I still didn't quite understand why he finds wearing a mask to be a violation of his conscience," said Meg Capone, a student in Mueller's class. "But who am I to ever fully understand someone else's conscience?"
As evangelical colleges grapple with partial reopenings this fall, reports indicate their COVID-19 infection rates remain low or in line with secular colleges and universities, despite concerns of religious gatherings indoors during the pandemic. King's is a school with one active case of COVID-19. The school has only reported one student with the virus since its opening in August. 
And despite concerns about religious freedom during the pandemic and some churches pushing back on restrictions, the largest evangelical colleges in the U.S. are largely following the same coronavirus guidelines, and under similar financial pressures to keep students on campus, as their secular counterparts. 
Colleges like The King's College, Liberty University, Baylor University and Abilene Christian University have all opened up for hybrid education—allowing students to stay at school if they wish and attend classes both online and in-person at limited capacity. 
Each college enforces regular testing for students that feel any sort of symptoms of COVID—mandating that they get tested and isolate immediately. At ACU, if there is a positive case, a John Hopkins University-certified contact tracer interviews the student to gather those who have possibly been exposed to the virus. They are then mandated to quarantine for 14 days and get tested for the virus.
Many evangelical colleges—with and without outbreaks—mandate that students complete a daily check-in to ensure that they are experiencing no COVID symptoms. At The King's College, students are mandated to fill out a COVID campus health screening online. At ACU, students must have regular daily check-ins with the university Medical Clinic. Liberty University also requires a daily health screening for students to enter class. Not all students at Liberty get tested everyday, but the students are tested as needed. Screening services are offered to all students.
Students, staff and faculty have been encouraged or mandated to wear face coverings. They can avoid wearing masks when outside and standing six feet apart, but when indoors, it is greatly encouraged. 
"Classes are probably the safest place for students because masks and social distancing are so well enforced and the library is closely monitored to make sure everyone is masked and not sitting too close," Natalie Newhouse, a sophomore at Abilene Christian University (ACU), said. "We have been holding some larger group gatherings, specifically rushes for Greek life, but masks are well enforced and they all take place outdoors in a large space."
When Newhouse's boyfriend tested positive for the virus, ACU made her quarantine off campus, so she went to her family's home to isolate. The school's on-campus COVID clinic tests students who experience symptoms and contact traces after positive results. 
ACU, with a population of 3,524 students in the 2018-2019 school year, reached its all-time high of 63 active COVID cases as of Oct. 20. This is about 0.01 percent of ACU's current population. Baylor University, another top-ranked Christian university and also in Texas, has reported over 1,191 active cases since Aug. 1, or 2.5 percent of the university's community visiting the campus this fall, according to Baylor. Much of this can be attributed to the university's emphasis on fraternities and sororities, Newhouse mentioned. 
Liberty University, the nation's largest evangelical university, is enforcing similar guidelines for social distancing, but face masks are encouraged, not mandatory. As of Oct. 20, there were 66 total cases among students and faculty, 0.39 percent of the total campus population, according to Liberty. As of Oct. 20 when Liberty's data was last updated, there have been a total of 573 active COVID-19 cases since the beginning of school on Aug. 16. 
As of Oct. 20, there have been more than 178,000 reported positive cases at colleges and universities across the country. 
The majority of schools that are struggling with active COVID-19 cases on campus are state universities like Florida State University with a total of 1,656, 0.04 percent of their university population. The school with the largest number of total cases at 3,888 is the University of Georgia, or 0.12 percent of their entire population. 
The University of Georgia peaked at a nine percent positivity rate among its campus population in late August. UGA Today, the University's news site, stated that the positive case numbers stayed relatively low during the first week of October.
The University of Georgia, despite high numbers of positive cases, continues to do "surveillance testing" on students with and without symptoms. They also enact random sampling of testing on students living on and off campus to ensure safety as secure as possible.
As colleges return to campus with masks and distancing restrictions, churches are beginning to do the same. 
The Bethel School of Supernatural Ministry (BSSM) in Redding, Calif., an unaccredited school connected with controversial Bethel Church is at the center of an outbreak. There have been 274 confirmed positive cases traced back to the Bethel community so far.
Other church communities, though, have been making conscious decisions to slow the spread within their community by mandating masks and social distancing. 
Lillian Brown, sophomore student at The King's College, attends live services at Central Presbyterian Church in Manhattan with her family every week. 
"Before the service, you are required to fill out a health form and register," Brown said, comparing their tactics to those of evangelical colleges like King's. "Originally, they just had one service, but since adding another one, the sanctuary has felt even more spacious." 
Brown said that her church community has done a successful job in "slowing the spread," just like her college. 
"There are definitely risks, of course, when restarting church services, but I think that they are doing everything they can do to make sure people are safe at low risk," Brown said. 
This article first ran at Religion UnPlugged.