Donors Great and Small Declined During 2023 First Quarter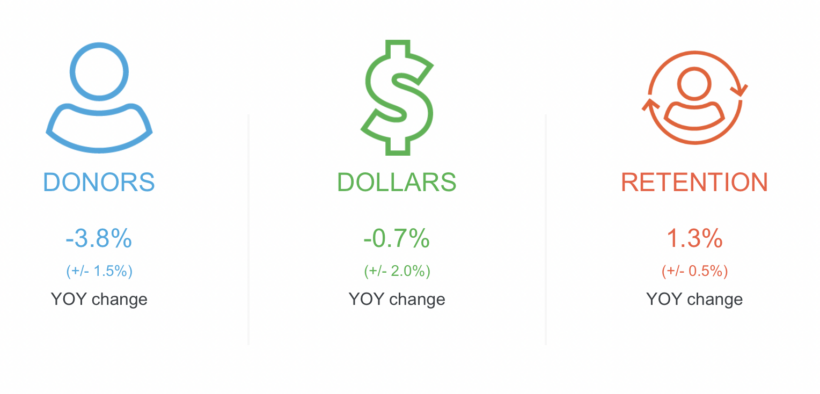 A decrease in both the number of donors and dollars given was evident across all donor types during the first quarter of 2023, with major donors causing an outsized drop in both dollars and donor retention. Paired with a sharp drop in dollars given by new donors, fundraisers need to be prepared for compounded challenges throughout the rest of the year.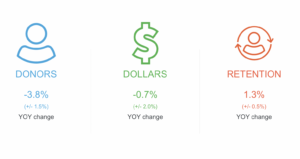 Donor participation dropped 10.8% when not accounting for late data. After adjusting for delays in data reporting (data drift), it is estimated the actual decrease was 3.8%. This was the 7th consecutive quarter of year-over-year decline in donor participation.
According to data in the latest Fundraising Effectiveness Project (FEP) report, the stability of donors who contributed more than $5,000 drove a 69% increase in total donations during the past 10 years. Now these major donors are also demonstrating significant decline, donating nearly 10% less during the first quarter 2023. These donors account for nearly three-quarters of total dollars donated, the data shows.
Decreases in donor participation were driven by low acquisition rates and low retention, analysts wrote in the latest FEP report released today.
Fundraised dollars decreased 8.7%, but after adjusting for data drift it is estimated dollars decreased 0.7% compared to 2022. The data shows all donor sizes had a relative decrease in donations through the end of March. Micro (less than $100) and Supersize ($50,000 and more) donors experienced the largest drop in dollars donated, falling by 13% and 10.9% respectively.
Even though Supersize donors represented a small part of the population (0.2% of donors), they represented a larger share of the total donations (47%) and therefore accounted for 52% of the overall decrease.
Access to MinistryWatch content is free.  However, we hope you will support our work with your prayers and financial gifts.  To make a donation, click here.
While total new donors continue to decline, donor retention has also shown significant weakness at the beginning of 2023. Retention decreased across all donor categories during the first quarter, with recaptured donor retention falling almost 20%. New donor counts fell by nearly 20% and new donors gave 34% less during the first quarter, reinforcing sector reliance on long-standing donors, though that group also declined by 5%.
"The sector's over-reliance on large donors has hit a critical stage," according to Woodrow Rosenbaum, chief data officer of GivingTuesday, who has been warning of the trend for a few years. "With major donors and donations now declining along with all other giving groups, trends are down across the board. But there is still an opportunity to create positive momentum and growth in 2023. Swift adoption of diversified fundraising strategies and broad engagement of grassroot givers can help ensure sector stability through the rest of the year while creating a stronger base for future cultivation."
The data shows that 88.2% of donors give less than $500, driving 94% of the loss in donors. "This is expected because it's the biggest group, but also because there tends to be more volatility in the smaller donor categories," Rosenbaum told The NonProfit Times.
New donors dropped by 19.2%, driving another large decrease in participation. This group accounted for 50% of the topline decrease and represented just 25% of the donor pool. Repeat Retained donors declined by only 5.1%, but as they represented 52% of the donor population, their decline accounted for 23% of the overall decrease.
Retention increased by 0.3% year-over-year, but after adjusting for late data analysts anticipate retention was at 1.3% year-over-year. Year-to-date retention of 2022 donors stood at 17.3% during the first quarter of 2023.
While overall retention increased slightly, it is a bit misleading, according to NEP analysts. As a blended rate, shifts in the donor composition can move the rate in unexpected ways. The larger proportion of repeat donors caused this increase, even though that segment saw a decline in retention.
Donors who made at least seven gifts decreased the least. Donors who have made at least seven donations are a very small category (0.8%) but contribute an outsized portion of donations relative to their size, accounting for 5.8% of dollars, the data shows.
"Donation counts are to a particular organization. A donor must give seven times to the same organization to be in the 7+ donation bucket. So, this is more related to the stability of these loyal to an organization, including monthly donors," said Rosenbaum.
Data in the study is limited to organizations with three years or more of data, with $5,000 to $25 million received in the prior year, via the Growth in Giving database. Data is weighted across size of organization as determined by amount raised, including organizations raising between $5,000 and $25 million.
Data is also weighted by National Taxonomy of Exempt Entities (NTEE) codes utilized by the Internal Revenue Service (IRS) to determine organization type and/or cause. A significant amount of data arrives late, so FEP analysts estimate the difference for top-line metrics by reviewing historical patterns of data drift.
The data for the FEP reports comes from the databases of fundraising software platforms including Bloomerang, Classy, Community Brands, DonorPerfect, Keela, and NeonOne. FEP's partner network also includes data analysis and additional support from DataLake Nonprofit Research and Bonterra.
This article was originally published by The NonProfit Times.