Dollar Dinners at The Overflow Cafe

Due to the needs of COVID, The Overflow Cafe dishes up pay-what-you-can dinners and disciples needy neighbors in downtown Cambridge, Maryland.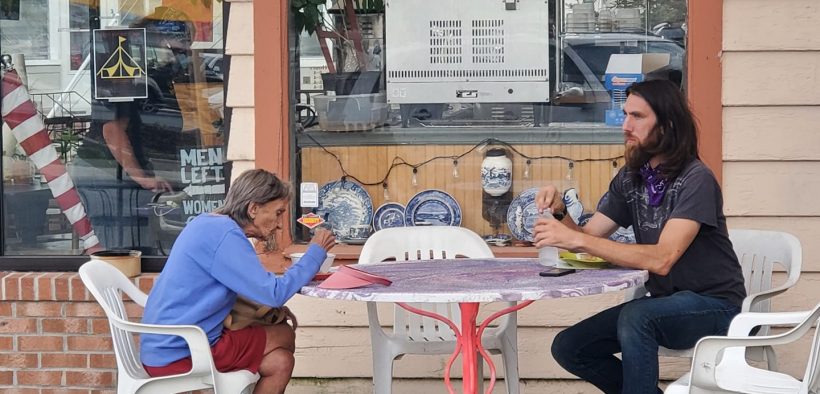 On weeknights at 5:30 p.m., locals can be spotted making their way through downtown Cambridge, Maryland, to a corner cafe with a red-tiled roof for dinner. Instead of ordering from the large chalkboard menu and dining at one of the seven square tables, The Overflow Cafe staff has dinner packaged to-go—social distance style. When the 30 or so regulars pay, the staff reminds them: pay what you can or not at all.
"The impact of what we are doing is feeding people who would otherwise be hungry—helping them stretch whatever money they have a little further," said Dudley Parr, who manages The Overflow Cafe with his wife, Anna. "What we are trying to do is be a fresh expression of church to people who don't go to church. The families who are coming every night for dinner are paying a dollar or two because that is all they got. For many people they don't have anything, so it's free."
Since they started their dinner program, The Overflow Cafe has given away 600 free dinners and  200 more at the rate of $1 per dinner—a total of almost $14,000 of free food. The dinner program was launched in response to the needs the staff saw throughout the neighborhood during COVID-19, Parr explained. They offer pay-what-you-can meals Tuesday through Friday with a fixed menu.
Customer repeats include five neighborhood families and an elderly couple whose wife is suffering from Alzheimer's. The menus are posted and reserved on Facebook and cooked by Anna and other volunteers. In mid December, one of the meals included pork chops, basil macaroni and cheese and green beans with bacon—and the next night featured pork BBQ.
The Overflow Cafe, a non-profit coffee shop and eatery, opened its doors in 2013, the passion project of Pastor Brett Adams of nearby Sunnyside Alliance Church. Adams said in a video interview that his goal was to position a welcoming environment in the middle of a needy part of town, somewhere people could come and have food and talk about faith.
Access to MinistryWatch content is free.  However, we hope you will support our work with your prayers and financial gifts.  To make a donation, click here.
"What I think Jesus asks of us is to be a first-person giver…which demands that I put my life into proximity of…people," Adams said during a video interview. "Why did Jesus say you will always have the poor among you? What if it meant, you will always have the poor among you because you yourself will always be among the poor—among the marginalized, the voiceless, the forgotten…you yourself will go to be with the poor?"
A few months after The Overflow Cafe opened, Adams sought out Dudley and Anna, who were working in the coffee shop scene in the Pittsburgh area after completing seminary at Trinity School of Ministry. Soon, they relocated to Cambridge to run the cafe. None of the staff are paid; it's entirely run on volunteers and donations, Dudley said. The Overflow Cafe was strategically opened at an intersection that's a few blocks from the center of downtown, but on the edge of a neighborhood that's economically diverse.
According to WORLD, Cambridge is a town of 12,300 that boasts a rich Colonial and Native American history, suffers deep racial and socioeconomic divides and lost jobs in the 1960s and '70s. The Overflow Cafe was a finalist in WORLD's 2020 Hope Awards.
While The Overflow Cafe gets foot traffic from commuters, many of their regulars come in with little to no money—which is no issue, Dudley explains.
"You don't have to pay money to get a meal at the cafe," he said. "We pay our volunteers in food and have a handful of people who will volunteer—come pull the weeds or do dishes—folks who know they can come and work for a meal instead of having to beg. They get to maintain some dignity and then we have conversations and really get to know them."
When asked what the Overflow Cafe means to him, a man, sitting outside the Overflow Cafe, wearing sunglasses said: "I have been homeless for a little over three years and I can come here and everything is OK."
One of the regular cafe volunteers was Ruth. Estranged from her family for lifelong drug and alcohol abuse, Ruth had a notorious reputation in Cambridge for her alcohol use. The same time Dudley and Anna moved into the neighborhood to run The Overflow Cafe, so did Ruth. She heard about their prices (sandwiches from $1.50 to $6; a cup of coffee, 75 cents) and the volunteer option and came daily. Soon, Ruth was behind the counter.
"Ruth had spent a lot of time in restaurants and was really good at making sandwiches," Dudley said, adding that several months after joining their volunteer base, Ruth decided to quit drinking, went to rehab and lived with the Parrs after she graduated. "I have a nice little library of theology downstairs. I would be looking for a book and it was gone—Ruth was reading it." This launched their long conversations about theology. "She just ate it up," Dudley laughed.
Ruth's faith was a domino effect, Dudley said. Her drinking buddies often came by, checking on her and shocked she hadn't relapsed. "I baptized two of her drinking buddies last year—they came to faith," Dudley said. "That's the kind of stuff we want to see. We want to make disciples and have disciples make disciples."
For several years, Ruth helped launch AA meetings held in the garage on The Overflow Cafe property five days a week. Last fall, Ruth passed away but was in regular contact with every member of her family at the time. Her impact continues and she is talked about regularly, Dudley said. "She was a tiny woman but her impact is much bigger than her physical stature was," Dudley said.
When not serving up coffee or food, both Dudley and Anna—as well as Seth and Diane Jenkins, partners in ministry at The Overflow Cafe—are present to dish up healthy doses of Jesus, as well.
"It is really pretty simple. We are trying to love the people around us, that they might come to know a saving knowledge of Jesus and live transformed lives," Dudley said. Everyday, Dudley, Anna or Seth and Diane can be spotted sitting indoors or out, Bible open, discussing life and faith over coffee.
A main venue they use to dive into faith conversations is through something they dubbed "Sorta Church." Using the garage so they can social distance and to guard against weather, Dudley, Anna, and six to 18 regulars gather on Sunday afternoons to do Bible studies. Before COVID, The Overflow Cafe also hosted a weekly open mic night and hopes to relaunch them soon.
When COVID hit, the cafe struggled, Dudley said, losing about 75 percent of their business overnight. Initially, instead of about $200 of sales per day (about 40 sales), they were doing well if they made $20 to $50 daily. The team also lost four volunteers. Due to regulations, dining options pivoted from indoors to several tables set 6 feet apart on their patio. The Cambridge weather allowed for some business, but in May the Parrs thought they may have to close shop. All summer they lived day to day, received some big donations (one gift for $10,000 and another for $5,000), launched the dinner program and miraculously, Dudley said, they have kept the doors open.
"My favorite gift was four pennies," Dudley said. "A 6 year old who lives in the house next door wanted to give a donation. She came and said, 'Here I have four pennies.' The widow's mite, if you like."
While local churches supplement the cafe's revenue, the Parrs and Perkins and all staff are volunteers who raise their own support and, according to WORLD Magazine, live in a donated house and drive donated vehicles so the café's budget can cover its rent, utilities, and equipment.
Dudley hasn't always been a man of faith. He grew up an atheist, he says, explaining that he was and is "a science guy," who struggled with the hypocrisy seen in much of modern evangelical Christianity.
"In college, I sat down over the weekend to read the Gospels and then spent 20 years trying to figure out what the heck does this mean, how am I supposed to live?" Dudley said, adding that late in life — in his mid 50s — he felt called to ministry and graduated from seminary. His goal now is to provide hospitality through The Overflow Cafe that leads to real conversations about raw faith and how that translates into living.
"There are a whole lot of people who will never come into church because they feel judgment. Offering somebody coffee or a sandwich or soup, we show hospitality, meet needs and develop relationships with people. You earn the right or privilege to speak into their lives and get down to talk about who is God and who are you? The answer to that question is what changes things," Dudley said.