Doing the Lasting Work of Community Transformation Together

Neighbors in South Dallas fight to remove drug houses with free legal support provided by Act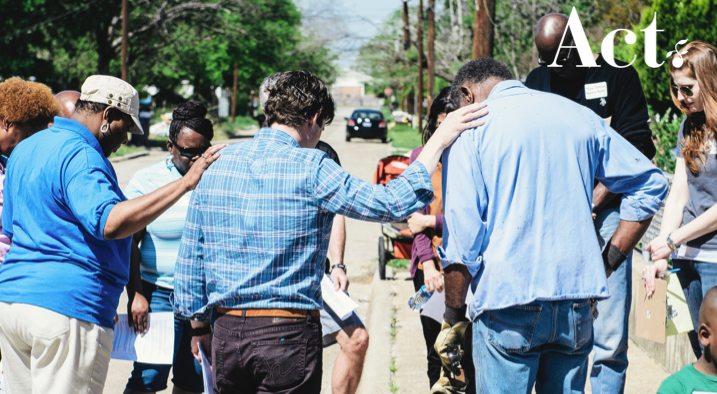 In South Dallas, Texas, Pastor Todd Atkins of Salem Institutional Baptist is what locals call a neighborhood guardian.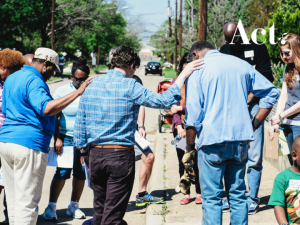 "I have been serving this community for almost 21 years now," he said. He has been a full time pastor at Salem Baptist for more than a decade, though the church itself has been around for 133 years. "We love this community and are not going anywhere. We take care of each other."
Reaching the community can be hard, Atkins explained, because of widespread fear for safety. In one nearby street residents were scared for years to come out of their homes, kids didn't play outside, and no one lingered on their porches—that was, until Advocates for Community Transformation (Act) came onto the scene.
Act is a nonprofit founded by Reid Porter, a 44-year-old pastor's kid with entrepreneurial passion for fighting injustice in the Dallas region, with the mission to make safety a normal reality—no matter the neighborhood. Act does this by pinpointing drug houses and helping neighbors go through the legal process (free of charge) to eliminate them, Porter said.
"Crime spills out into the neighborhood and makes families feel like prisoners in their home. Residents hide under their beds, children are threatened by violence on their walks to school, there is so much fear that is associated with crime," Porter said. "What these residents often have never known is that they have a right as a resident of the state of Texas to prevent the owner of one of these drug houses to continue to allow crime and violence on his or her property."
Access to MinistryWatch content is free.  However, we hope you will support our work with your prayers and financial gifts.  To make a donation, click here.
Because of the free legal work Act provides, that same fear-ridden street Atkins highlighted is no longer a dangerous trap. The drug house was shut down, the renters moved out, and the street transformed, Atkins said.
"The hope and the exploration and the bright eyes I see now, people walking dogs and riding bicycles, is the transformation we have been praying for. That was because of the work Act has done," Atkins said, adding that additional drug houses have been shut down in South Dallas through Act. Development has started pouring in slowly, meaning increased police, lighting, and safety.
Since its launch 12 years ago, Act has partnered with nearly 300 residents to shut down 191 drug houses and educated more than 1,000 locals on their legal rights regarding safety in their neighborhood. In 2016, Act was a finalist in WORLD's annual Hope Awards competition. The Act team estimates that in the 88-square-miles of Dallas where crime is most entrenched, there are 600 more high-impact drug houses threatening the safety of neighbors.
"We estimate that the city as a whole will see and feel a significant difference in crime as a result of these 600 high-impact drug houses being shut down," Porter said. And it's not just the immediate neighboring homes that are affected by a drug house, but the impact usually spreads for upwards of nine blocks, he said, impacting innumerable local residents.
When Atkins first met Act staff seven years ago, they walked the streets of South Dallas to assess the needs of the community. Together they prayed on every street corner and knocked on doors to meet local residents.
"We passed out VBS information and asked people if they wanted prayer, and Act had a survey about problems in the neighborhood," Atkins said. "I was amazed at how many people opened up and told us problems. Act circled back and had one-on-one meetings."
Act's legal services provided to residents are free. "There is a great deal of skin that residents put in the game so-to-speak by engaging with a lawyer and being willing to stand up against the owner of one of these drug houses, so the most important thing is to provide access to free legal care," Porter said.
Porter described the immense fulfillment it's brought him to see families find a new quality of life through Act—families like the Portillos. The Portillo family moved to West Dallas from Central America, searching for a happier life. Little did they know, Porter said, they moved onto a street with multiple drug houses. Their 12-year-old daughter, Linda, was harassed by drivers-by and her parents spent sleepless nights wondering about her safety and the safety of their son, Leo. Porter got a call one day from the Portillos and helped them navigate advocating for their own safety.
"Through their courage and desire to make their street safer they began taking on one house after another with the help of their neighbors," Porter said, adding that Leo and Linda were able to grow up safe, graduate from high school and college. "Linda was very successful in college and just returned to the same area she saw her parents work so hard to build and make safe. She now works as a dental hygienist."
A Dallas native, Porter began his career in 2002 as a trial lawyer but in his free time was mentoring a student in West Dallas, another historically underserved, crime-ridden suburb of the city. It was during these days, commuting from city center for work to West Dallas that his perspective began to change.
"I realized there was this stark, disparate reality for the city of Dallas. I saw opportunity as a young lawyer to advocate for those whose rights had been violated, carrying out a calling to do justice," Porter said. He attributes his courage to a William Wilberforce quote: "You may choose to look the other way but you can never again say that you did not know."
Porter said his choice was to not look the other way. He gave his notice at his law firm, and began to listen. He listened to men and women from West Dallas, collaborated with thinking heads at nonprofits, community centers, and with pastors. A few months later, in January 2009, he set up a desk in a church in West Dallas, the one and only team member for Act.
"I learned that there were lots of folks who were distrustful of the legal system itself because they had experienced injustice or felt discouraged and their desire for change had been met with apathy," Porter said. "As an attorney, I learned about a need: a gap in city resources. And with the help of many trusted voices, I developed a solution—equipping residents with resources they need to fight drugs and violence and take back their neighborhoods."
Currently, Porter's team has grown from just him as founder and CEO to 28 members. As the team has expanded, so has the need for innovation, especially in a pandemic. In response to COVID-19, the ACT team launched an emergency hotline.
"We began studying 911 calls and mapping those and leaning in on partner nonprofits for referrals because we were not walking the neighbors or sitting on people's couches or front door steps as easily," Porter said. "We launched a hotline and shared flyers in those areas with the hotline number for the families who experience crime and wanted to do something."
Act's goal for the upcoming decade is to tackle the estimated 600 drug houses in the Dallas area through empowering individuals, Porter said. In addition to doing so, his passion is to launch Act's Center for Justice and Neighborhood Safety, a center for training and equipping local stakeholders, such as neighborhood leaders, lawyers, and law enforcement, as well as train interested parties from other cities to do similar work. He hopes the model they have created will be effective to meet needs across the nation.
"We really believe we have a model that can be used all over the nation. Every city is going to be  a little bit different but every city has this issue and this need," Porter said. "We would love for Dallas to be the hub and incubator of innovation and to equip others outside our city to do this work."
Atkins said the effectiveness of Act is due to the fact that they are persistent, but don't force any hands.
"Act is an organization that knows this is difficult work and problems are not solved overnight. We have a true partner that was willing to walk with us as long as it takes," Atkins said. "Some residents were not ready to stand up because of fear and anxiety—and that's OK. Act says, we met, we tried, and we will come back. The test of any organization is not only can you be successful but can you handle those failures and remain in the community. They are still here."