Amid Coronavirus Scare, Pastors Switch to "Drive-in Movie Style" Service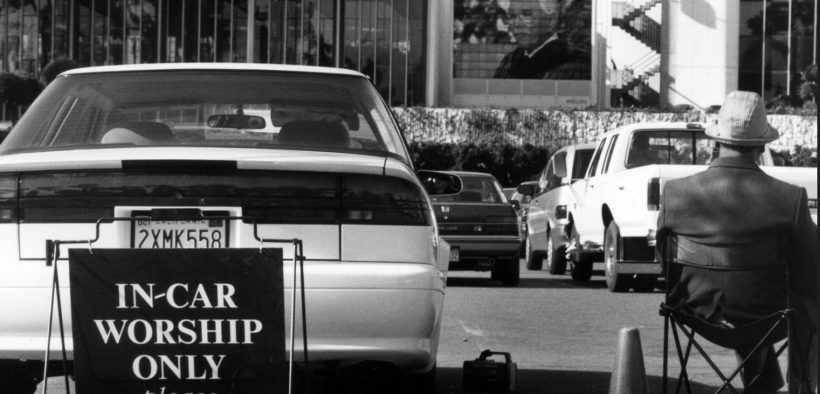 Worship services in drive-in movies is not a new idea.  Televangelist Robert Schuller built a ministry empire with this practice as its cornerstone. 
But it's an old idea that's become new again as pastors across the country wrestle with how to handle services during the COVID-19 crisis.  Some pastors are solving the problem by moving their services outside, and getting a little help from the drive-in's FM transmitter. 
One of those congregations is David Fork Baptist Church in Lexington, Ky., which held a drive-in style service March 15, WKYT reported. Most of the congregation is made up of senior adults, said Pastor Micky Hyder. And adults above 60 are reportedly vulnerable to the coronavirus. 
"We still want to spread the Word without spreading the virus," said the pastor, who noted the church hardly ever cancels services even in times inclement weather. 
And for church member Sarah Rose, who pulled up in their vehicle for the 11 a.m. service, the outdoor service was an opportunity to experience the community of a church service without being exposed to the virus.
"I love the fact that even with everything that's going around that we are still able to come together and worship," she told WKYT, "and we can do this safely and its definitely very fun, interesting and unique."
Hyder hopes the church will be worshiping back in the building by Easter. 
Texas pastor Chris Gober also decided a drive-in style approach was the safest way to bring First Montgomery Baptist Church together for their 10:45 a.m. Sunday service on March 22, the Southern Baptist TEXAN reported. 
"I was just asking God how in the world can we keep our church unified and maintain the family feel of our church in the middle of all of this, and this is what came to mind," Gober said.
Following Sunday's outdoor service, he said several church members were crying because of the joy of being at church together.
"Stress and anxiety are so high right now," he said. "I think it's crucial for the church to bring the message of peace to the world. We don't need to be anxious, be afraid, or be worried. We just need to be prepared by accepting Jesus as our Lord and Savior and trusting Him during sunshine and storms."  
While Gober acknowledges there is value to watching services on live stream, he noted that an online service doesn't offer the same family feel and sense of community that people experience when they're physically together. The outdoor service wasn't perfect, Gober said, but it was a positive step forward. 
"At First Montgomery, we are a hugging, welcoming family, so I heard several times how hard it was not to hug people, but we were so glad to see each other, wave, talk and have a bit of normalcy back."
Gober focused his message on how God, not man, is control. Most people live "under the illusion of control," he said. 
"We feel like we're in control of our lives and often that results in us drifting from God," he said. 
"But times like this are often the times where we see the reality that we're not in control. And it's the perfect time to lean into God, not to lean away from God."
The pastor hopes the drive-in movie style approach will help spark more creative ideas for other churches as they navigate the coronavirus crisis. 
"I feel like this is a real opportunity for the church," he said. "We can do great ministry within the body and with the community if we can help those who choose to isolate, who are at risk, by serving them, running errands for them, dropping things off for them without making contact. 
"We can help keep our at–risk people safe by serving them … the way the church has done throughout history," he added. "The Christians are the ones who rush in and help, and I think we can do that again today."