Awana Clubs Growing in Africa, India, and Around the World

Most Awana-trained children live outside the U.S.
Asmita lives in the slums near Kathmandu, Nepal. Although she felt hopeless after her father abandoned their family, she began attending an Awana club at a local church and found hope through the Gospel message. Now she loves to share the Gospel with others.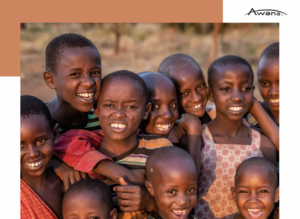 Many people think of Awana as a Wednesday night program with uniforms and a handbook. While it still exists at 8,100 local churches across the country, only 10% of the children discipled through Awana are in the United States. It is reaching 5.7 million children like Asmita across the world each week.
According to Awana's Global Impact Study, adults who participated in Awana as children are 26% more likely to attend weekly worship and are 45% more likely to share their faith with others than American Christians generally. Awana believes the discipleship of children is critical.
Awana began in 1950 as the acronym A.W.A.N.A., taken from II Timothy 2:15: "approved workmen are not ashamed." Although the ministry doesn't distance itself from those origins, now Awana has become a name unto itself as the ministry works to expand Christian discipleship of children around the world.
In January 2022, Matt Markins became the CEO of Awana. He has worked for the ministry for over a decade and brings an emphasis on research and innovation, Vice President of Communications Kevin Orris told MinistryWatch.
The former CEO, Valerie Bell, is still engaged with Awana, and Orris said it was an amicable transition.
Markins is leading a shift in Awana from an emphasis on implementing a particular program to a broader child discipleship mission. As part of that shift, it has published several books "calling the church to take children and their discipleship seriously." It has convened the annual Child Discipleship Forum, where thought leaders help children's ministry leaders navigate cultural issues like gender confusion. The most recent Child Discipleship Forum was last month outside Nashville and had over 800 persons in attendance either live or online.
Access to MinistryWatch content is free.  However, we hope you will support our work with your prayers and financial gifts.  To make a donation, click here.
Internationally, Awana trains indigenous leaders and provides them with materials appropriate to the cultural context in which they live.
When Awana says 5.7 million children are being reached internationally, Orris said the numbers don't reflect casual contact or bible distribution. The children are discipled every week by adults who are walking with them.
India is currently the largest program, but Orris expects the numbers in Zimbabwe to grow rapidly in the next few years. Awana has an opportunity to put an Awana club in every school in Zimbabwe.
A few years ago, 30 Zimbabwe schools in the country added Awana clubs to their curriculum, trained the teachers, and paired the clubs with a local church. The government officials saw more disciplined, happier children. Awana knew the children were learning about Jesus, growing in their faith, and having their lives shaped by God's Word.
Since then, the Zimbabwe government has invited Awana to have clubs in 9,000 public schools across the country. It is currently in 1,000, and the only thing that stands in the way is funding, Orris said. It would take $650 per school to add an Awana club.
Awana is growing all over Africa; clubs are in public schools in 13 African countries. It also has clubs in restricted countries where persecution is prevalent.
Although many describe Europe as post-Christian, Awana has made inroads there as well. According to the Joshua Project, only 7.96% of Norwegians are evangelical Christians. However, a group found Awana and wanted to start clubs in the country. Now 8,000 children in Norway are part of clubs there. Children in war-torn Ukraine have continued to receive discipleship during the turmoil, and many of the 600 clubs in the country have grown.
In the MinistryWatch database, Awana earns an A transparency grade, a high donor confidence score of 96, and a two-star financial efficiency rating. It is a member of the Evangelical Council for Financial Accountability.
As part of its shift away from the programmatic aspect of the ministry, Awana has taken in less program revenue each year. It also suffered losses of U.S. clubs during the COVID pandemic. It did take in Paycheck Protection Program funds in 2020 and 2021 and sold its building in 2019. It aims to keep at least 90 days of operating funds on hand.
Orris said Awana's strategic shift requires a transition to a "donor-fueled" organization. Its global growth is exciting, but it needs to increase fundraising to sustain such growth. It plans to undertake that in earnest in the coming year, leveraging relationships and developing an alumni strategy.
Main photo: Photo courtesy of Awana