As The King's College Faces Closure, Scrutiny Turns to its Backers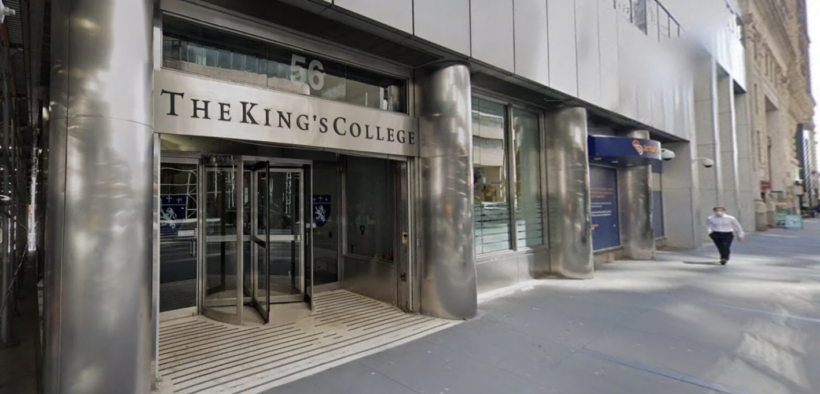 NEW YORK (RNS) — The King's College, a nondenominational Christian college in Manhattan, is expected to announce it will close after a Canadian education investment company failed to deliver on lofty promises to boost declining enrollment, according to several staff and faculty members.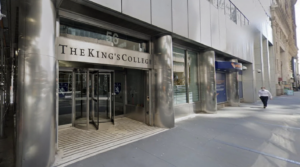 Meanwhile, Primacorp Ventures, which calls itself "Canada's largest independent provider of private post-secondary education," has come to be deeply involved in the fate of the school's finances and real estate holdings.
Though it has never boasted more than 1,000 students, the 85-year-old King's has risen to become a top conservative liberal arts school and has often been compared to Hillsdale College, another small but influential conservative school, even as many King's students and faculty fought political labels.
After announcing last month that it needed $2.6 million to finish the spring semester, King's launched a fundraising campaign that has raised less than half a million dollars. Many faculty are already posting their resumes online to search for their next jobs. Beginning Tuesday (March 21), admissions representatives from other schools set up booths on the King's campus to recruit students, according to Matthew Parks, chief academic officer and interim provost.
But some are holding out hope for a partnership with another school that would preserve King's brand or for a multimillion-dollar donation.
"We're still fighting for next year," Parks told students in a meeting on campus Monday afternoon that was also broadcast on Zoom. "This is all Plan B."
Meanwhile, the Brooklyn landlord of a student residential building has sent eviction notices under apartment doors and in mailboxes. A utility notice last week threatened to shut off the students' electricity on Tuesday, according to a student who attended a campus meeting on Monday.
At that meeting, Parks told students that King's has been in touch with Con Edison, the utility company, and there would be no disruption in service. "No need to worry about that," he said. "We're all set there," adding that King's has set up a payment plan to pay the apartment rent owed.
Parks also said the college has launched a new effort to reach out to "high capacity donors."
Access to MinistryWatch content is free.  However, we hope you will support our work with your prayers and financial gifts.  To make a donation, click here.
Percy Crawford, an associate of Billy Graham's, founded The King's College in 1938 in the New Jersey shore town of Belmar. After several moves it ended up in Briarcliff Manor, New York, then shut down in 1994 after filing for bankruptcy. Five years later, the evangelical ministry Campus Crusade for Christ (renamed Cru) resurrected King's and moved it into Manhattan.
King's has relied on big donors and operated on thin margins ever since. The board's controversial hiring of right-wing pundit Dinesh D'Souza as president in 2010 was widely understood as a way to entice major conservative donors. Two years later, billionaires Richard and Helen Devos began giving millions periodically to the school, but soon after their deaths in 2018 and 2017, respectively, the flow of cash stopped.
In the tumult of 2020, King's enrollment plummeted along with funding, at a time when the school desperately needed both, according to a former staff member who left in December. In addition to battling the nationwide drop in college attendance, admissions officers had to prove to parents that New York City was safe when headlines in conservative news outlets especially began reporting a crime wave.
At the same time, donors began pulling out, believing King's to be either too far right politically or not right wing enough, the former staff member said. Donors wanted more assurance that King's could become self-sustaining.
A board member who has since died reportedly introduced the school to Canadian Christian businessman Peter Chung, a donor to Cru in Canada and CEO of Primacorp Ventures, which had experience marketing online programs for dozens of campuses.
Desperation appears to have pushed then-King's President Tim Gibson to agree to an unusual deal with Primacorp in April 2021. According to a former staff member who read the agreement, Primacorp would take over fundraising, marketing and admissions for the college and collect 95% of tuition coming from students attending online, which has been a financial boon for many schools. Primacorp was also given the ability to nominate four of nine trustees to King's board, according to tax documents.
Gibson, who resigned in August 2022, could not be reached for comment.
Stockwell Day, a former Canadian politician who once consulted for Primacorp, took over as interim president. Day became chairman of the board of trustees at King's in October 2021.
In September, Day announced that Primacorp would help King's launch an online program for the 2023-2024 school year and recruit 6,000 remote students within five years. Two months later, Day announced layoffs, a tuition hike and other "rightsizing" measures.
Former staff members and faculty describe the Primacorp takeover as chaotic and a waste of funds. Primacorp hired dozens of staffers in 2021 to market four online majors but laid off almost all of them within two years.
Two fundraising staff were tasked to raise $12 million without a budget to do so.
Sophia Coston, a King's alumna hired by Primacorp to start an alumni relations department, said she also never received a budget. She said it became common for staff to use their personal credit cards for expenses and then file for reimbursements that could take months.
"We tried to ask questions, and they just weren't being answered. And so we had to kind of fight our way through a plan anyway," Coston said. She left in January.
As King's tries to stave off closure, Chung has stepped in with a $2 million interest-free loan as King's awaits the release of that amount in pandemic-related government assistance.
An independent audit shows that King's received a $10 million line of credit from an investment firm affiliated with Primacorp, which is secured to the college's only property, a former hotel in lower Manhattan purchased in 2018 for $19 million. That building is now reported to be for sale, and students moved out of the building over the summer. However, one former staff member said at least one potential buyer's offer was made that no one followed up on.
Many compare the period of Primacorp's involvement at King's with the company's 2020 agreement with Quest University in Canada, in which Primacorp agreed to provide similar services in exchange for ownership of land and buildings at the school to then lease back. But Primacorp stopped providing those services, and Quest is scheduled to close this year, with its real estate assets priced at about $18 million more than Primacorp paid.
Chung also faces accusations of misleading students and lying about the accreditation of the for-profit CDI College in Canada owned by Eminata Group, a company owned by Chung, and a school he owned in California that closed in 1993. Chung didn't respond to a request for comment.
Faculty members say grades and classwork don't seem to matter to students anymore.
Myrian Garcia, a graduating senior at King's, said the mood on campus has been dropping since the summer when Gibson resigned. She's worried that if the college closes, she will have to talk about it in job interviews.
"It's a little daunting," she said. "I just know if they look up The King's College on Google or something, articles about King's are going to pop up."
Main photo: The King's College is in Manhattan's financial district in New York City / Image courtesy of Google Maps