WEEKLY REVIEW: Anglicans Struggle With LGBTQ Activists, Coach Joe Kennedy Hits Roadblock, Printer, ECFA Additions and Removals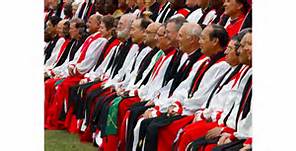 Lesbian Priests To Lead Service On Eve of Lambeth.  LGBT+ activists plan to hold a church service led by two high-profile married lesbian priests on the eve of the Lambeth conference.  The Lambeth Conference is the once-a-decade gathering of Anglican bishops from around the world. The conference begins July 22. The service is intended to send a strong message to up to 1,000 bishops from 165 countries who are due to gather at the University of Kent at the end of July for almost two weeks of prayer and discussion about issues facing the worldwide Anglican church.  According to the Guardian, "The split over sexuality – between those who seek to uphold 'biblical truth' and those who are pressing for acceptance and inclusivity – dominated the last Lambeth conference, in 2008, leading Rowan Williams, then archbishop of Canterbury, to warn that the church was in "grave peril'."  Anglicans have nearly 80-million members worldwide, though their membership rolls in the United States – represented by the liberal Episcopal Church — have dwindled to just a few hundred thousand.  However, in recent years, a conservative Anglican Church of North America has grown rapidly, with more than 1000 congregations and more than 120,000 members.
Coach Joe Kennedy Hits Roadblock. Yesterday, a federal district court judge Ronald Leighton granted the Bremerton (Wash.) School District's motion for summary judgement in the case of Coach Joe Kennedy.  Coach Kennedy was fired from his coaching job because he participated in student-led prayers at football games.  He was suing to get his job back. Coach Kennedy and First Liberty Institute plan to appeal the decision. "We are disappointed in this decision, but we are undeterred in our mission to obtain justice for Coach Kennedy," said Mike Berry, General Counsel for First Liberty Institute. "For almost five long years Joe has had to miss coaching the game he loves. Joe has fought—first as a U.S. Marine, then as a coach—to prove that every American has the right to engage in individual religious expression, including praying in public, without fear of getting fired.  He knows this fight isn't over."  For background on the case, please click here.  First Liberty Institute is a non-profit public interest law firm and the largest legal organization in the nation dedicated exclusively to defending religious freedom for all Americans.
Printer Expands To Serve Non-Profits, Others.  Moore DM Group will invest more than $31 million to establish Richmond Print Group in the former Colortree Group facility in Henrico County, Va., creating 239 new jobs. The company will prioritize hiring employees who lost their jobs by the abrupt closure and involuntary bankruptcy of Colortree last year.  While the operation will focus on technology and printing, it will also manufacture envelopes used for direct response mail. Tulsa, Okla.-based Moore, which until recently went by the name Moore DM Group, is one of the largest direct response and fundraising agencies in the nation for nonprofit, association, commercial, and government clients. Comprised of 33 companies with more than 2,500 employees, the organization touches all aspects of consumer engagement, including strategy, production, digital, media, technology, and fulfillment. 
ECFA Membership Changes.  The following ministries have seen changes to their Evangelical Council for Financial Accountability (ECFA) membership.  Removals:  Raise Up Global Ministries (Grand Rapids, Mich.), Compassion Pregnancy Center (Clinton Township, Mich.), Gospel Rescue Mission of Grants Pass (Grants Pass, Ore.), LIVING Ministry (Pittsburgh, Penn.), Wycliffe Associates (Orlando, Fla.), Coalition of African American Pastors (Fulshear, Tex.)  Additions:  Engage Home Ministries (Plano, Tex.), Radical Mentoring (Atlanta, Ga.), Global Servants (Orange City, Fla.), Grace Chapel (Clifton Park, N.Y.), Deaf Opportunity Outreach International (Zeeland, Mich.), MissionGO (Getzville, N.Y.), 
MinistryWatch Database Updates.  The financial information of the following ministries have been updated in the MinistryWatch database.  Click on the name of the ministry to go to the full MinistryWatch profile. Our rating of the ministry is in parenthesis (1 to 5 stars, with 5 stars being our highest rating). If the ministry has experienced a change in its rating, that change is also noted. RReach (3 Stars), Samaritan's Purse (3 Stars), SAT-7 (3 Stars), Serge (formerly World Harvest Mission) (4 Stars), United Marriage Encounter (4 Stars), Christian Associates International (Communitas International) (4 Stars), Probe (4 Stars), SIM USA (3 Stars), Unbound (Christian Foundation for Children and Aging) (4 Stars), Christian Encounter Ministries (1 Star), Music for Life Institute (4 Stars), The Mustard Seed (3 Stars), Montrose Broadcasting (1 Star)