Weekly Review

Moody Bible Institute in the MinistryWatch Spotlight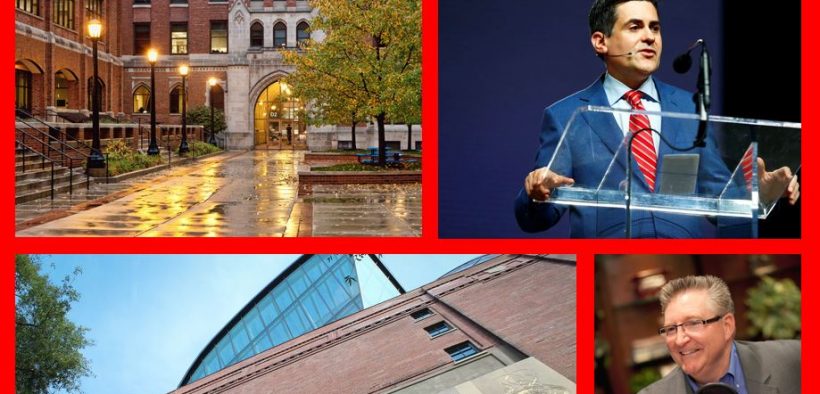 In The Ministry Spotlight:  Moody Bible Institute.  Each week, MinistryWatch selects a ministry from our database to spotlight.  We do this so you can see some of the powerful information we have in our database, information we hope will inform your giving decisions.  This week we shine our spotlight on Moody Bible Institute.  Rod Pitzer, who was on the MinistryWatch staff for many years, is compiling these Ministry Spotlights for us. Read this week's Ministry Spotlight, click here.
On Today's MinistryWatch Podcast.  Each week, MinistryWatch brings you news about Christian ministries, as well as the latest in charity and philanthropy, news that we examine from a Christian worldview perspective.  Our goal is to help us become better stewards of the resources God has entrusted to us.  On today's program, the Museum of the Bible is making an expensive effort to get things right.  And Russell Moore, the Southern Baptist's top ethicist, is the subject of a new report released this week by his denomination.  We begin today's program with news that one of Focus on the Family's Twitter accounts has been banned from Twitter.  You can hear the podcast on iTunes, Spotify, Stitcher, and other podcast apps, or you can simply click here.
Salary Data Now In MinistryWatch Database. We now have salary information for 3,000 executives from about 500 of the 800 ministries in our database posted in our profiles.  So check out this new addition by clicking on the red button at the top of this page, or here.  That takes you to our database.  The search engine is right there, and you can type in the name of a ministry you're interested in and our profile will pop right up – now, with compensation information for the top executives.
Access to MinistryWatch content is free.  However, we hope you will support our work with your prayers and financial gifts.  To make a donation, click here.
ECFA Changes.  The following organizations have had membership status changes in the Evangelical Council for Financial Accountability.  ADDITIONS: The Tabernacle Church (Sarasota, Fla.), Carenet – Rhode Island (Providence, R.I.)  REMOVALS:  Black Diamond Camps (Auburn, Wash.), Great Commission Churches (Worthington, Ohio), Luther Rice College and Seminary (Lithonia, Ga.), International House of Prayer/Forerunner Christian Fellowship (Kansas City, Mo.), Southern District of the Christian and Missionary Alliance (Trussville, Ala.), Kaimuki Christian Church (Honolulu, Hawaii). Christian Research Institute (Charlotte, N.C.), Neighborhood Christian Legal Clinic (Indianapolis, Ind.),
MinistryWatch Database Changes.  MinistryWatch now has more than 750 ministries in its database.  These ministries represent more than $30-billion in total revenue, most of that donor revenue from evangelicals. The following ministries have their profiles updated with the most recent year's financial data.  The Financial Efficiency rating of each ministry is in parenthesis. If this rating represents a change from the previous year, that change is noted: Christian Children's Home of Ohio (Down 4 to 3 Stars, Transparency Grade: A), Christian Family Care Agency (Down 4 to 1 Star, Transparency Grade: A), Concordia University – Seward, NE (Down 4 to 3 Stars, Transparency Grade: C), Family Matters, Inc. (Down 2 to 1 Star, Transparency Grade: C), John Brown University (Down 4 to 3 Stars, Transparency Grade: A), Lifesong for Orphans (Down 5 to 4 Stars, Transparency Grade: A), MentorKids USA (Up 2 to 3 Stars, Transparency Grade: D), Messiah University (Down 4 to 3 Stars, Transparency Grade: C), New Orleans Mission (4 Stars, Transparency Grade: C), Point Loma Nazarene University (Down 3 to 2 Stars, Transparency Grade: A), Save the Storks (Up 2 to 3 Stars, Transparency Grade: C), Sky Ranch Foundation (2 Stars, Transparency Grade: A), Word of Life Fellowship (3 Stars, Transparency Grade: A). The following ministries have been added to the MinistryWatch database with the most recent year's financial data: Advent Christian Village (2 Stars, Transparency Grade: A), Africa New Life Ministries International (4 Stars, Transparency Grade: A), Modern Day Missions (5 Stars, Transparency Grade: A), Olive Crest (3 Stars, Transparency Grade: A), Reaching Souls International (2 Stars, Transparency Grade: A), Show Hope (2 Stars, Transparency Grade: A), Starry Inc.  (5 Stars, Transparency Grade: A), Tim Tebow Foundation (2 Stars, Transparency Grade: A)