WEEKLY REVIEW: Printing Houses For The Poor, Christianity Today Bombshell, Mormons Raise Endowment Questions, and More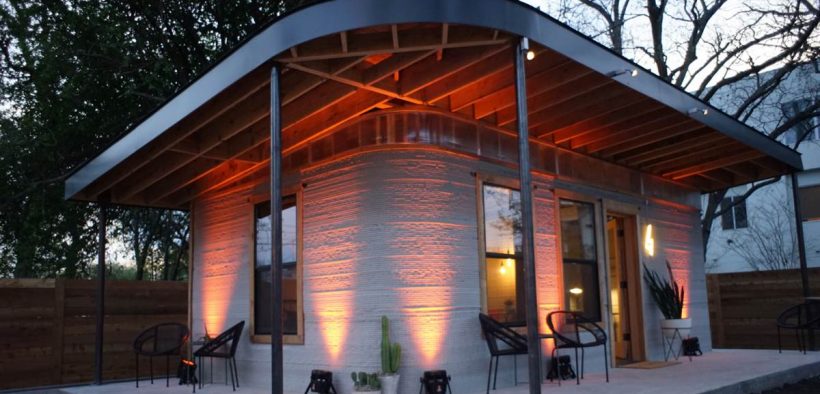 Printing Houses.  Back in October we told you about an innovative ministry that is using 3-D printing technology to make houses.  The organization, called New Story, builds homes for the world's poor.  Since 2015, the organization has "printed" more than 2,000 homes.  You can read more about this innovative ministry, it's 29-year-old founder, and the challenges it has encountered, by clicking here.  Since that original report, the group has started a neighborhood of such houses in Mexico.  They hope to have 50 houses built by year-end.  Though built on a seismic zone, the new homes should be able to withstand earthquakes.  They're built to be cost-effective for people living on $3 per day. 
Christianity Today Bombshell.  The long-time editor of Christianity Today retires at the end of the month, and he decided to go out with a bang.  Mark Galli yesterday published an editorial calling for President Donald Trump's removal from office, and the response was so significant that it temporarily crashed the CT website.  By the end of the day yesterday it was picked up by CNN, Yahoo News, AFP, the Atlantic, Religion News Service, and other news outlets.  President Trump, who often responds to the media via Twitter, was true to form.  He wrote:  "Christianity Today, knows nothing about reading a perfect transcript of a routine phone call and would rather have a Radical Left nonbeliever, who wants to take your religion & your guns, than Donald Trump as your President." 
A Bigger Storehouse.  Our friends at Religion Unplugged broke a significant story this week.  They obtained a 74-page document filed with the IRS showing the Church of Jesus Christ of Latter Day Saints (the LDS Church, or the Mormons) have assets exceeding $100-billion.  According to the Religion Unplugged report, "Ensign Peak Advisors, Inc. saw owned assets under management grow to more than $100 billion from $10 billion in the past 22 years, fueled by a mix of investment strategy and tithe money from church members."  They further assert:  "The complaint may be the most important look at LDS finances in decades, a window into one of the wealthiest religious organizations in the United States and world."  We normally don't report on happenings outside of Christianity, and the Mormon Church's doctrine and theology are clearly outside orthodox Christianity, but this story raises important questions about the legal and ethical use of donated funds.  It's MinistryWatch's position that funds should be used as quickly as possible for ministry, and endowment funds and other stockpiling of assets should be kept to a minimum.  You can read the complete RU story here. 
Milestones.  Vice President of the United States Mike Pence and Second Lady Karen Pence joined Keith and Kristyn Getty on Saturday evening at the sold out Sing!  An Irish Christmas concert at the Kennedy Center to present the inaugural "Sing! Lifetime Achievement Award" to Joni Eareckson Tada….  Susan Desmond-Hellman, M.D., CEO of the Bill & Melinda Gates Foundation, is stepping down at the end of January, citing health and family considerations. Mark Suzman, the foundation's chief strategy officer, will take over the $51.8-billion organization on Feb. 1, 2020.  Though The Gates Foundation mostly funds organizations with no Christian emphasis, it has occasionally funded Christian groups working in relief and development in Africa and elsewhere. 
Ministry Updates.  The following ministries have had their financial information updated in the MinistryWatch database:  Image Clear Ultrasound (4 Stars), Faith for Today (5 Stars), Impact Productions (3 Stars), Jack Van Impe Ministries (1 Star), Koinonia House (3 Stars), Living Stream (3 Stars), Leading the Way with Michael Youssef (3 Stars), and Reciprocal Ministries International (4 Stars).