Weekly Review

Colleges Suffering From COVID and Their Own Choices, WORLD's Hope Awards, and Changes to ECFA & MinistryWatch Databases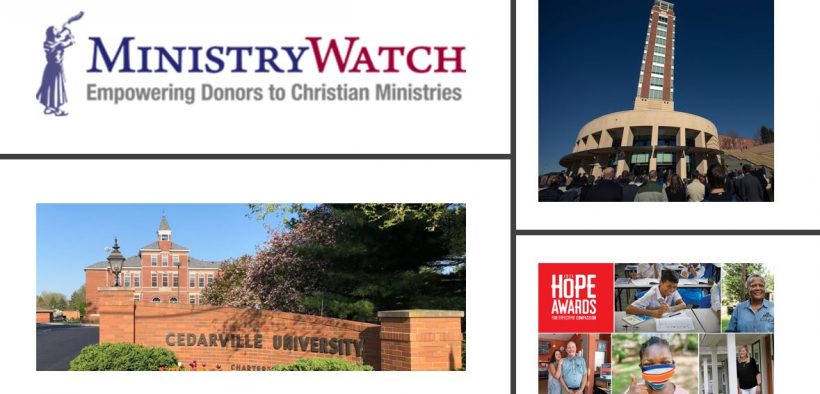 Colleges Suffering From COVID.  MinistryWatch has been writing for months about the demographic and other changes facing higher education.  Now comes news of another COVID-induced change:  More first-year college students are delaying their entry into college.  That's the result of a new study by the National Student Clearinghouse Research Center.  Freshmen classes this year shrank by 16.1 percent nationally and 22.7 percent at community colleges, the survey found.  Respondents expressed concern about how colleges and universities handled the interrupted spring classes as well as low confidence in the quality of instruction offered this fall.
Hope Award Announcements Coming Soon. Each year, WORLD Magazine recognizes Christian ministries with its Hope Awards for Effective Compassion.  This is the program's 15th year, and it looked at more than 100 ministries before coming up with its regional winners.  The regional winners were then voted on by WORLD readers and listeners.  Voting ended on Oct. 17, but it's not too late to read profiles of all the regional winners and be encouraged by the work these great ministries do.  You can read their stories here.
On Today's MinistryWatch Podcast.  Each week, MinistryWatch brings you news about Christian ministries, as well as the latest in charity and philanthropy, news that we examine from a Christian worldview perspective.  Our goal is to help us become better stewards of the resources God has entrusted to us.   This week, Christina Darnell is sitting in for Natasha Smith, who is on assignment.  On today's program, Liberty University announced the details of its audit of the tenure of Jerry Falwell Jr.  Ridgecrest Conference Center has a buyer.  And students, parents, and alumni of Moody Bible Institute want the school to do more to fight sexual abuse.  We begin today with allegations of sexual misconduct against musician and artist Chris Rice.  You can hear the podcast on iTunes, Spotify, Stitcher, and other podcast apps, or you can simply click here.
MinistryWatch Extra with Julie Roys.  On this week's MinistryWatch Extra podcast, my monthly conversation with investigative journalist Julie Roys.  Today we discuss Ravi Zacharias, James MacDonald, and the fact that the vast majority of Christian ministers are not frauds, even though it doesn't always seem that way.  You can hear that conversation here.
MinistryWatch Database Changes. The following ministries have been added to the MinistryWatch database with the most recent year's financial data. The Financial Efficiency rating of each ministry is in parenthesis: Lubbock Christian University (3 Stars, Transparency Grade: N/A), Lee University (3 Stars, Transparency Grade: N/A), John Brown University (3 Stars, Transparency Grade: N/A), Man in the Mirror (2 Stars, Transparency Grade: N/A), Lifesong for Orphans (4 Stars, Transparency Grade: A), Christian World Outreach (2 Stars, Transparency Grade: N/A), Children of the Nations (3 Stars, Transparency Grade: N/A), Palm Beach Atlantic University (3 Stars, Transparency Grade: N/A), Ohio Christian University (3 Stars, Transparency Grade: N/A), Nyack College (3 Stars, Transparency Grade: N/A), North Park University (3 Stars, Transparency Grade: N/A), Mt. Vernon Nazarene University (3 Stars, Transparency Grade: N/A), Missouri Baptist University (3 Stars, Transparency Grade: N/A), Mississippi College (3 Stars, Transparency Grade: N/A), Southern Evangelical Seminary (1 Star, Transparency Grade: N/A)
ECFA Changes.  The following organizations have had membership status changes in the Evangelical Council for Financial Accountability.  ADDITIONS:  None.  REMOVALS:  Center for Student Missions (Philadelphia, Pa.), Pocono Community Church (Tobyhanna, Pa.)