Weekly Review

Using Ballparks for Worship, ECFA and MinistryWatch Database Changes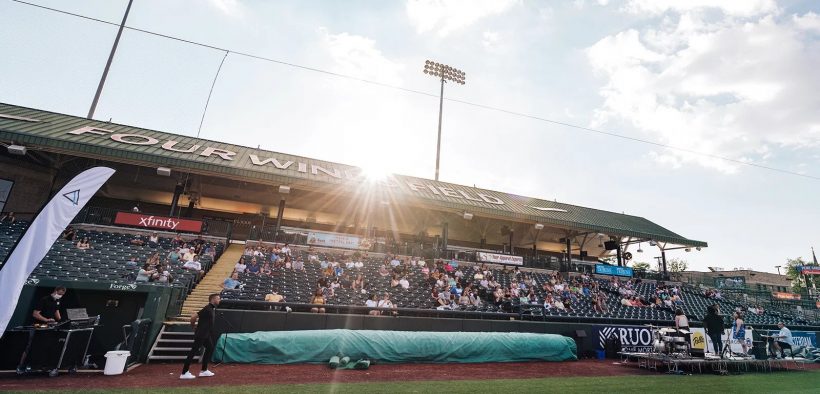 Take Me Out To The Ballpark.  One way churches have gotten creative during the Age of COVID has been to use unused ball fields for worship services.  One example:  South Bend City Church has been meeting at the minor league ballpark since the novel coronavirus pandemic threw a curveball into large gatherings like worship services.  "In March, we shut down gatherings pretty quickly, and we're really, really grateful to work with the [South Bend] Cubs to have a place that's safe and spread out and be outdoors," said Jason Miller, lead pastor of South Bend City Church.  Read more here.
FASB Non-Profit Advisory Committee Meets.  Current financial reporting issues and COVID-19 related matters were front and center at the recent semi-annual meeting of the Financial Accounting Standards Board (FASB) Not-for-Profit (NFP) Advisory Committee.  Discussions focused primarily on accounting and reporting of various CARES Act programs, including the Higher Education Emergency Relief Fund (HEERF), the Paycheck Protection Program (PPP), and the Healthcare Provider Relief Funds (HCPRF), according to a report of the meeting from FASB.  Non-Profit Times has a full report, which you can find here.
On Today's MinistryWatch Podcast.  Each week, Natasha Smith and I bring you news about Christian ministries, as well as the latest in charity and philanthropy, news that we examine from a Christian worldview perspective.  Our goal is to help us become better stewards of the resources God has entrusted to us.  On today's program, two of the nation's largest protestant denominations – the Southern Baptists and the United Methodists – consider changing their logos and even their names as a way of putting past racial insensitivities behind them.  But the changes are not universally welcome.  A new study says liberal congregations are significantly more political than conservative ones.  And we take a look at Navajo Ministries, which is doing remarkable work in the Four Corners region of New Mexico, Utah, Colorado, and Arizona.  You can hear the podcast on iTunes, Spotify, Stitcher, and other podcast apps, or you can simply click here.
MinistryWatch Extra with Bryan Owens.  A quick reminder that our new MinistryWatch Extra podcast episode is now going strong.  Natasha Smith and I will continue our weekly roundup of the week's MinistryWatch news, posted each Friday (as mentioned above).  The extra episode will be an interview with a writer, ministry leader, entrepreneur, philanthropist.  This week's guest is Bryan Owens.  Bryan Owens has turned a highly specific, niche business into a multi-million dollar operation that has also become a significant tourist attraction.  In the process he has developed what he calls a "theology of work," which we'll discuss later in the program.  That business is Unclaimed Baggage.  In 1970, Bryan's father Doyle Owens bought some unclaimed bags from a bus company and sold the contents on folding tables in a rented house in Scottsboro, Alabama.  The idea was an instant success, and Doyle and his family quickly grew Unclaimed Baggage to one of the largest retailers in Alabama as a result of long-term exclusive contracts with the country's major airlines.  Bryan bought the business from his father in 1995, and today Unclaimed Baggage Center takes up a city block and attracts more than a million visitors a year to northeast Alabama.  And, as you will hear, Bryan Owens is a committed Christian with carefully thought out ideas about charity, philanthropy, and how to run a business according Christian principles.  To learn more, or to listen, click here.
ECFA Changes.  The following organizations have had membership status changes in the Evangelical Council for Financial Accountability.  ADDITIONS:  None.  REMOVALS:  Quiet Waters Ministries (Centennial, Colo.), Desert Vineyard Christian Fellowship (Lancaster, Calif.), Adult and Teen Challenge of Texas (San Antonio, Tex.), Sacra Script Ministries (Plano, Tex.), Palmer Home for Children (Columbus, Miss.), 
MinistryWatch Rating Changes.  The following ministries have their profiles updated with the most recent year's financial data.  The Financial Efficiency rating of each ministry is in parenthesis. If this rating represents a change from the previous year, that change is noted: Christophers Inc., The (3 Stars, Transparency Grade: C), Creation Moments, Inc.  (1 Star, Transparency Grade: A), Educational Media Fdtn / dba K Love and Air 1 Radio (3 Stars, Transparency Grade: A), InterFACE Ministries, Inc. / IFACE (4 Stars, Transparency Grade: A), International Justice Mission / IJM (2 Stars, Transparency Grade: C), Joyce Meyer Ministries (4 Stars, Transparency Grade: C), Key Life Network, Inc. (Down from 4 to 3 Stars, Transparency Grade: A)