Weekly Review

Non-Profit Podcasting, ECFA and MinistryWatch Database Changes, Free "Faith-Based Fraud" Webinar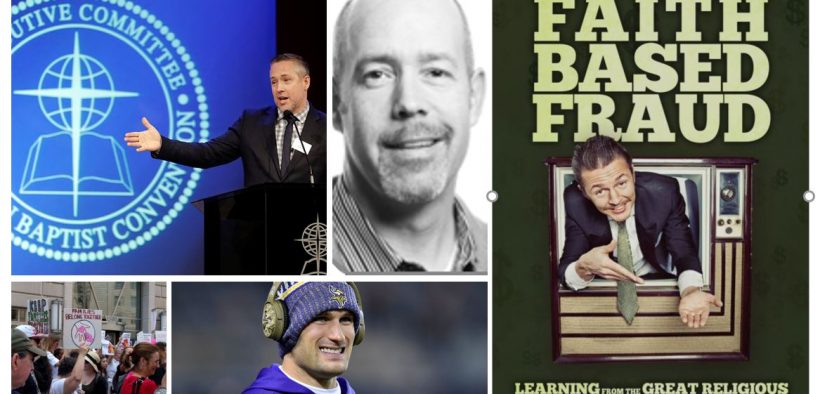 Non-Profit Podcasts. There's a joke about podcasts going around social media: "A new study revealed that 114 percent of Americans now have a podcast."  This joke has some truth in it.  Podcasts have proliferated, but so have the number of listeners.  According to Statista, in 2006, only 22 percent of the adult population in the United States was aware of podcasting. By 2020, this figure had risen to 75 percent. Podcasting is an increasingly popular pastime in the U.S. and there were an estimated 88 million podcast listeners in the country in 2019. Forecasts suggest that the number of podcast listeners will surpass 160 million in 2023 after increases of around 20 million each year.  If you're a non-profit leader thinking about starting a podcast, The Non-Profit Times has some good advice.  You can see it here.
On Today's MinistryWatch Podcast.  Speaking of podcasts: each week, Natasha Smith (no relation) and I bring you news about Christian ministries, as well as the latest in charity and philanthropy, news that we examine from a Christian worldview perspective.  Our goal is to help us become better stewards of the resources God has entrusted to us.  On today's program, Dr. Charles Stanley is finally stepping down as the pastor of First Baptist Church in Atlanta – at age 88.  But don't expect him to retire.  I'll explain why later in the program.  And we have an update on the situation at Taylor University after the firing of a popular professor there.  Questions have arisen regarding whether the college followed appropriate processes in the firing of Jim Spiegel.  And we have the latest in our Generous Living series, a profile of NFL quarterback Kirk Cousins and his approach to both saving and giving.  You can hear the podcast on iTunes, Spotify, Stitcher, and other podcast apps, or you can simply click here.
MinistryWatch Extra with Julie Roys.  A quick reminder that our new MinistryWatch Extra podcast episode is now going strong.  Natasha Smith and I will continue our weekly roundup of the week's MinistryWatch news, posted each Friday (as mentioned above).  The extra episode will be an interview with a writer or leader of a ministry we have a reporting partnership with.  This week's guest is Julie Roys.  Julie Roys runs The Roys Report, an investigative journalism website.  She also has a podcast of the same name.  Julie holds a bachelor's degree in history from Wheaton College in Wheaton, IL, and a master's degree in broadcast journalism from the prestigious Medill School of Journalism at Northwestern University.  Today, we discuss Todd Wagner of Watermark Community Church, Perry Stone of Voice of Evangelism, Costi and Benny Hinn, Eric Metaxas, Jen Hatmaker, and more. To learn more, or to listen, click here.
Free Faith-Based Fraud Webinar. My new book, Faith-Based Fraud:  Learning From the Great Religious Scandals of our Time, is now available, but only from MinistryWatch.  We're offering it as our thank you for a gift of any size to MinistryWatch during the month of September.  If you'd like to know more about the book, click here.  If you want a copy of the book, click here.  Also, next Friday, September 25, I will be doing a free on-line webinar based on the book.  This will be an interactive session in which I'll be taking questions from attendees.  But registration is limited to 100 people.  To sign up, click here.
ECFA Changes.  The following organizations have had membership status changes in the Evangelical Council for Financial Accountability.  ADDITIONS: NONE  REMOVALS:  Skyview Ranch (Millersburg, Ohio), NeedServ (Gonzales, La.)
MinistryWatch Rating Changes.  The following ministries have their profiles updated with the most recent year's financial data.  The Financial Efficiency rating of each ministry is in parenthesis. If this rating represents a change from the previous year, that change is noted: AnGel Ministries / Anne Graham Lotz (Down from 4 to 3 Stars, Transparency Grade: C), Baptist Medical & Dental Mission International (5 Stars, Transparency Grade: A), Barnabas and Partners (5 Stars, Transparency Grade: N/A), Idaho Falls Rescue Mission (Down from 3 to 1 Stars, Transparency Grade: N/A), Pause Ministries (3 Stars, Transparency Grade: N/A), Topeka Rescue Mission (3 Stars, Transparency Grade: N/A), The Urban Alternative / Tony Evans (2 Stars, Transparency Grade: A), Vision House (1 Stars, Transparency Grade: N/A), VisionTrust International (Down from 4 to 3 Stars, Transparency Grade: N/A), Voice of Prophecy (4 Stars, Transparency Grade: D), World Hope International (Down from 5 to 4 Stars, Transparency Grade: N/A), Zion Evangelical Ministries of Africa (5 Stars, Transparency Grade: N/A)