Weekly Review

WORLD Announces Hope Awards, Weekly On-Line Devotions, ECFA and MinistryWatch database changes, and more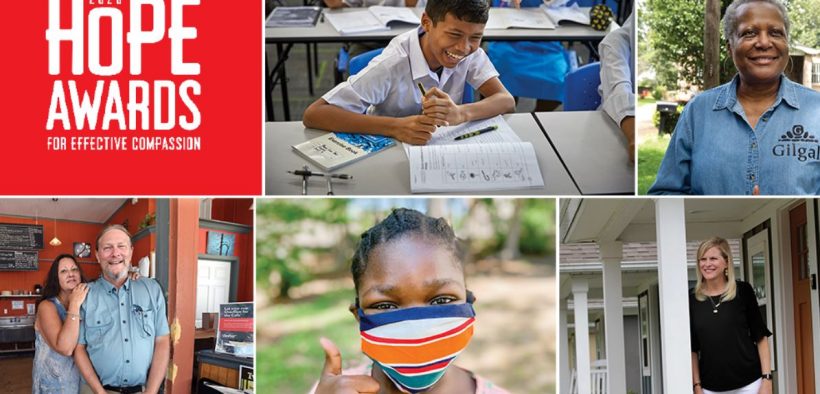 Effective Compassion.  WORLD Magazine has announced its eastern regional picks for its annual Hope Award for Effective Compassion.  We'll be doing our own profiles of some of these ministries in the months ahead, but until then, take a look at the winners, and don't forget to vote for your favorite.  The overall winner gets a cash prize and a lot of great publicity that – in the past – has been a boost to fundraising for these ministries.  Read more here.
Weekly Online Devotions.  During this strange time of elections and pandemic, The Colson Center for Christian Worldview is presenting a weekly on-line devotion featuring ministry leaders from around the country.  This week's guest was Focus on the Family's Jim Daly.  To read more or to sign up and participate in these nourishing weekly devotions, click here.
Philanthropy from Aristotle to Zuckerberg.  A book making the rounds in my circle these days is Paul Vallely's Philanthropy:  From Aristotle to Zuckerberg.  You can read an excerpt here, and a review here.  Vallely has been critical of "big philanthropy" over the years, but to my thinking not critical enough.  He has, over the years, become a part of the "elite" that he so often criticizes.  Still, he well established his street cred on matters of charity and philanthropy with boots-on-the-ground accounts of the famine in Ethiopia in the 1980s, and many other hot spots since.  He's also an active Church of England churchman, and he doesn't ignore the spiritual components of systemic poverty.
On Today's Podcast.  Each week, Natasha Smith and I bring you news about Christian ministries, as well as the latest in charity and philanthropy, news that we examine from a Christian worldview perspective.  Our goal is to help us become better stewards of the resources God has entrusted to us.  On today's program, megachurch pastor Todd Wagner is taking a break from ministry following concerns about his leadership style.  And a beloved professor at Taylor University was fired for posting a video that he says is thoroughly biblical, but which received an anonymous complaint.  The college is now in an uproar over the controversy.  You can hear the podcast on iTunes, Spotify, Stitcher, and other podcast apps, or you can simply click here.
MinistryWatch Extra with Paul Glader.  A quick reminder that our new MinistryWatch Extra podcast episode is now going strong.  Natasha Smith and I will continue our weekly roundup of the week's MinistryWatch news, posted each Friday (as mentioned above).  The extra episode will be an interview with a writer or leader of a ministry we have a reporting partnership with.  This week's guest is Paul Glader, with "Religion Unplugged."  Paul is a journalism veteran, having spent years at The Wall Street Journal and now – in addition to leading Religion Unplugged – leads the journalism program at The King's College.  I hope you'll join us for that conversation.  To learn more, or to listen, click here.
ECFA Changes.  The following organizations have had membership status changes in the Evangelical Council for Financial Accountability.  ADDITIONS:  Mission Triangle (Raleigh, N.C.), Faithful Love (St. Simons Island, Ga.), City Church Tallahassee (Tallahassee, Fla.), Preston Road Church of Christ (Dallas, Tex.), Twelve21 Global (Garland, Tex.), Street Hope (Powell, Tenn.), Pregnancy Help Center (Youngstown, Ohio), Chris Mikkelson Evangelistic Ministries (Orlando, Fla.), First Presbyterian Church in North Palm Beach (North Palm Beach, Fla.)  REMOVALS:  None
MinistryWatch Rating Changes.  The following ministries have their profiles updated with the most recent year's financial data.  The Financial Efficiency rating of each ministry is in parenthesis. If this rating represents a change from the previous year, that change is noted: Coachella Valley Rescue Mission (2 Stars, Transparency Grade: N/A), Coreluv International (1 Star, Transparency Grade: N/A), Dallas Life (Down from 3 to 2 Stars, Transparency Grade: N/A), E3 Partners Ministry (Down from 4 to 3 Stars, Transparency Grade: A), Evangelism Explosion International (2 Stars, Transparency Grade: C), Hal Lindsey Website Ministries (3 Stars, Transparency Grade: N/A), John M. Perkins Foundation (2 Stars, Transparency Grade: C), Josiah Venture (4 Stars, Transparency Grade: N/A), Kids Around the World (5 Stars, Transparency Grade: N/A), Kingdom Advisors (Down from 4 to 3 Stars, Transparency Grade: N/A), Life Legal Defense Foundation (3 Stars, Transparency Grade: N/A), Mission on the Move (Up from 3 to 4 Stars, Transparency Grade: N/A), Radio Training Network, Inc.  (3 Stars, Transparency Grade: N/A), Southern Wesleyan University (2 Stars, Transparency Grade: N/A), Trinity Broadcasting Network (Down from 2 to 1 Star, Transparency Grade: D)