Weekly Review:

Billy Graham Chaplains Go To Minneapolis, Portland Pays For Restricting Speech, Natalie Grant Has On-Line Fundraising Success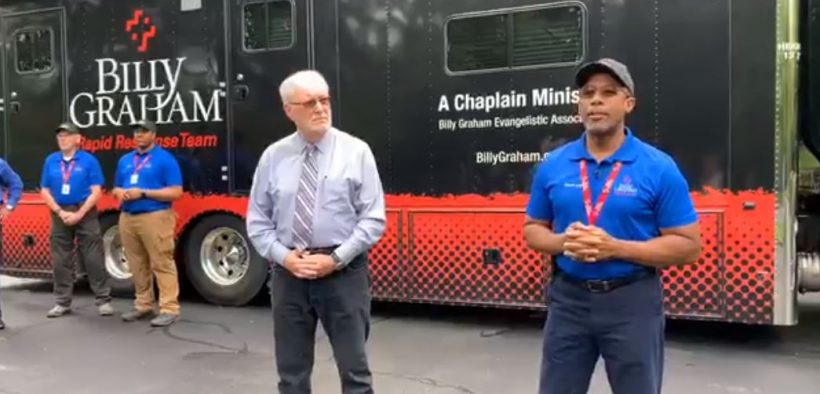 BGEA Chaplains Respond to Minneapolis. The Billy Graham Rapid Response Team (RRT) sent trained chaplains to Minneapolis, Minnesota, to support the community experiencing a time of crisis surrounding the death of George Floyd.  "Our chaplains have specialized training and experience, and are coming from across the United States to share God's hope in Minneapolis, which was home to the Billy Graham Evangelistic Association for 50 years," said International Director of the RRT Jack Munday. "We are praying for the entire community and – along with supporting those who are hurting – our chaplains will encourage local churches and pastors to be involved and provide prayer support."  Franklin Graham, president and CEO of the Billy Graham Evangelistic Association, posted about the recent events on his Facebook page, saying, "This makes me sick to my stomach. What took place Monday on a Minneapolis street, by the Minneapolis Police Department should deeply concern each and every American. It's inexcusable. Pray for George Floyd's family, loved ones, and friends, that God will put His loving arms around them and comfort them during this tragedy."
Portland Pays Evangelist.  The Pacific Justice Institute has successfully negotiated a settlement of street evangelist Mark Mayberry's federal lawsuit against the City of Portland. The Portland City Council approved the $50,000 settlement on Wednesday in a meeting held via video conferencing due to COVID-19 concerns.  "The City of Portland unfortunately has a well-earned reputation for being hostile toward Christians who share their views in the public square," said Ray D. Hacke, PJI's Oregon-based staff attorney. "But throughout our negotiations, the City's attorney sincerely expressed that Portland truly wants to be a better, more tolerant city. Approving the settlement is an important step in that direction." Hacke said.  The incident giving rise to this case occurred almost one year ago, on June 1, 2019: While at Portland's Waterfront Park, Mayberry, holding a sign defending the unborn, passing out related tracts, and engaging people in conversations about abortion and the gospel, was confronted by a park officer who ordered him to leave. When Mayberry refused, asserting his constitutionally protected right of free speech, the park officer issued Mayberry a citation excluding him from the park for 30 days.

Keep the Crazies Away.  The Covid-19 quarantine has forced a lot of fundraisers to go on-line.  One of the more successful on-line events of the past week was hosted by recording artist Natalie Grant, along with her husband, GRAMMY winning songwriter and producer, Bernie Herms.  They performed an online concert event live from the iconic Ryman Auditorium in Nashville Tuesday.  The special event, which was benefitting Hope for Justice, an international non-profit organization co-founded by Grant that works to end modern-day slavery.  Itraised over $150,000, was streamed by over half of a million people, and was the culmination of Natalie and Bernie's "A Song A Day Keeps The Crazies Away" series, which has garnered over 30 million streams since March 17.
On Today's Podcast.  Each week, Natasha Smith (no relation!) and I bring you news about Christian ministries, as well as the latest in charity and philanthropy, all designed to help us become better stewards of the resources God has entrusted to us.  On today's program, more media outlets are converting to non-profit status.  Will that change how news is reported?  Also, more on the conservative Anglicans who won a major lawsuit against Episcopalians in Texas.  Plus, we discuss a well knownministry leader, Bryan Loritts, who is facing tough questions over his academic credentials.  You can hear the podcast on iTunes, Spotify, Stitcher, and other podcast apps, or you can simply click here.
ECFA Changes.  The following organizations have had membership status changes in the Evangelical Council for Financial Accountability.  ADDITIONS: Grace Fellowship Full Gospel Church (Flagstaff, Ariz.), Wesley Biblical Seminary (Ridgeland, Miss.), Pan-African Academy of Christian Surgeons (Bristol, Tenn.)  REMOVALS:  Rocketown of Middle Tennessee (Nashville, Tenn.).
MinistryWatch Rating Changes. The following ministries have their profiles updated with the most recent year's financial data.  The Financial Efficiency rating of each ministry is in parenthesis.  If this rating represents a change from the previous year, that change is noted:  Herald of Truth (1 Star, Transparency Grade:  D), Hope Unlimited for Children (Up from 2 Stars to 4 Stars, Transparency Grade:  A), Impact Productions (4 Stars, Transparency Grade:  D), In Touch Ministries/Charles Stanley (4 Stars, Transparency Grade:  A), Turning Point/David Jeremiah(3 Stars, Transparency Grade:  C), Preemptive Love Coalition (3 Stars, Transparency Grade:  D), Pocket Testament League(Down from 4 Stars to 2 Stars, Transparency Grade:  C)