Virginia: Home to Well-Known and Long-Lasting Christian Ministries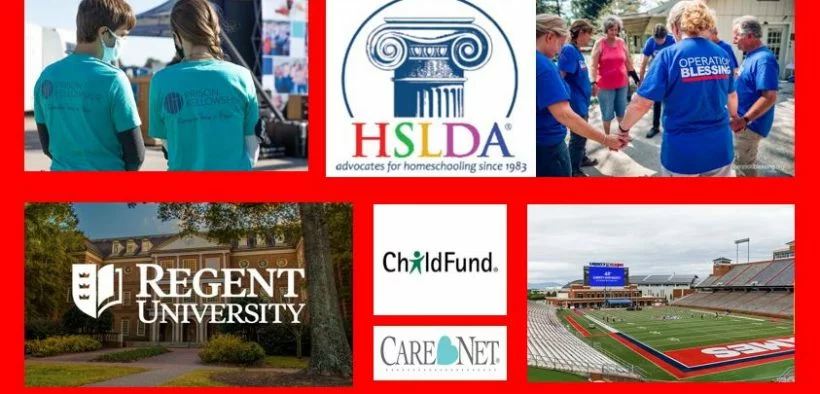 Editor's Note:  MinistryWatch has about 1000 of the largest Christian ministries in the nation in our database.  They have a combined revenue of more than $35-billion.  This article, on Virginia (number 3 on our list), is one in a series on the impact of Christian ministries in states that have a significant ministry presence.  To see MinistryWatch's list of the 25 states with the most Christian ministries, click here.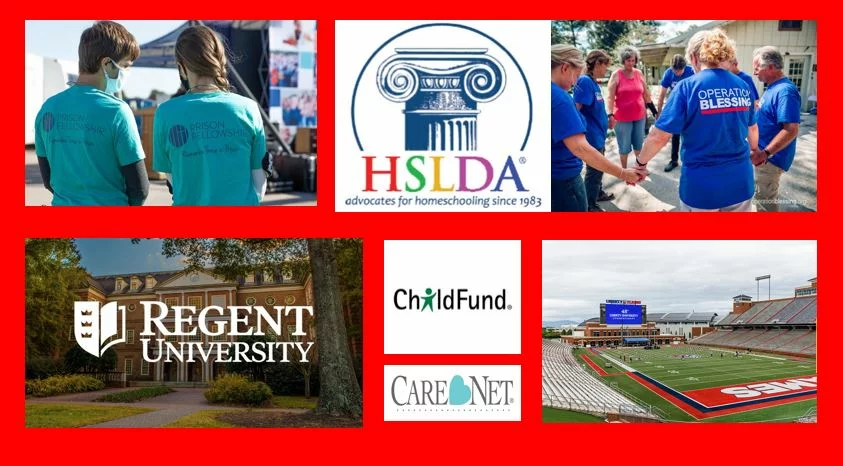 Virginia, home of one of the first articulations of religious freedom in the United States—the Virginia Statute of Religious Freedom—has been a haven for Christian ministries for many years. It ranks third in the country for Christian ministry revenue although it is 12th in terms of population.
Christian ministries in Virginia, including universities, bring in about $2.65 billion in revenue each year. Their missions are wide-ranging from broadcasting to relief organizations to pro-life causes to homeschooling.
The largest is Liberty University in Lynchburg, founded by Jerry Falwell in 1971 as a Christian university. In 2020, Liberty accounted for $1.3 billion in revenue of the state's $2.65 billion. Located in the foothills of the Blue Ridge Mountains, Liberty has over 90,000 students enrolled between its online and on-campus programs.
On the Atlantic coast, Pat Robertson began the Christian Broadcasting Network (CBN) 60 years ago. Not long after becoming a Christian, Robertson founded CBN after buying a defunct TV station in Portsmouth. It was the first Christian TV station in the nation.  
CBN, located now in Virginia Beach, received about $350 million in revenue in 2020, down from $635 million in 2017.
Robertson has also been instrumental in starting other large Christian ministries in the state. In 1978, he founded Regent University in Virginia Beach. Regent offers degrees from the associate to doctoral level and claims an enrollment of about 11,000 students. Regent received about $125 million in revenue in 2020. Robertson still serves as the chancellor and CEO of the university.
Access to MinistryWatch content is free.  However, we hope you will support our work with your prayers and financial gifts.  To make a donation, click here.
In the same year, Robertson founded Operation Blessing as a humanitarian agency serving in the United States and around the world. In 2020, Operation Blessing's revenue was $85 million. It is also headquartered in Virginia Beach and headed by Gordon Robertson, Pat Robertson's son.
Founded in the same decade, Prison Fellowship's headquarters are located in Leesburg. Charles Colson, former special counsel to President Richard Nixon, founded the ministry after completing his own seven-month prison term. According to the website, it is now "the nation's largest Christian nonprofit serving prisoners, former prisoners, and their families, and a leading advocate for criminal justice reform." In 2020, Prison Fellowship received $44 million in revenue, an amount that has remained fairly stable for several years.
Care Net, a pro-life ministry geared toward abortion-minded women and their partners, was founded in 1975 by Dr. Harold O.J. Brown, one of the original pro-life leaders. Located in Lansdowne near Washington D.C., Care Net has 1,100 affiliates across the country. "During the last eight years, Care Net has saved more than 531,977 unborn lives through this life-affirming work," the group's website states. Care Net's revenue was $5.5 million in 2020.
Christian Children's Fund, whose founder Dr. J. Calvitt Clarke created the child sponsorship model that is so well-known today, claims a history dating back to 1938 when it was called China's Children Fund. It is located in Virginia's capital of Richmond and has an annual revenue of $222 million. According to its website, the ministry works with children in 24 countries on the continents of Africa, Asia, and North and South America.
In recent years, and even more so in response to the COVID-19 pandemic, the homeschooling movement has exploded across the country. In 1983, attorneys Michael Farris and Michael Smith founded the Home School Legal Defense Association (HSLDA) aimed at legalizing homeschooling in every state. It continues to provide legal protection to families who homeschool and has expanded to provide support and academic resources from its headquarters in Purcellville. In 2019, it saw a huge jump in revenue to $13 million up from $2 million the year before. The largest portion of its revenue comes from membership dues of over 100,000 families.
| | | | |
| --- | --- | --- | --- |
| Name | City | Cause | Revenue |
| Liberty University | Lynchburg | Colleges/Universities | $1.34 billion |
| CBN Christian Broadcasting Network/ CBN/ 700 Club/ Pat Robertson | Virginia Beach | Educational Media | $352 million |
| Christian Children's Fund/ ChildFund | Richmond | Relief and Development | $222 million |
| Regent University | Virginia Beach | Colleges/Universities | $146 million |
| Kingsway Charities | Bristol | Relief and Development | $123 million |
| Operation Blessing | Virginia Beach | Relief and Development | $85 million |
| Christian Relief Services Charities | Alexandria | Relief and Development | $65 million |
| Prison Fellowship | Leesburg | Christian Growth | $44 million |
| Catholic Charities USA | Alexandria | Community Development | $37 million |
| World Help | Forest | Foreign Missions | $33 million |
| The Salvation Army USA / National Headquarters | Alexandria | Community Development | $31 million |
| International Cooperating Ministries | Hampton | Foreign Missions | $25 million |
| World Hope International | Alexandria | Relief and Development | $22 million |
| Home School Legal Defense Association | Purcellville | Homeschooling | $13 million |
| Trinity Christian School of Fairfax | Fairfax | K-12 Schools/Academies | $13 million |
| Students for Life of America | Fredericksburg | Advocacy | $12 million |
| Choice Books of Northern Virginia | Bristow | Christian Growth | $10 million |
| Advancing Native Missions, Inc. / ANM | Afton | Foreign Missions | $10 million |
| Good News Jail and Prison Ministry | Henrico | Christian Growth | $8 million |
| Dayspring International | Virginia Beach | Foreign Missions | $7 million |
| Reaching Unreached Nations | Virginia Beach | Foreign Missions | $7 million |
| ORPHANetwork | Virginia Beach | Foreign Missions | $6 million |
| Joshua Fund | McLean | Foreign Missions | $6 million |
| Care Net | Lansdowne | Advocacy | $5 million |
| Live Action | Arlington | Advocacy | $5 million |