Turning Point USA Hosts 1,200 Pastors in San Diego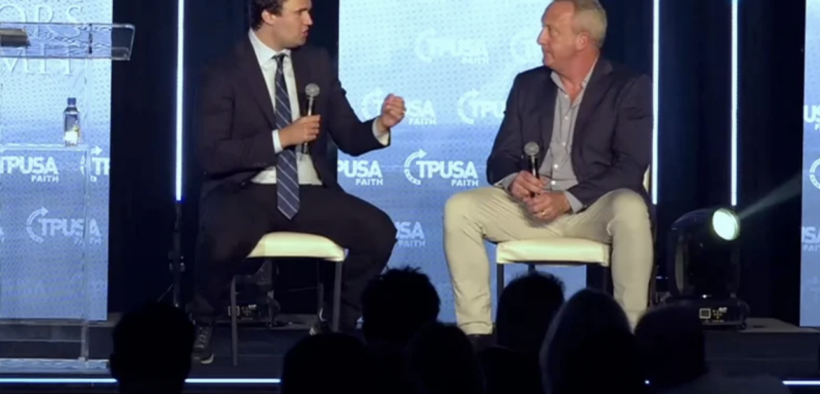 Pastors attend conferences to learn about preaching, leadership, discipleship, church growth, or worship. But the latest Pastor's Summit hosted this week by Turning Point USA will feature activists speaking on small government, capitalism, vaccine skepticism, election fraud, drag queens, transgender teens, and "woke" Christians.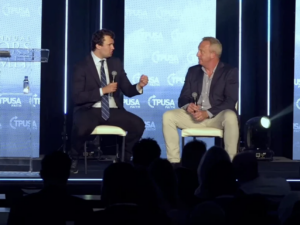 TPUSA is a secular nonprofit that is beloved buy a host of conservative Christian groups for its flashy, massive events that attract thousands of young people. It calls itself "the premier brand in events for young conservative activists across the country," and has annual revenue of $80 million and more than 700 employees.
The group says 1,200 pastors who reach an audience of four million souls are attending this week's free Pastor's Summit in San Diego.
Turning Point Faith
TPUSA has created programs targeting women, Latinos, Blacks, and Jews. Turning Point Faith launched in 2021 to address the "crisis of faith in America." That means the loss of faith in American ideals, not in God.
TPUSA's 2021 Investor Prospectus said: "America's faith in a Higher Being and moral truths is the final defense against a complete collapse of our nation and our culture."
Pastors and spouses receive free conferences, lodging, meals, resources. TPUSA also funds political work in churches. A page of Faith Resources includes a Faith Activism Grant Form that allows churches to request funding for the political events they coordinate with TPUSA Faith.
TPUSA partners with Liberty Counsel to defend politicized pulpits in the unlikely event the IRS investigates.
MyPillow founder and 2020 election denier Mike Lindell is an honorary TPUSA board member and "activist Partner." Former president Trump, his family members, and associates are frequent speakers at events.
Access to MinistryWatch content is free.  However, we hope you will support our work with your prayers and financial gifts.  To make a donation, click here.
Past speakers are a conservative GOP who's who: Marjorie Taylor Greene, Ron DeSantis,, Ted Cruz, Joni Ernst, Rand Paul, Josh Hawley, Jim Jordan, Matt Gaetz, Lauren Boebert, and Michele Bachman.
Kari Lake, who denies two election losses—Trump's in 2020, and her own in the 2022 Arizona's governor's race—speaks at TPUSA Women events. Another outreach targets "Conservative Girls" with a video on "Cuteservatives."
Pastor's Summit
Here's a look at the key speakers at this week's Pastor's Summit.
Charlie Kirk was 18 when he founded TPUSA in 2012. He explained his understanding of ecclesiology in an interview with the conservative outlet Breitbart News:
There are three types of churches in America today: the courageous, the cowardly, and the complicit, and this final category is growing fast…We want to encourage the courageous, win over and inspire the cowardly, and call out the complicit. If the church goes woke, we are truly lost in this country…TPUSA Faith wants to raise up a whole new generation of trained, equipped, and action-oriented pastors and church leaders who want to get involved in the public square.
Kirk served as chair of Students for Trump, and publicly announced he would send "80 + busloads of patriots to DC to fight for the president" in D.C. on Jan. 6, 2021. But when questioned by the House January 6 committee, he refused to answer questions and pled the fifth.
Rob McCoy is the cofounder of Turning Point Faith. He became a conservative media sensation—while also growing his church, Godspeak Calvary Chapel in Thousand Oaks, California—by opposing COVID-era mandates on vaccines, masks, and audience restrictions. He has publicly prayed that Marjorie Taylor Greene would be President of the U.S. and creates videos that train congregations across the nation to turn churches into centers of political activism.
Eric Metaxas is an author (Bonhoeffer), radio show host, and MAGA activist who wrote pro-Trump children's books (Donald Drains the Swamp and Donald Builds the Wall) and spoke at Jericho March rallies on Jan. 5 and 6. In a Jan. 6 Tweet he declared:
There is no doubt the election was fraudulent. That is the same today as yesterday. There is no doubt Antifa infiltrated the protesters today and planned this. This is political theater and anyone who buys it is a sucker. Fight for justice and Pray for justice. God bless America!
Election deniers were frequent guests on the Eric Metaxas Show, and he is being sued for defamation by an executive with Dominion Voting System he called "evil" and "Satanic."
"It is the job of the church to speak the truth," Metaxas told TBN. But in his deposition for the defamation lawsuit, he admitted he conducts zero fact-checking on guests' fantastic election claims:
I'm kind of a fly-by-the-seat-of-my-pants guy…We don't have the budget, bandwidth or time to do anything like that. I don't see that as my job…I am usually taking my guest at their word.
Long-haired worship artist Sean Feucht became famous through his 120-city "Let Us Worship" tour of "worship protest" events against COVID restrictions and racial unrest. The events, some of which lacked proper public permission and featured security teams populated by members of the Proud Boys and other right-wing extremist groups whose members have been convicted for participated in the Jan. 6 Capitol insurrection.
Feucht is now a millionaire; a bestselling recording artist and owner of a music business; a Republican activist (the political advocacy group Hold the Line) and former candidate; and the president of a charity (Light a Candle Project) that raised hundreds of thousands of dollars for work it is not clear it ever completed in Afghanistan.
Lance Wallnau is an entrepreneurial "Trump prophet" who predicted Trump's election, proclaimed Trump a new King Cyrus, and sold gold Trump/Cyrus coins on Jim Bakker's TV show. Wallnau promotes 7 Mountain Dominionism alongside Andrew Wommack.
Wallnau recently prophesied that former First Lady Michelle Obama will replace President Joe Biden on the Democratic presidential ticket.
Lucas Miles is a pastor and author who call out "wokeness" in the church and elsewhere. He writes and creates videos for The Epoch Times and Epoch TV, two media entities affiliated with Falun Gong, a non-Christian religious group founded in China that is using its media properties to spread its faith and anti-Communist message to the U.S.
He hosts The Epoch Times', Church & State with Lucas Miles, which was named the 2023 "Program of the Year" by the National Religious Broadcasters organization.
Other speakers include Bill Federer, Jeff Myers, Frank Turek, Ronnie Floyd, David Barton, and Bob McEwen.