Trump addresses March for Life, Where Religion and Politics Mix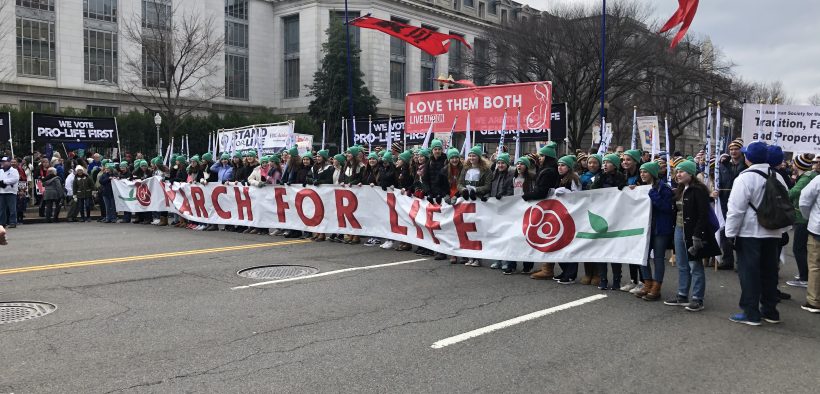 Planned Parenthood, the nation's largest abortion provider, will receive more taxpayer dollars this year than any year in history, but that didn't stop Focus on the Family President Jim Daly from declaring President Trump "the most pro-life president ever" at Friday's March For Life. 
President Trump on Friday became the first American president to deliver a speech at the annual March for Life.  He spoke before sprawling crowd that most estimates put at around 200,000 that gathered on the National Mall for this year's highest profile pro-life event.  The crowd also included some of the nation's most high-profile Christian ministry leaders. 
"All of us here understand an eternal truth: Every child is a precious and sacred gift from God," Trump said on Friday. "Together, we must protect, cherish and defend the dignity and the sanctity of every human life. When we see the image of a baby in the womb, we glimpse the majesty of God's creation." 
He also lauded anti-abortion activists who "make it your life's mission to help spread God's grace." 
Support for Trump was strong at the event, which welcomed delegations from Catholic and evangelical schools from across the country. Many participants — including some who appeared to be clergy — wore red hats and shirts adorned with Trump's campaign slogan "Make America Great Again." 
Standing along the curb as the masses processed by was James Gebhart, a Roman Catholic seminarian studying in Baltimore. He said he appreciated Trump's speech and hoped it would draw more attention to the march. 
"I think it was good that he came here to show that support publicly and in person," said Gebhart, who noted this year's March for Life appeared much larger than in years past. "(Trump) actually talks about God in his talks, and he recognizes what life is and recognizes the sacredness of that life. He's willing to say that to people, and to a country that needs to hear it." 
Jessica Hardman, an evangelical Christian student from Colorado Christian University, also expressed excitement at the president's presence. 
"It's so cool that our president is coming to this," she said. 
Hardman, a sophomore, said she and nearly 200 of her CCU classmates flew out from Colorado earlier this week to attend Friday's gathering, where they acted as flag-bearers at the front of the march. 
"Christ has called us to love our neighbor … and loving our neighbor means looking out for the least of these," Ethan Van Buskirk, president of CCU for Life, said as he stood in front of a column of anti-abortion protesters that stretched for blocks. "The most vulnerable people in our society right now are the unborn." 
Trump's address was preceded by a video message from Vice President Mike Pence and his wife, Karen, who were in Rome after visiting with Pope Francis earlier in the day. The vice president said in the video that he thanked the pope "for all that he and Catholic Americans have done to defend the sanctity of human life in the history of this movement." 
Pence also reportedly told the pope that the visit "made me a hero" back in the United States. 
As a litany of speakers addressed the crowd, attendees waved signs with scripture references or religious slogans such as "Pray to end abortion" and "Let God plan parenthood." While some referenced pop culture — one sign featured the slogan "I'm pro-Baby" next to an image of "Baby Yoda" from the Disney television series "The Mandalorian" — many were overtly political: One sign read "Stop abortion, vote Republican." 
Still others at the event, where the theme was "pro-life is pro-woman," brandished signs that read "Pro-Life Voices for Trump," a reference to a new initiative announced by the president's reelection campaign on Friday morning. According to campaign officials, the group is co-chaired by Marjorie Dannenfelser, president of the pro-life group the Susan B. Anthony List, and the Rev. Frank Pavone, a Catholic priest and national director of Priests for Life. 
"From appointing pro-life judges to defunding Planned Parenthood, President Trump's track record demonstrates he's the most pro-life President in history," read a statement from Dannenfelser. 
Also listed among the "key members" of the group were Paula White, who was recently named head of the White House's Faith and Opportunity Initiative; Ralph Reed, chairman of the Faith and Freedom Coalition; and Tony Perkins, head of the Family Research Council. 
Not everyone in the crowd was wholly supportive of the president, however. A group of Franciscan friars dressed in brown robes was vocally critical of Trump's policies unrelated to abortion, arguing that his administration's approach to climate change, immigration and war is "anti-life." The group handed out signs to marchers as they passed and brandished a banner that read "Choose Life – Not War." 
Trump's speech adds to a growing list of efforts to shore up his support among conservative Christians, one of the most consistently loyal portions of his base. He spoke at an evangelical church in Miami earlier this month to kick off his "Evangelicals for Trump" campaign initiative, where he also referenced his opposition to abortion and told the crowd that he believes "we have God on our side." 
Just two weeks later, the Trump administration announced efforts to protect students who want to pray in public schools and make it easier for religious groups that provide social services to access federal funds. 
The overtures may be an attempt to offset any potential losses Trump may endure among evangelicals who are frustrated by other elements of his presidency. In December, then-editor of Christianity Today Mark Galli penned a bombshell editorial in which he called for Trump's removal from office, explaining that while he appreciated some of the president's conservative policies, the case for impeachment and removal is strong. 
But even if the president is ousted by impeachment or this year's election, CCU student Jordan Jantzen — who said he supports Trump — insisted that the pro-life movement will outlast any politician. 
"Whether it be a leader from any party, if they're willing to stand up for the right to life and for the sanctity of life, we are a hundred percent behind those people — because we believe that the sanctity of human life is of utmost importance," he said.