Strange Fire: A Decade in the Life of Todd Bentley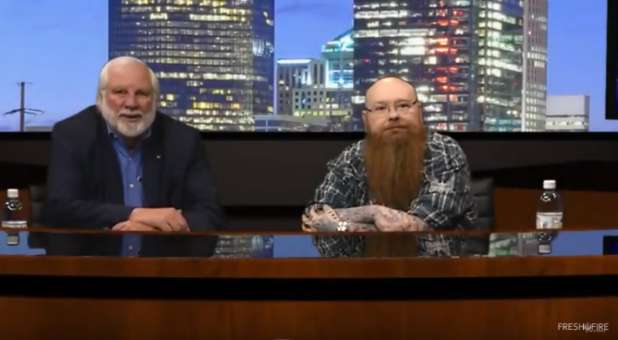 Editor's Note:  This week, Todd Bentley was sanctioned by a panel of charismatic and Pentecostal church leaders for what they called "credible accusations of a steady pattern of ungodly and immoral behavior, confirmed by an independent investigator's interviews."  The statement the panel released read in part:
Sadly, we see no signs of true, lasting repentance. Instead, we see a steady pattern of compromised behavior, including credible accusations of adultery, sexting (including the exchanging of nude pictures or videos), vulgar language, and substance abuse.
While MinistryWatch welcomes this public assessment of Bentley's behavior, we also note – with sadness – that Todd Bentley's actions inconsistent with ministry leadership date back to 2004, and have been publicly known since at least 2008, when he divorced his wife and soon afterward married one of his employees.
 In fact, an article by Warren Cole Smith and Rusty Leonard in WORLD in 2008 and a more comprehensive article by Warren Cole Smith, also published in WORLD, in 2009, documented many of Bentley's activities.
The article below is adapted from Warren Cole Smith's upcoming book Faith-Based Fraud, and is based in part on the articles previously published in WORLD, as well as new, original reporting.
———- 
Christopher Fogle, of Cedar Rapids, Iowa, loved to fish.  It was a break from his fast-paced, 25-year career with the Perkins Restaurant chain.
But when Fogle got severe cancer, his relaxing fishing trips, which he sometimes took with his children, had to end.  It was a devastating blow for the active 45-year-old.    But for Todd Bentley, television preacher and self-proclaimed healer, the cancer represented an opportunity to "proclaim the glory of God."
Todd Bentley is a self-described faith healer.  His so-called Lakeland Outpouring was a months-long series of healing services in the spring and summer of 2008 that attracted hundreds of thousands of people to a huge tent in Lakeland, Florida.  The meetings eventually ended in scandal, with Bentley admitting to an inappropriate relationship with an employee, and to alcohol abuse.
But at the height of the revival, I gave Bentley a chance to talk about the healings like the one that supposedly happened with Fogle, asking him for a list of people who had been healed at the services, healings that – if confirmed – would indeed "proclaim the glory of God."  I was told then that Bentley was out of the country, so the list could not be reviewed.  However, after six weeks and more than a dozen requests, the ministry eventually sent a list of 13 names.  Fogle was number 12 on the list, along with this hopeful note: "Healed through the Outpouring and is back to fishing."
I received the list on August 8, 2008.  There was just one problem.  Two weeks earlier, on July 22, Christopher A. Fogle – according to his obituary in the Keokuk (Iowa) Daily Gate City – "left this life…after a courageous battle with cancer."
In fact, a close review of the list I received reveals that this was indeed not the only problem.  Christopher Fogle is not the only person "healed" who is now dead.  When I called Phyllis Mills, of Trinity, North Carolina, on April 22, 2009, to hear the testimony of her healing, a polite family member said, "Phyllis passed away a few days ago.  In fact, we're on our way to her funeral now."
Mills, 66 at the time of her death, had lung cancer and was undergoing aggressive treatments when she was, according to the list, "healed at the revival."  Mills "was taking radiation, but was sent home," according to notes on Bentley's list, with "no trace of cancer in her body."
Another problem with Bentley's list is that some of the healings on it, even if legitimate, didn't happen at Bentley's services.  Consider, for example, Gaila Smith, of Yerington, Nevada,  She had gotten breast cancer at age 43, and got what she called a "total mascectomy" at that time.  But the cancer had spread to her liver.  Over the next decade she endured more rounds of chemotherapy, the latest one ending in December of 2008.  She eventually attended a women's conference, where "God touched me," she said.  She says she was healed at the women's conference, but when she attended Bentley's meetings in Lakeland, they asked, "If you had experienced a miraculous healing, come forward."
Smith went forward and told her story.  She ended up on Bentley's list of healings, with this note: "Healed of breast cancer that had spread to liver.  Totally healed in Florida, all scans are now clear."
Not only did the healing not take place at the "Outpouring," Smith later admitted to me that the scans are not clear after all.  "The doctors tell me that my numbers are going up," said Smith, who told me that she, too, had a healing ministry. She was one of several people I interviewed who Bentley said had been healed at his gatherings who themselves led healing ministries.  By claiming that they themselves were healed at a Bentley rally, it is hard to discount the possibility that they were hoping to bask in Bentley's celebrity.  Indeed, Gaila Smith held to the notion that she had been healed even in the face of evidence that her cancer was spreading.  When I questioned her about that, she said: "We don't buy into that.  That's a fact, but it's not the truth.  The truth is that I've been healed."
Gaila Smith died of cancer in 2012.  She was 54 years old.
Not all of the healings claimed by Bentley were from life-threatening illnesses, and the claims of healing are more difficult to prove one way or the other.  Leigh Ann Ansley, 43, is a married mother of two from Birmingham, Alabama.  Bentley's list says she was "healed of severe knee damage from an accident.  Has had 4 knee surgeries in the last, but still had pain.  Healed in the worship service and even her knee scar is disappearing.  Also healed of migraines."
When I contacted her, Ansley confirmed that she had attended the Lakeland Outpouring for about a week, and she confirmed that she did ask for prayer for an old skiing accident.  She said that after the prayers the knee "was not as stiff" as it had been.  As for the migraines: "I still have migraines," she said.
Ansley was one of the few on the list who had not been following Bentley's activities after the Lakeland events.  "I haven't been following the news about him," she admitted.  When she learned about subsequent problems with drinking, and his divorce and re-marriage, she said, "That's not good.  In fact, that's pretty bad.  I was wondering what happened to him."
Keith Tuplin was one of only two men on Bentley's list.  Tuplin pastors what he calls a home church in Montego Bay, Jamaica.  He had heard of Bentley's fall from ministry, and he said, "It grieved me.  Saddened me.  What he did is very hard to justify."  But Tuplin was steadfast in his belief that God had used Bentley to heal him of flat feet.  "I had pain in my feet for many years," he said.  In fact, Bentley's list said the 57-year-old had suffered through "40 years of flat-footedness."  Tuplin said the "pain instantly disappeared" after a "word of wisdom" at one of the Lakeland Outpouring services.  Was there a physical change in his feet, or could his doctors see any change in them?  "No," Tuplin answered.  "I can't see any change in shape.  I just feel much better.  And I'm not the kind of guy who goes to a doctor much."
Indeed, not one of the so-called healings on Todd Bentley's list could be confirmed by competent medical professionals.  Where medical evidence was available, as in the cases of Fogle, Smith, and Yearington, the evidence was to the contrary.
Regarding Bentley's fall from ministry, Tuplin said, "God uses who He chooses to use.  God used Todd to heal me."  Nonetheless, Tuplin admitted that he is concerned to see Bentley back in ministry so soon.  "What he did is very hard to justify, restoration or not."
Tuplin and Gaila Smith were not the only two who claim to be "minister healing" themselves.  Gina Weatherby, a 48-year-old personal trainer from San Angelo, Texas, says she was healed from scoliosis, a curvature of the spine.  Again, though, it was not at the Lakeland Outpouring, but at a women's conference where Bentley "was ministering" in February 2008.  She said that her pain has "gone away."  She also said that she now is involved in healing ministry.  "I'll just be going along," she said, "and my hands will get hot.  I'll pray for whoever is nearby."
How does Weatherby feel about Bentley's fall?  "As a minister myself, it makes me very humble.  It's a reminder that anyone can get caught up.  Especially when God is using you, it's hard not to get caught up in it and believe you're special," she said, with what I took to be unintended irony.
So do these stories prove – one way or the other – that Todd Bentley is either a healer or a fake? Does it mean anything that less than a year after the conclusion of the "Outpouring" two people on a list of just 13 "healings" – a list provided by the ministry itself — are dead, and all of the rest don't stand up to even the most common-sense questions?
Dr. Michael Brown said it does matter.  Brown is the author of Israel's Divine Healer, considered one of the definitive examinations of how healing takes place in scripture.  He personally believes in supernatural healing, but he also says a healthy skepticism about most healing stories is a sign of wisdom and discernment.
Brown said the fact that this list was presumably the best Bentley's ministry had to offer an appropriately skeptical public is a cause of concern.  "If you're going to make claims of healing on a very public, even international, stage, you'd better have your documentation in place," Brown said.
"God can and does heal," Brown said.  "But our experiences should not shape our theology.  Instead, our theology should be the lens through which we evaluate our experiences.  And our theology should be based on Scripture."
At one time, Todd Bentley's stage was huge.  Supporters claimed hundreds of thousands of people attended the "Lakeland Outpouring" and hundreds, if not thousands, of people were healed.  Many of them remained loyal to Bentley, even as evidence mounted that his healings were not legitimate and the behavior in his personal life disqualified him from ministry.  Even Michael Brown, who led the recent panel that ultimately determined that Bentley was "is not qualified to serve in leadership or ministry today," nonetheless continues to assert that Bentley "has been supernaturally gifted by God."
Lynn Breidenbach served as a spokesperson for Bentley during much of the Outpouring.  She refused to talk with me directly, and she ultimately named a spokesperson of her own, Permelia LaLonde.  LaLonde said, "We don't regret our time there at all.  We saw many miracle signs and wonders.  The Lord knew what was going to happen, but he chose Todd anyway.  And there are still fires burning all over the world.  How can you argue with that?"
Restored, but Unregenerate?
On March 9, 2009, less than a year after scandal ended the "Lakeland Outpouring" and Bentley's marriage, Bentley remarried – to a former employee.  He moved to Ft. Mill, S.C., a suburb of Charlotte, N.C., to undergo a "restoration process" under the direction of charismatic ministry leader Rick Joyner.  Joyner is controversial himself, and he often finds a way to insert himself into high-profile charismatic controversies.
For example, his ministry — Morningstar Ministries — now sits on property that was once part of the Heritage USA complex, originally established by Jim Bakker.  The complex included an unfinished 21-story hotel that has been a source of financial and legal trouble for Joyner and Morningstar since they acquired it.  Officials in York County, S.C., where have called the unfinished tower an eyesore and want it torn down.  Morningstar sued to prevent the country from taking action.  The controversy played out in the local papers over a period of years.
One reason Morningstar wants to keep the property is that even in a state of disrepair it has served as the venue for high profile events over the years, events that have featured "holy laughter" and what believers believe to be supernatural manifestations of "gold dust" at worship gatherings.
Under Rick Joyner's leadership, Bentley's "restoration" process lasted less than a year. Many fallen ministry leaders (including Ted Haggard, former megachurch pastor and former president of the National Association of Evangelicals) have found a "restoration process" to be their path back from disgrace to continued ministry.
But what is a valid, biblical restoration process?  First of all, it is important to acknowledge that a moral or legal failure should not necessarily or permanently disqualify a person for future Christian ministry.  The God of the Bible is a God of forgiveness and restoration.  There are many examples in Scripture and in recent memory of men and women having dramatic and public failures who were restored to lives of meaning and service.  Moses, David, and Paul were murderers.  (To be completely accurate, I should say that Paul was "merely" an accomplice in Stephen's murder.)  David was also an adulterer.  Peter denied Jesus three times.  The list goes on.  In our own time, we have heard the stories of gang-banger Nikki Cruz, Watergate conspirator Chuck Colson, and others.  God used them all mightily after they were caught in sin.
But what are the necessary and sufficient conditions for restoration?  Scripture does not outline a formula, but I think Scripture does provide some guidelines, discussed below.
True Repentance.  The word repentance means to "turn from."  So a condition for restoration to ministry means that the old, sinful, fraudulent behavior must truly be history.  Any minister who repents, even if that repentance is sincere, who puts himself back in a situation similar to the one in which he first fell — as Jim Bakker and Todd Bentley have done — deserves to have the sincerity of his repentance, or at least the quality of his judgment, questioned.
The Passage of Time.  One way that repentance can be said to be true is to let time go by with no recurrence of the old behavior.  How much time?  Again, there is no guideline from Scripture.  When Moses murdered the Egyptian overseer, he fled Egypt and was in exile for 40 years.  Saul converted sometime between AD 33-36, and there are 14 so-called lost years between the date of his conversion and any record of pubic ministry.  Many scholars believe these lost years were not lost at all, but were a part of Paul's discipleship process.
Recompense or Restitution.  On the other hand, Peter denied Jesus on the night prior to Jesus's crucifixion and yet he was restored to full fellowship with Jesus just days later.  It is possible that one of the reasons that Peter was restored so quickly after his denials was the unique opportunity Peter had to re-affirm his love for Jesus.  Jesus asked Peter three times — one time for each of Peter's denials — "Do you love me?"  Peter affirmed his love three times, and received from Jesus a specific instruction: "Feed my sheep."  When the tax collector Zaccheus turned to Jesus, he said he would restore four-fold the money he had fraudulently taken from others.
Recompense is more complicated when the fraud is spiritual.  How can Todd Bentley provide recompense to the families he claimed to heal?  These are men, women, and children who were given false hope, whose emotional and spiritual lives were pawns in his quest for money and power.  How many of these men and women rejected medical help because Bentley led them to believe that seeking help was a sign of doubt?  I don't know the answers to this question, but common sense tells me that a sincere and public apology, and the humbleness that such an apology requires, would be a necessary start.
Accountability.  Finally, a restoration process must include ongoing accountability.  A person who has defrauded the public has demonstrated by the fraud itself that his judgment is flawed.  Even someone who is sincerely repentant is suddenly not flawless in his judgments and discernment.  It's possible that the spiritual and emotional pathologies that led to the scandal (especially if the sin is a sexual sin) might take years to fully heal.  A restoration process should include accountability to others, either a church body, or wise individuals who have no other agenda than to restore the fallen person to full fellowship with Christ and His church.
Barriers or "hedges of protection."  It must also be conceded that even after a full restoration process has been followed, there might be certain areas of ministry which are permanently off limits to the restored person.  It would be folly for even a restored pedophile to be a youth minister.  Sincerely repentant and fully restored financial frauds, because of the powerful work God has done in their lives to restore them, might make great speakers who can testify to God's grace and healing, but does it make sense to put them in charge of the church's money?  Probably not.  Sin has consequences, and even a restored sinner should have barriers around him to ensure that he is not tempted by those sins for which he has a demonstrated weakness.
Todd Bentley's restoration process exhibited almost none of these qualities.  To take just one example:  even Rick Joyner admitted that Bentley's re-marriage was "wrong and premature."  Bentley was out of the pulpit for less than a year.  And during his restoration process, Bentley and Joyner put regular video conversations between them on the Internet.  Bentley and Joyner followed a process that does not even remotely resemble the one outlined above.
Back On The Platform
Almost immediately after Bentley's fall and "restoration" in 2009 and 2010, he was back on the platform.  By late 2010, Bentley had rallies in Texas, Tennessee, Michigan, and Haiti.  And from 2010 until today, he has maintained his Fresh Fire Ministries in Ft. Mill, S.C.  As for accountability:  virtually none.  His board of directors has only four people:  Bentley, his wife Jessica, Rick Joyner — the man who led what many consider Bentley's "restoration" process —  and Darryn Belieu, the former worship leader at The Secret Place, the church Bentley serves as pastor.  According to his web-site, Bentley's next event will be the Secret Place Conference, on Jan. 16-19.
It's not clear if the panel led by Michael Brown will finally have an impact on Todd Bentley's ministry.  The statement the panel released on Dr. Brown's Facebook page admitted as much:
Unfortunately, what's missing in the modern church is often the combination of relational and organizational accountability, which would ensure each minister's ability to navigate turbulent emotional, organizational, and spiritual waters. We pray that Todd would find such relational and organizational accountability, and it is our hope that this will become the norm, rather than the exception, for other leaders in the days ahead.
In the meantime, Bentley continues in ministry and he and his colleagues have gone on the offensive against the Brown-led panel and statement.  Michael Fickess, a colleague of Todd Bentley and one of the keynote speakers at the upcoming Secret Place Conference, posted a video saying he "wholeheartedly, unapologetically rejects" the findings of what he calls the "tribune panel."  He posted the video on Jan. 2, and in the first 24 hours it had received more than 10,000 views, indicating that even Bentley's surrogates can still draw a crowd.
If anything brings Bentley into submission, it is likely to be financial restraints rather than spiritual or organizational ones.  2017 is the last year for which financial statements are available for Bentley's Fresh Fire USA ministry.  That statement showed Bentley and his wife Jessica combined for an income of $169,327.  That would be great money for most American households, but it was a significant pay cut from the Bentleys' prior year compensation of $192,176.  To compound the problems, Fresh Fire's expenses exceeded revenue for each of the past three years.  The losses now total $84,678.  These losses mean the ministry has a negative net worth.  Its liabilities now exceed its assets by $48,972.
These financial realities may be why Bentley started a side-business last year.  Long known for his flowing beard, in September he announced a company that promises men products that will up their "beard game."  The online company sells beard oils and other beard and skin grooming products.
And those who think Todd Benley has gotten a dose of humility by recent events should consider the name of his new enterprise:  Magnificent Man.