Significant Challenge for Ministries to Find and Keep Qualified Staff, Survey Reveals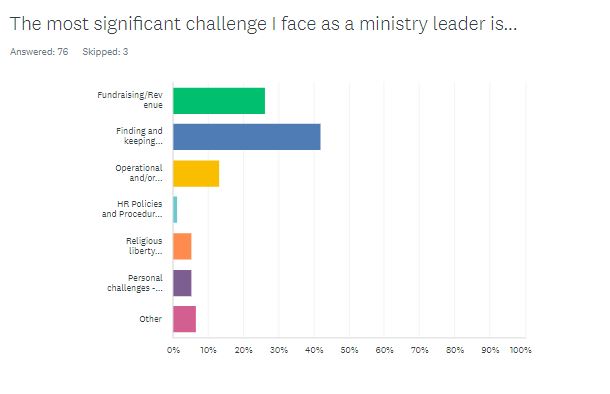 Editor's Note:  Every quarter, we will survey the senior executive of the 1000 largest Christian ministries in the nation.  We will then produce a series of stories based on their responses.  This story is the second in that series.  To read the first article, which highlights revenue expectations for ministry leaders in the year ahead, click here.
Christian ministry leaders say finding and retaining qualified staff are among the biggest challenges they face.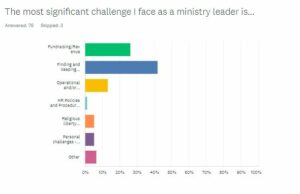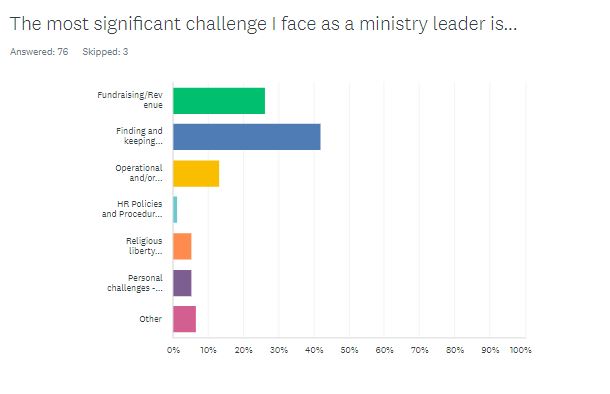 In a MinistryWatch survey of the executives of the largest Christian ministries in the country, 42% of respondents said "finding and keeping qualified staff" was their most significant challenge.
The U.S. Bureau of Labor Statistics reported that there are 10.7 million job openings in the economy more broadly.
Chairman Jerome Powell has described it as "a very, very tight labor market—tight to an unhealthy level."
Kathleen Orr, CEO and president of Christian Military Fellowship, acknowledged that finding and keeping qualified staff, especially in executive positions, has been a challenge for the group.
While they are not currently hiring, she noted the ministry "spent a considerable amount of time in 2019 and 2020 looking for a CEO" but could not find anyone who would serve out of its home office in Denver, Colorado.
Orr, who was a board member for Christian Military Fellowship, was hired as CEO and works from her home office in Spokane Valley, Washington.
"Likewise, in 2021, we searched long and hard for a CFO but received only one resume with any actual relevant experience. The person we hired quit after three months and has not been replaced. I now fulfill the roles of CEO and CFO," Orr added in her response to MinistryWatch.
Access to MinistryWatch content is free.  However, we hope you will support our work with your prayers and financial gifts.  To make a donation, click here.
Orr's observations comport with other comments provided by survey respondents.
The survey allowed leaders the option to elaborate on their answers, and two comments mentioned "succession planning" and "management succession."
The succession concern may be a reflection of the age of the ministry executives. Over 90% of leaders who responded to the survey reported they are over 50 years old. Of those, nearly 48% are over 60.
"While widespread staffing shortages have affected hiring at all levels of the nonprofit workforce, finding and transitioning new executive leaders has become especially challenging," Jan Cohen, a consultant to nonprofits, noted in an article in The Chronicle of Philanthropy.
The article goes on to note that nonprofit leaders often leave or retire to become consultants.
"There are way fewer experienced executive director and CEO candidates than there have ever been before," Cohen added, also noting the importance of preparing for leadership transitions.
Jim Palmer, president of Orange County Rescue Mission, expressed similar concerns.
"The challenge is finding young people that are willing to actually come to work. There is now such a strong culture of working from home and in our type of ministry you need to be face to face with those that we are ministering to," Palmer told MinistryWatch.
"We are also finding that the high level of debt that these young college graduates have ultimately causes them to leave ministry jobs for secular for profit positions that can pay more," he added.
A recent article by Phil Cooke argues ministries should consider increasing salaries for its leaders.
"In my opinion, we need to evolve from the idea that the mission is all that matters, and people who are called are there because of bigger purposes than a mere salary," Cooke wrote.
There are times when ministries need to keep salaries low, Cooke acknowledged, such as during the start-up phase. "But if the plan is to grow that organization, then we need a team at the helm who aren't just called, but also have the right gifts and talent to lead that growth."
Fundraising is also a challenge that 26% of survey respondents noted as a significant challenge. The fundraising issue may be tied to staffing.
The Chronicle of Philanthropy highlighted the problem many non-profit groups are having in finding qualified development directors.
"Organizations are posting ads—sometimes for six-figure director of development positions—and getting few if any qualified applicants," the article said.
MinistryWatch sent its survey to leaders of the 1,000 largest Christian ministries in the country, receiving 79 responses. We will continue a quarterly survey of the leaders and report trends that appear from the survey results.