Samaritan's Purse Hospital in Central Park To Close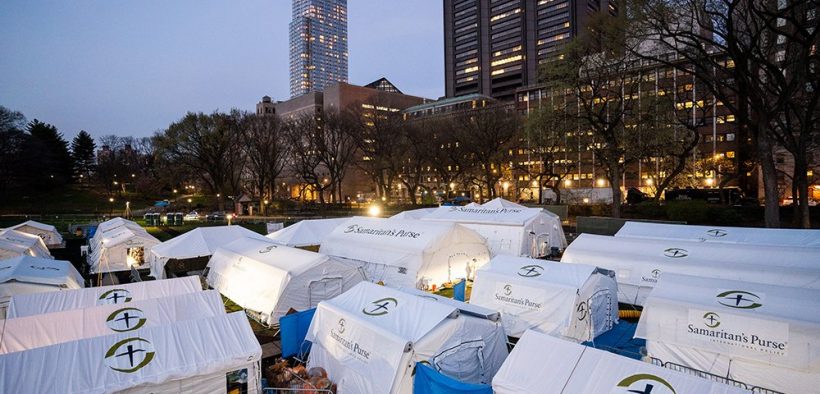 The Central Park field hospital erected by the evangelical humanitarian relief organization Samaritan's Purse will shut down after it releases its last patient — likely on Friday, May 8. 
The 68-bed tent hospital in Central Park's East Meadow, run in partnership with the nearby Mount Sinai Hospital, was expected to stop admitting new patients Monday as the number of new hospitalizations for critically ill coronavirus patients fell. 
Assembled during the last weekend in March, the field hospital's medical staff treated 191 patients, a spokesperson said. 
It also kicked up a storm of controversy as the conservative Christian group was attacked by liberal ideologues and activist groups. 
New Yorkers from Mayor Bill de Blasio to City Council Speaker Corey Johnson criticized Samaritan's Purse and its leader, evangelist Franklin Graham, because the Christian group required staff to sign a statement of faith affirming the Christian faith.
LGBTQ activists with the Reclaim Pride Coalition held rallies near the field hospital demanding the city's Commission on Human Rights investigate whether Samaritan's Purse policies violated New York's broad anti-discrimination ordinances. 
Graham — the son of the Rev. Billy Graham — reiterated that the field hospital does not discriminate in whom it treats.  "We provide our services to everyone regardless of race, ethnicity, religion, sexual orientation," Graham told Religion News Service. "We don't discriminate. Period."
The field hospital also drew its share of well-wishers and volunteers who plied the 244-member disaster response team — about 70 of them doctors and nurses — with free meals, snacks and boots to thank them for helping New Yorkers in their time of need.
And it benefitted from the support and gratitude of Mount Sinai Health System, with whom it worked to treat critically ill New Yorkers. 
Samaritan's Purse medical staff, many of whom are experts in communicable diseases, also treated coronavirus patients at two other sites: a lobby inside Mount Sinai Hospital and at Mount Sinai Beth Israel, a 799-bed teaching hospital in Manhattan's Lower East Side.
In all, Samaritan's Purse treated some 315 New Yorkers, a spokesman said.
Graham said Monday that the Samaritan's Purse medical team will remain in New York City for a few weeks to assist overworked Mount Sinai staff. 
"The entire medical community in New York is stressed to the limit," Graham said. "It's very difficult. By staying, we can take some of the shifts and night calls and take responsibility for a couple of the wards or floors to give other people some rest. We'll be glad to do that."
Graham said the 14 tents in Central Park will need to be disinfected before they come down. They will then be shipped back to North Carolina, where Samaritan's Purse is based. 
The humanitarian relief group is also dismantling another field hospital it set up in Cremona, Italy's hard-hit northern city, which was walloped by the COVID-19 outbreak. That field hospital may be deployed to Sudan, which was placed under a three-week lockdown following a sharp increase in coronavirus cases, Graham said. 
Samaritan's Purse has a track record of providing emergency medical care. Its first field hospital was set up in 2016 in response to the earthquake in Ecuador. The organization also set up an emergency field hospital about 12 miles from Mosul, Iraq, during the 2016-17 battle for the city. Last year, it installed a field hospital in the Bahamas in response to Hurricane Dorian. 
The Central Park hospital was the first to be deployed in the United States.
Graham said he will be in New York City on Friday for a final press conference as the hospital closes. He said he's been pleased with the result.
"It's been hugely successful," he said. Mount Sinai Hospital, he added, "has not wavered on their enthusiasm for our presence. We've been a help to them."