Rich Ministries In The Age of COVID

PPP Funds Were Designed To Save Jobs, But Are They Really Fattening Coffers?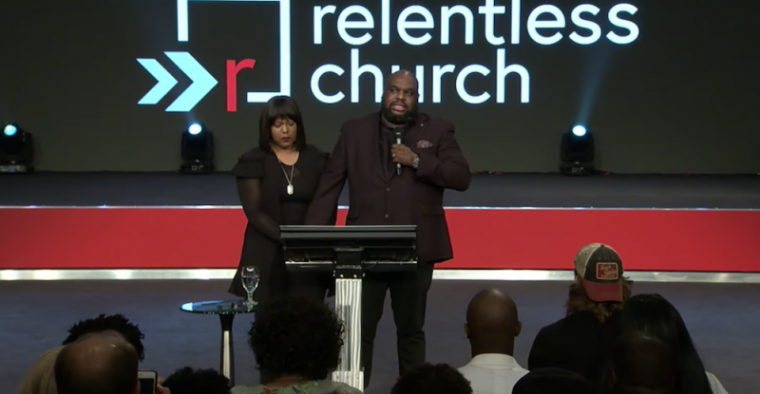 John Gray is senior pastor of Relentless Church in Greenville, S.C.  He's known for his fiery preaching and his lavish lifestyle.  He recently bought his wife a $200,000 Lamborghini Urus as an anniversary gift.
With the release of data by the Small Business Administration last week, he is now also known as the leader of a church that took more than $1-million in Paycheck Protection Program (PPP) funds.
Gray's Relentless Church is not alone.  Religious organizations, including churches and Christian non-profits, received at least $6-billion in COVID relief funds.
Plenty of ministry experts, including conservatives who are generally opposed to taking government funds for church and ministry work, believe it is OK for ministries to take PPP funds.  These include Marvin Olasky with the World Magazine; John Stemberger, who runs the Florida Family Policy Council; and Russell Moore, with the Ethics and Religious Liberty Commission of the Southern Baptist Convention.
Chuck Bentley's Crown Financial Ministries did not take funds and wrote a white paper warning other ministries against taking the funds, nonetheless said that taking PPP funds "is not a sin."  Neither does he believe that this money will create long-term dependency on the government.  "This money is a temporary grant," he said.  "I don't think there's going to be a gotcha or an entrapment from people who go ahead and accept the funds."
However, in order to get the PPP funds, an applicant must affirm: "Current economic uncertainty makes this loan request necessary to support the ongoing operations of the Applicant."
It's hard to see how a pastor who can afford a $200,000 Lamborghini would need government funds to support ongoing operations.  However, Bentley said the level of uncertainty back in March and April may have motivated some organizations to apply for the funds as a "safety net."  He says he hopes such organizations, organizations that ended up not needing the money to support ongoing operations, would pay back the money rather than receive it as a grant.  Paying the money back would be, Bentley said, "a positive and powerful witness."
MinistryWatch examined the list of churches and ministries that received at least $2-million to see if there was a real need.
Elevation Church received between $2- and $5-million in PPP funds despite generating more than $91-million in revenue last year and generating more than $24-million in profit (revenue less expenses).  The assets of the Charlotte-based megachurch exceeded $114-million at the end of 2019.
Ligonier Ministries also took between $2- and $5-million in PPP funds.  Though significantly smaller than Elevation Church, with revenue of just over $31-million in 2017, the last year for which we have data available.  The profit margin for Ligonier was significantly greater, with "revenue less expenses" of about $9.4-million.  Ligonier also spent $4.2-million on fundraising, a number that was more than 13 percent of its total revenue.
Summit Church received between $2- and $5-million in PPP funds even though it generated $36.6-million in revenue and cleared $8.9-million (revenue minus expenses) for the fiscal year ending in August of 2019.
Redeemer Presbyterian Church in New York City also received at least $2-million in PPP funds even though its revenue exceeded expenses by $8.3-million in 2018 (the most recent year available).  The church also listed net assets exceeding $69-million.
Not all the ministries receiving PPP funds were as flush with cash as those mentioned above.  Here's a rundown of ministries and churches that received at least $2-million in PPP funds whose financial position is less healthy than the ones listed above:
Willow Creek Community Church received more than $5-million in PPP funds, but its financial position is perhaps the most dire of those on this list.  In 2018 its expenses exceeded revenue by nearly $18-million.  The organization has already experienced significant staff layoffs and, before the COVID crisis forced all churches on-line, attendance at the Chicago-area megachurch has fallen significantly because of recent scandals associated with the church.  Still, Willow Creek's net assets still approach $200-million.
David C. Cook received between $2- and $5-million in PPP funds.  David C. Cook, founded in 1875, has assets of more than $70-million, but it has been struggling recently because of changes in the book and recording industries, two core activities of the organization.  Cook lost more than $5-million in 2017 (the last year available).  That continued a four-year slide that produced total losses in excess of $21-million.
Mariners Church, a megachurch in Irvine, Calif., generated $31.7-million in revenue in 2019, but its expenses exceeded $38.6-million, for a loss of $6.9-million.  Despite this significant loss, Mariners net assets still exceed $100-million.
Other ministries receiving loans of between $5- and $10-million is Reformed University Fellowship, a well-known campus ministry that is a subsidiary of the Presbyterian Church in America.  Joyce Meyer Ministries also received a PPP loan of at least $5-million, as did Oklahoma City-based Life Church, led by pastor Craig Groeschel.
Other well-known churches and ministries receiving at least $2-million in funds include:  New Life Church (Conway, Ark.),  Jews for Jesus, Shadow Mountain Community Church (led by well-known radio and TV preacher David Jeremiah), David C. Cook (a large evangelical book and music publisher), 12Stone Church (an Atlanta megachurch), Mission Aviation Fellowship, Harvest Bible Chapel (formerly led by James MacDonald), Kanukuk Ministries (which operates Christian summer camps near Branson, Mo.), Potters House (T.D. Jakes) and Oak Cliff Bible Church (Tony Evans).
Christina Darnell contributed to this story.