Pro-Abortion Activists Disrupt D.C. Pregnancy Center's Fundraiser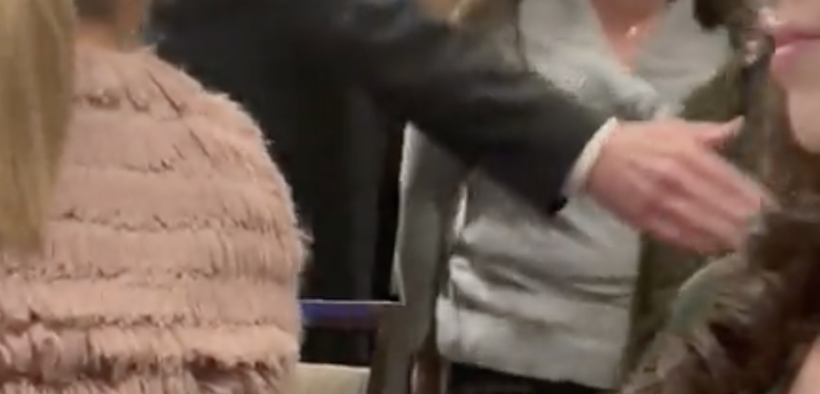 Pro-abortion activists disrupted Capitol Hill Pregnancy Center's fundraising banquet Dec. 1, shouting obscenities both outside the Washington D.C. venue and inside as the center's executive director talked about heightened security concerns.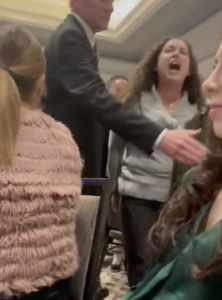 "Blood on your hands! Jane says revenge, mother f***ers! Blood on your hands! Abortion forever!" one protester shouted as the center's executive director, Janet Durig, was speaking.
As the protester was escorted out, a man who was also seated at her table began shouting obscenities, LiveAction reported.
At least six people were actively involved in the protest inside the room, according to banquet attendees. Pro-life author Chelsea Patterson Sobolik tweeted that some of the protesters were  sitting at a table with a mother and her baby who later shared her story onstage.
Activists from ShutDownDC and OurRightsDC claimed responsibility for the protest, per Fox News.
Durig told LiveAction a security team hired for the night was able to quickly remove the protesters.
"It was a disturbance, but it didn't deter anything. The show went on so to speak, and I've gotten a lot of compliments and emails that it was disgusting, but that it was handled well," she said.
Multiple banquet attendees recorded the protests and posted videos to social media. (See links to several videos here.)
The protesters also objected to the presence of Erin Morrow Hawley, a lawyer for Christian legal advocacy group Alliance Defending Freedom, at the banquet. Hawley was a member of the legal team that worked to overturn Roe V. Wade and is the wife of U.S. Sen. Josh Hawley, a Republican from Missouri.
One of the activists, who identified himself on Twitter as Vincent Vertuccio, shared his own video, writing: "Tonight, I joined friends (@ShutDown_DC) in disrupting the Capitol Hill Pregnancy Center's anti-abortion banquet in Crystal City. This clinic, a so-called 'crisis pregnancy center' lies to patients, endangers pregnant people, and is part of a national anti-abortion network."
Access to MinistryWatch content is free.  However, we hope you will support our work with your prayers and financial gifts.  To make a donation, click here.
Vertuccio is shown shouting, "We will always aid and abet abortion. This clinic has got blood on its hands. You know that you have blood on your hands. You don't give a f*** about pregnant people. You don't fix any systemic issues…"
"The people that attack reproductive healthcare, welcome fascists with open arms, and expect to dine in peace while ripping our rights from us don't deserve a minute of peace until they stop their attacks on our communities. I was proud to disrupt their banquet," he added.
Fox reported that more than 100 churches and pro-life organizations have been attacked by abortion activists since the May 2 leak of the U.S. Supreme Court's draft opinion in the Dobbs v. Jackson Women's Health Organization case, which eventually led to the high court overturning Roe v. Wade.
In June, Capitol Hill Pregnancy Center was vandalized by pro-abortion protesters, who threw red paint on the and spray painted the words "JANE SAYS REVENGE" was spray-painted on the side of the building. The group, known as Jane's Revenge, has claimed responsibility for other similar vandalism incidents.
Main photo: A protester was escorted out of the Capitol Hill Pregnancy Center fundraiser event Dec. 1 / Video screengrab