Prestonwood Baptist Flying Drummers Video Elicits Mixed Responses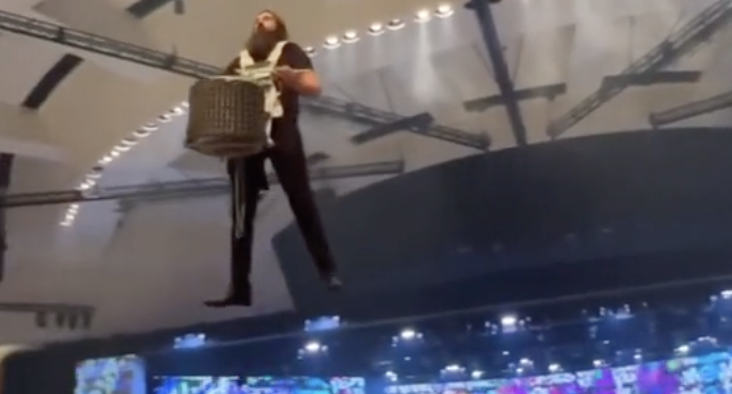 Prestonwood Baptist Church continues to receive backlash after a TikTok video of flying drummers and a massive LED wall flashing "JESUS" went viral.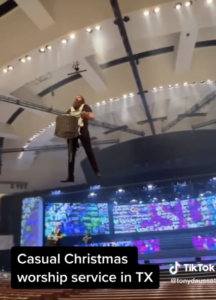 The video titled "a Casual Worship Service in TX" captured flying drummers traversing the ceiling of the Plano, Texas, megachurch's worship center suspended on cables. Tony Daussat, not a Prestonwood member, posted the video, which was shared over 34,000 times.
Prestonwood confirmed the footage was of a rehearsal for their annual Christmas production, "The Gift of Christmas."
Advertised as a "visually stunning" multimedia event with special effects, The Gift of Christmas has a nearly 1,000-member cast, a live orchestra, "flying angels, and much more!" The video trailer displays surreal angelic scenes, neon pyrotechnics, live camels, and flying drummers in LED suits.
Standard tickets range from $19-$39. People can upgrade to a $59 package for premium seating and convenient parking.
Ten out of 14 shows have sold out as of the writing of this article.
The revenue for selling out all 14 shows in the 7,000-seat worship center at the minimum price of $19 per person is over $1.8 million. An estimate based on a median price of $39 per person indicates revenue could reach nearly $4 million.
Daussat later commented that he held no position or opinion on the church's actions and posted the video because he found flying drummers "objectively funny."
However, the video, which has over 14,000 comments, sparked criticism of the church's spending, some citing the fact that most of the participants are volunteers and Prestonwood's Pastor Jack Graham has a net worth of $10 million.
"If this doesn't scream 'tax them' I don't know what does," one commenter said.
"You can't convince me that the leaders of churches like this don't run it with a business mindset instead of a service mindset," said another.
A statement on the church's Facebook page said they believe Jesus deserves "the best" and referenced their quarter-century tradition of elaborate celebration. "We are grateful to have the opportunity to share this grand celebration of our Savior with as many as 75,000 people each year through The Gift of Christmas. And we are especially grateful for the many who make decisions to follow Jesus or deepen their relationship with Him. Please pray for all who walk through the doors of our church, and pray that Christ will be glorified."
Several comments on TikTok and Reddit compared the event to Broadway. A theater professional said, "I tell people that most big churches have more sophisticated gear then (sic) Broadway and they don't believe me. well here you go."
Others defended Prestonwood's over-the-top approach: "We used to be in music/arts ministry. Our members and outsiders are looking for excitement. Let's face it we're in competition with the world."
Another agreed: "Yes, music is emotional and has been part of the faith since the early beginnings.. so why not use it as a vessel to tell story of the birth of Christ?"
"It is a church with almost 50,000 members across 3 campuses. At some point, the cost really isn't THAT big a deal. They absolutely can and should do something 'better' with the money, but their 50k members funded this thing and they did it."
A similar performance, Bellevue Church's Singing Christmas Tree features singers and performers projecting from a 46-foot tree on a $2 million stage. Tickets range from $5-$25.
Main photo: Video screengrab