Pastor Darrell Scott's pro-Trump nonprofit loses tax-exempt status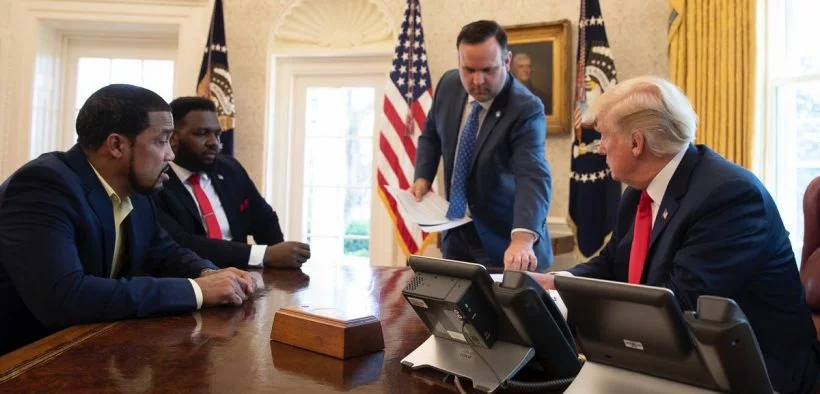 Darrell Scott, the busy Ohio pastor who leads three different pro-Trump nonprofit organizations, saw the IRS revoke the tax-exempt status of one of his groups.
There's no evidence Scott's Urban Revitalization Coalition ever did any urban revitalization work during its first three years, and it never sent annual 990 forms to the IRS, as legally required, triggering the automatic revocation, which was posted on the IRS's Automatic Revocation of Exemption List on Aug. 11.
What little work URC actually did stirred controversy. Scott's group received a $238,000 grant from America First Policies, the nonprofit arm of a pro-Trump super PAC, then turned around and handed out some of the cash to Black people attending URC events, which promoted Trump's reelection, in violation of IRS regulations. 
"This is how Black folks Pro-Trump events begin," says Scott in a video of an earlier "Christmas Extravaganza" cash give-away. 
A Martin Luther King Jr. Day give-away event was planned for Virginia Union University, a historically black school, in Richmond, Virginia. But the event was canceled after the school's president claimed Scott's group had engaged in bait-and-switch. Scott had promised an "economic development discussion," but fliers for the event said it would honor Trump and Jared Kushner.
"The event advertised is vastly different from the event VUU agreed to co-host," said school President, Hakim Lucas, in a January Politico article, "Trump allies are handing out cash to black voters."
URC's use of super PAC cash belies its claim that it had never received "one dime from the Trump campaign or any campaign. All the monies that we've gotten into our private foundation has come from private donors that support what we're doing."
URC's website claims the group creates structures and frameworks to empower Urban Communities," claiming, Our signature 'RC 13 Point Program Model' can be implemented in any area within 24 Months or less." The site doesn't say whether the model has actually been adopted anywhere.
Pastor and Politico
Scott founded the New Spirit Revival Center in Cleveland Heights, Ohio in 1994. The church's website doesn't mention Scott's work with Trump, which included a keynote speech supporting Trump at the 2016 Republican National Convention.
Scott has worked closely with Trump aides to create the three pro-Trump organizations he leads. In addition to the Urban Revitalization Coalition, he leads the National Diversity Coalition for Trump and Black Voices for Trump.
In April 2016, Scott worked with Michael Cohen, Trump's now-convicted lawer and fixer, to create the National Diversity Coalition for Trump, which campaigned on Trump's behalf. Scott hosted Trump at a pastor's event at his church, and portions of the event aired on Sean Hannity's Fox News show.
Cohen and Trump briefly mention Scott on an audiotape Cohen secretly recorded. The tape features a discussion of hush money payments to Playboy model Karen McDougal.
Black Voices for Trump was led by former Godfather's Pizza CEO Herman Cain, who died of COVID-19—which disproportionately impacts Black communities—following Trump's mask-free June rally in Tulsa. Scott is the group's co-chair.
"Empowering the Black community has always been a top priority for Donald J. Trump, even before he became President," says the Black Voices for Trump website.
Trump's efforts to court the black vote may be working. A Hill-HarrisX poll finds that Trump received a nine-point post-convention bump in Blacks' approval. Still, 76 percent of Black voters still say they disapprove of the job Trump is doing.
Trump himself has run afoul of laws regarding non-profits and politics. In 2019, the Donald J. Trump Foundation shut down and paid a $2 million penalty after misusing charitable funds for Trump's political gain. Trump and other family members admitted numerous violations, and acknowledged that the foundation's board had not met for nearly two decades.