National Religious Broadcasters Chair Resigns Unexpectedly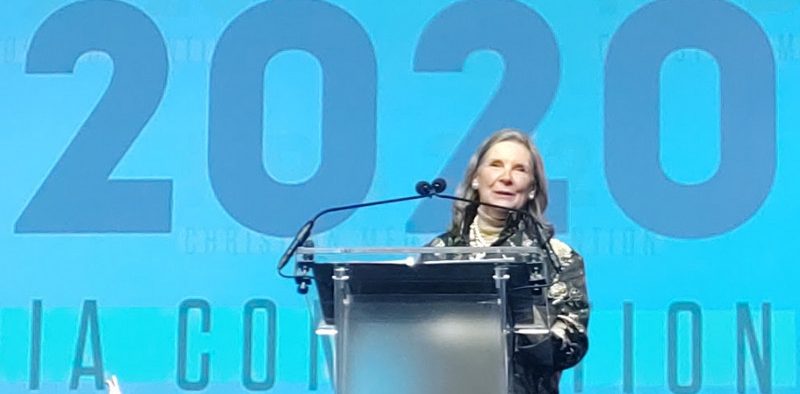 The chairman of the board of the National Religious Broadcasters (NRB) Janet Parshall resigned Wed., April 29, according to an email acquired by journalist Julie Roys.
The email, sent to NRB members Wednesday morning, was written by Acting Board Chairman Ron Harris. His statement called Parshall's resignation an "unexpected announcement" and gave no reason for her departure, which is effective immediately. Parshall's husband, Craig Parshall, also resigned from his role as NRB's general counsel.
"[A]s the result of much time spent in prayerful consideration of what the Lord has called us to do, Craig and I have decided it is now time for both of us to step away from NRB," Parshall wrote to NRB's board of directors, according to Harris' email. "Both of us pray that the God of all creation, whose message we love to proclaim, will provide all of us with the wisdom, courage, discernment, compassion and strength for the coming days to finish our race strong."
The NRB is considered the largest association of evangelical broadcasters, though declining membership numbers and financial losses left the organization teetering on the edge of bankruptcy before Parshall, host of Moody Radio's In the Market, was elected chairman in February 2019. She helped raise at least $750,000 from NRB members to help alleviate a financial crisis.  Still, the organization is far from what it once was, with attendance at its annual conference — a major source of revenue—barely half of its numbers just three years ago.
Parshall's history with NRB traces back nearly two decades, during which she also served as a board member and executive committee member. Craig Parshall served two terms as general counsel, advocating in Washington, D.C., for public policies protecting First Amendment rights for Christian broadcasters, one of NRB's primary missions.
"Few people beyond NRB's Board of Directors fully comprehend the depth and effectiveness of Janet and Craig's years of service to NRB," commented former NRB President Frank Wright. "Their faithful and long-standing commitment has blessed the entire community of Christian communicators."
Parshall's sudden departure raises questions about the organization's future, but Harris, who is stepping into Parshall's vacated position, assured members the show will go on: "National Religious Broadcasters looks forward to a dynamic year of helping our members to be what NRB has been for over 75 years—Christian Communicators Impacting the World with the life-changing Gospel of Jesus Christ. Led by CEO Troy Miller and the Executive Committee, the coming year will be highlighted by the 2021 NRB Convention at the Gaylord Texan in Grapevine, Texas, March 15-18, 2021."