Liberty President Falwell Apologizes for "Offensive Image"

Black LU Alumni Calling for Resignation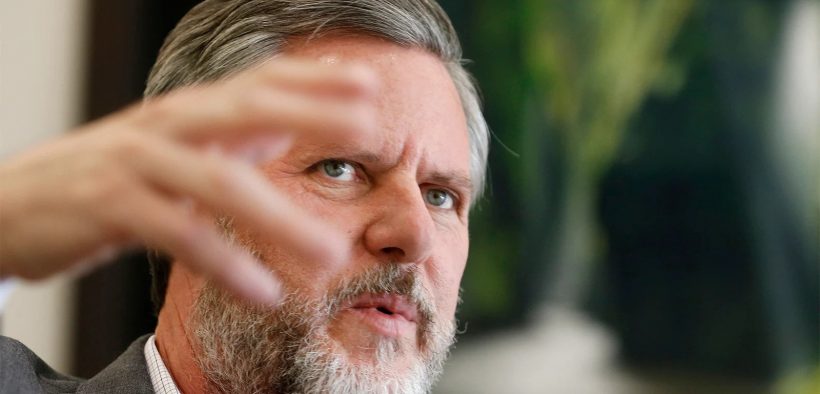 Liberty University president Jerry Falwell Jr. apologized yesterday as black alumni demanded his resignation for tweeting an offensive image as part of a jab at Democratic Virginia Governor Ralph Northam's social distancing policies.
Black alumni in a letter last week called for Falwell to change his behavior or step down as Liberty president, saying he had "repeatedly violated and misrepresented" Christian principles, USA Today reported. The letter said that among other actions, they would stop donating to the school and discourage minorities from enrolling.
The tweet included an image of a mask imprinted with a photo of one man in black face and another in Ku Klux Klan robes. The photo, from Northam's medical school yearbook, had surfaced last year with Northam rumored to be one of the men.
The text accompanying the image said: "I was adamantly opposed to the mandate from @GovernorVA requiring citizens to wear face masks until I decided to design my own. If I am ordered to wear a mask, I will reluctantly comply, but only if this picture of Governor Blackface himself is on it!" The New York Times reported.
Northam denied last year that he was one of the men in the photo after initially saying that he was, per NYT, and a subsequent investigation failed to definitively identify either man.
Northam and Falwell had previously clashed over Falwell's decision to allow some students to return to the University's campus in March even as the governor issued stay-at-home orders during the Covid-19 outbreak.
Alumni took to social media to voice their concerns about Falwell after the tweet with the hashtag #LUDeservesBetter, and Liberty's basketball and football coaches issued statements decrying racism, the Times said.
Last week, Liberty's director of diversity retention LeeQuan McLaurin resigned, saying Falwell's tweet was a "tipping point" of race-related problems he experienced at Liberty, The Washington Post reported.
In his Twitter apology, Falwell took another shot at Northam, saying, "After listening to African-American L.U. leaders and alumni over the past week and hearing their concerns, I understand that by tweeting an image to remind all of the governor's racist past, I actually refreshed the trauma that image had caused and offended some by using the image to make a political point.
"Based on our long relationships, they uniformly understood this was not my intent, but because it was the result, I have deleted the tweet and apologize for any hurt my effort caused, especially within the African-American community."
In an earlier tweet May 31, Falwell had said he wouldn't apologize for "reminding people of the governor's racist past" because the governor had ended tuition assistance grants for "the 27% of Liberty online students who are African-American."
Falwell, a strong supporter of President Donald Trump, is the son of televangelist and conservative activist Jerry Falwell, Sr., who founded Liberty University in 1971. Jerry Falwell, Jr. took over leadership of the school upon his father's death in 2007.