Jan. 6 Hearings Highlight Politicians Who Had Received Support From Pro-Family Groups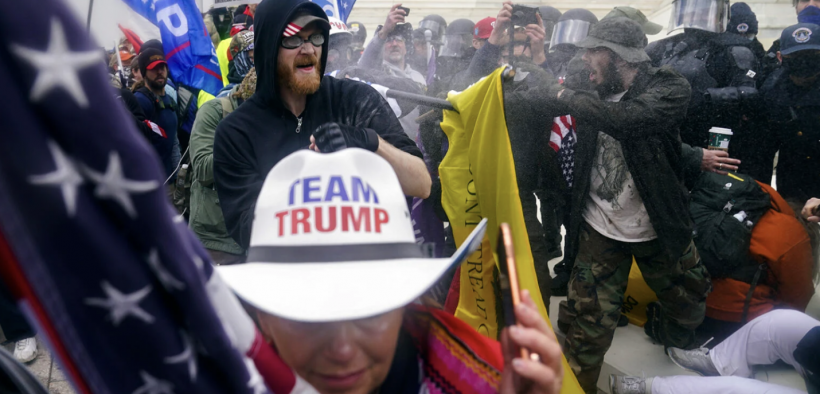 The Family Research Council Action PAC first endorsed congressional candidate Andy Biggs in 2016. "You have proven you will stand up for the Constitution and fight for the rights of the people," FRCA said.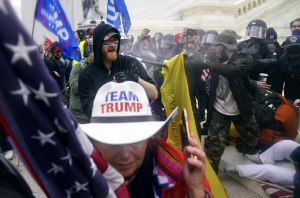 The Arizona congressman was one of those highlighted in the Jan. 6 hearings last week for his efforts to overturn the 2020 presidential election.  Evidence presented at Tuesday's hearing of the House Select Committee investigating the Jan. 6 attack on the U.S. Capitol showed that Biggs met with White House Chief of Staff Mark Meadows on Dec. 21, 2020, to discuss how to overturn the election. 
On January 6, 2021, Biggs urged Rusty Bowers, a fellow member of the Church of Jesus Christ of Latter-Day Saints and the Republican speaker of Arizona's House of Representatives, to help in that effort.
In emotional testimony, Bowers, a lifelong Republican who voted for Trump, said his faith in God and in America kept him from decertifying Arizona's electors.
"I do not want to be a winner by cheating," Bowers said, citing his "deep foundational desire to follow God's will, as I believe he led my conscience to embrace."
Biggs says he isn't watching the hearings, because they are "pure political theater" designed to "distract the American people from the Democrats' and Biden's disastrous leadership." He has refused to comply with a subpoena to testify before the House Select Committee.
Biggs is one of seven Republicans who have refused to cooperate with the House investigation and are endorsed by Christian pro-family groups.
House Minority Leader Kevin McCarthy and Congressmen Jim Jordan, Mo Brooks, Ronny Jackson, Scott Perry, and Barry Loudermilk have refused to cooperate. Biggs, Brooks, and Perry also asked Trump to preemptively pardon them for their role in overturning the election, according to testimony at Thursday's Committee hearing.
FRCA's website says it endorses "good policy makers" who support "faith, family, and freedom."  However, the House hearings suggest it endorsed officials whose loyalty to Trump led them to embrace illegal means to keep him in power. Matt Campbell, who oversees FRCA's endorsements, did not respond to phone calls from MinistryWatch.
Here's a look at some of the politicians who were on the hot seat during the recent hearings, and their relationship to pro-family groups.
Access to MinistryWatch content is free.  However, we hope you will support our work with your prayers and financial gifts.  To make a donation, click here.
Wisconsin Senator Ron Johnson
Johnson, who has the endorsements of American Family Association, American Family Association Action (AFA Action), and Family Research Council (FRC) Action has been a regular guest on FRC's Washington Watch with Tony Perkins.
According to text messages presented at Tuesday's hearing, Johnson planned to deliver slates of fake electors for Wisconsin and Michigan to Vice President Pence on Jan. 6. "There's no conspiracy here," Johnson told reporters Tuesday. "This is a complete non-story."
Missouri Senator Josh Hawley
On Dec. 30, 2020, Hawley became the first U.S. Senator to announce he would object to counting electoral votes on Jan. 6, saying he wanted a "full investigation" of alleged voter fraud. 
The editorial board of the Kansas City Star, the state's largest paper, said Hawley's comments "poured gasoline on the raging fire that led to violent insurrection at the Capitol a week later."
On Jan. 6, Hawley gave a fist bump sign to protestors gathering for Trump's rally before objecting to Pennsylvania's electoral votes, resulting in calls for him to resign and the loss of a contract for a book that was later picked up by a conservative publisher. His campaign now sells coffee mugs with the fist bump image, claiming the mugs are suitable for "liberal tears."
On Feb. 4, Hawley appeared on the Focus on the Family radio program with Focus CEO Jim Daly. "Your attempt to, to silence me is wrong. It is in fact unconstitutional," he said in the broadcast.
Daly expressed support for Hawley, saying his call for a full investigation into voter fraud was "questioning the constitutionality of the vote," which "seems like a fair question."
"I'm honored to be a target," Hawley said, blaming the public blowback on his sincere Christian faith, not his role in the election. "The Bible says it's an honor to be able to stand for the Lord. It's an honor when you're criticized for your beliefs, when you're criticized for being faithful."
Alabama Senator Mo Brooks
"Today is the day American patriots start taking down names and kicking ass," Brooks told the crowd gathered on Jan. 6. Brooks later said Trump lobbied him to help overturn the election.
Brooks has received 100% endorsements from the major pro-family groups, including Concerned Women for America, American Family Association Action (AFA Action), and the Family Policy Alliance, which was created by Focus to coordinate the work of 30+ allied state family policy councils. In 2019, Brooks received FRC's "True Blue" award for his 100% voting record on conservative, pro-life, and pro-family legislation.
Arizona Representative Paul Gosar
The organizer of the Jan, 6 Stop the Steal rally said Gosar gave him a tour of the Capitol building the day before it was breached. Gosar has spoken at white nationalist events.
Both Gosar and Brooks have 100% ratings from: American Family Association. American Family Association Action (AFA Action), Catholic Advocate, Christian Coalition of America, Concerned Women for America, Eagle Forum, Faith and Freedom Coalition, Family Policy Alliance, Family Research Council (FRC) Action. 
Colorado Representative Lauren Boebert
Both FRCA and Focus have embraced Boebert, Colorado's pistol-packing freshman representative, who tweeted that the Capitol attack was a "1776" moment.
Focus's politics-oriented Daily Citizen praised Boebert in a December profile, "Newly Elected CO Representative Lauren Boebert Embodies the American Dream." The article did not address Boebert's Christian faith but noted her pro-gun agenda. After Boebert's gun set off metal detectors installed to protect the Capitol after the attack, Daily Citizen had her back: "Democrat-Led Congress Introduces Metal Detector in Capitol, Pro-Gun Representatives Frustrated."
Boebert recently told people attending Andrew Wommack's family camp that Jesus didn't have enough AR-15 rifles "to keep his government from killing him." 
West Virginia Delegate Derrick Evans
Derrick Evans had recently been elected to the West Virginia House of Delegates on the promise that he would "spend every day fighting for Christian values!" He filmed himself entering the U.S. Capitol on Jan. 6 and later resigned without serving a day in office. Evans received the endorsement of the Family Policy Council of West Virginia.