James MacDonald's Home on the Market for $1.9 Million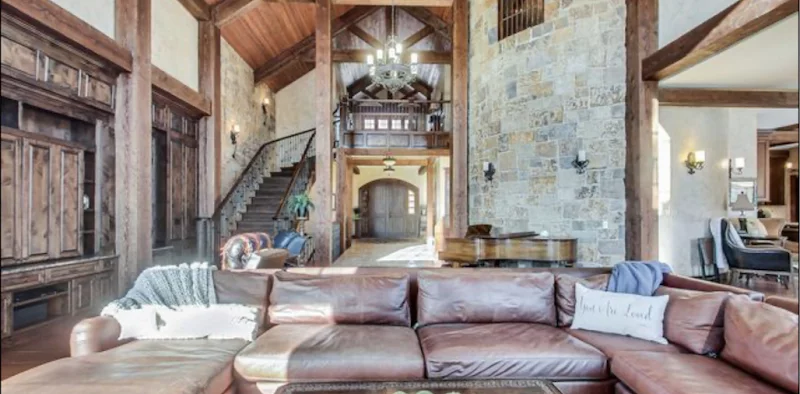 Disgraced former pastor of Chicago-based Harvest Bible Chapel, James MacDonald, has listed his home for $1.9 million, according to documents obtained by Julie Roys. 
Roys also says information gathered from social media accounts connected with MacDonald suggests he may be moving to the West Coast. 
The listing is significant because it's the home MacDonald seemingly downsized to after elders at Harvest Bible Chapel claimed he had made "several lifestyle adjustments," including "downsizing to a smaller home in Elgin." MacDonald told Roys in a 2018 interview that the home was smaller than his previous home in Inverness, Illinois, which sold for $1.8 million in 2014 and clocked in at 6,700 square feet. 
Roys posted the private listing on her website, which says the five-bedroom custom home in Elgin, Illinois, sits on 10 acres and boasts "extraordinary finishes," a "custom-built gourmet kitchen," "ample indoor/outdoor entertaining areas," and a master with "a den, walk in closet, en suite, and workout room." Roys also posted more than a dozen photos of the grand property.  
Wincy Mathew, wife of Harvest Bible Chapel information technology director Philip Mathew, is listed as the seller's agent. 
The listing doesn't give square footage, but Roys says she obtained an appraisal submitted to the tax assessor's office by MacDonald's attorney that states "the home has 6,891 square feet of gross living area, plus a 2,600 square-foot garage and a more than 2,000-square-foot finished basement."  
Then, on February 29, MacDonald posted a video to Instagram, on which someone posted, "James and Kathy. Praying for your move. Welcome to the West Coast. Can't wait to see you and to be front and center to receive the gift of your teaching." 
The comment was made under the private account @chelseacameron8, who Roys, after digging around on Instagram, says appears to be Chelsea Noble, wife of Christian actor Kirk Cameron. 
Roys says the Camerons are known friends of the MacDonalds. A photo posted to Instagram last year by James MacDonald's wife, Kathy MacDonald, shows her along with Cameron and Noble outside with the comment "Life giving day hiking/praising/cooking (kirk) & catching up with dear friend chelsea."  
Roys also connected @chelseacameron8 to Noble through another Instagram account @ahnacameron, who appears to be one of Cameron and Noble's daughters. She commented "love u mom and dad" and tagged Cameron's official account and @chelseacameron8.  
MacDonald has faced harsh criticism for living an extravagant lifestyle, misuse of church funds, bullying and for lewd comments caught on mic that eventually got him fired in 2019 from his pastoral role at Harvest Baptist Chapel. After his ousting, The Christian Post reported that financial statements spanning 2016 through February 2019 showed MacDonald had been paid an annual salary of more than $1 million.