International House of Prayer Resigns from Evangelical Council for Financial Accountability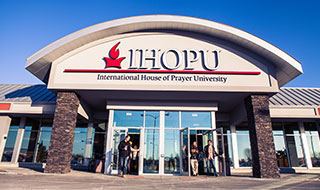 Missouri-based International House of Prayer–Forerunner Christian Fellowship withdrew its membership from the Evangelical Council for Financial Accountability on Jan. 31, according to a list of recent membership changes. The status change is labeled as voluntary, meaning the organization is not under a compliance review by the ECFA. 
Forerunner Christian Fellowship, based in Grandview, is a ministry of the International House of Prayer (IHOP) of Kansas City. The charismatic and often-controversial organization is known for running a 24/7 live-streamed prayer room it describes as "a perpetual solemn assembly gathering corporately to fast and pray in the spirit of the tabernacle of David."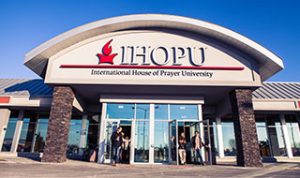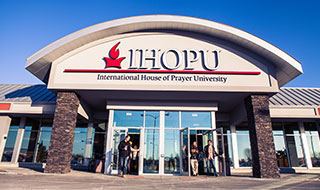 IHOP was founded in 1999 by Michael Bickle, whose theology centers around living out the Great Commission through fasting, prayer, worship and acts of service, emphasizing prophetic experiences, end-times studies and historic premillennialism. IHOP's 2,000 full-time staff, students and interns spend 50 hours per week serving in the prayer room, classrooms and outreach. Its unaccredited Bible college, the International House of Prayer University, operates three schools focused on ministry, music and media. 
IHOP–Forerunner Christian Fellowship was first accredited by the ECFA in April 2016. The reason for its voluntary departure is unknown, as IHOP did not respond to repeated requests by MinistryWatch for information. 
Access to MinistryWatch content is free.  However, we hope you will support our work with your prayers and financial gifts.  To make a donation, click here.
Over 2,500 churches and ministries across the U.S. are accredited by the ECFA. Since churches are exempt from filing Form 990s with the International Revenue Service, ECFA's annual accreditation serves to signal members' commitment to upholding financial best-practices. ECFA's accreditation is guided by its Seven Standards of Responsible Stewardship, including doctrinal issues, governance, financial oversight, use of resources and compliance with laws, transparency, compensation-setting and related-party transactions, and stewardship of charitable gifts. 
The International House of Prayer (the parent organization) hasn't filed an annual Form 990 since fiscal year 2014. Its 2014 tax return shows revenue of $5.37 million.
But it has apparently grown dramatically since then.  Because IHOP–Forerunner Christian Fellowship resigned from the ECFA, its membership page is no longer live on the site. But archives from the Wayback Machine show that IHOP generated $23.28 million in revenue in fiscal year 2015 (ending June 30, 206).  Its revenue also exceeded $20-million in 2017, 2018, and 2019. 
IHOP received a $2.5 million Payroll Protection Program loan to secure 473 jobs during the COVID-19 pandemic. The Forerunner Christian Fellowship separately received a $215,900 loan, with 61 jobs reported. 
IHOP's Controversial Road
The International House of Prayer has faced many controversies over its 21-year history, including a brief trademark infringement battle waged by the International House of Pancakes restaurant chain in 2010. IHOP (of pancake fame) ultimately dropped its lawsuit against the church, opting to resolve the dispute privately. 
A much more serious problem surfaced in 2012.  IHOP gained national attention in October 2012, when former IHOP-KC intern Bethany Deaton was found dead in the backseat of a van with a note, an empty bottle of acetaminophen and a plastic bag tied over her head. Detectives initially ruled the death a suicide until International House of Prayer University student Micah Moore came forward 10 days later to admit that he killed Bethany Deaton. 
Moore and Deaton lived together as a part of a communal prayer group led by her husband of two months, Tyler Deaton. Moore confessed that the group had performed several sexual assaults on Bethany, and Tyler had directed him to kill his wife before she disclosed the abuse to her therapist. Moore was charged with first-degree murder but later recanted his confession, arguing it was made in a delusional state soon after he participated in an exorcism hosted by an IHOP-affiliated group, Prisoners of Hope. Prosecutors accepted the argument and dropped all charges against Moore in 2014. Deaton's death remains unsolved. 
IHOP denounced Tyler Deaton's prayer group and denied any involvement in the case, maintaining that Deaton led the group independently, though some members were enrolled in the university. 
Another notable moment in IHOP's history was its portrayal in the 2013 documentary God Loves Uganda, which covered the organization's missionary work in Uganda amid the backdrop of its controversial Anti-Homosexuality Bill. The proposed legislation would impose the death penalty or life imprisonment for people who violate the country's ban on same-sex relationships. The original draft was amended to remove the death penalty clause, and the new version was passed by the Parliament in late-2013 and signed by President Yoweri Museveni in 2014. Later that year, however, a court ruled the Anti-Homosexuality Act invalid over a technicality. 
The film heavily features then–IHOP media director Jono Hall, The Call co-founder and senior IHOP leader Lou Engle, and IHOP-affiliated missionaries Joanna Watson, and Rachelle and Jesse Digges—all discussing their mission to spread Christianity in Uganda. 
In a dedicated FAQ page, IHOP states it never supported the Anti-Homosexuality Bill, and the only missions team it sent to Uganda is the one featured in the documentary. It adds, "We have very little to do with Uganda as an organization; we do not have missionaries in Uganda and do not send a dollar of our budget to Uganda." 
IHOP's and founder Michael Bickle's teachings are often criticized in evangelical circles. The church is often associated with the New Apostolic Reformation (NAR), an informal offshoot of the Pentecostal and charismatic movement that replaces traditional church governance with prophets and apostles, pushes dominion theology, and emphasizes meaning through dreams, visions, contemplative prayer and other practices.  On its website, IHOP denies any part in the NAR movement, though it admits friendly association with NAR-identified ministries. Still, organizations like the Apologetics Index and Berean Research consider Bickle a NAR leader.