Inside The Only Independent Culinary Academy For Christian Chefs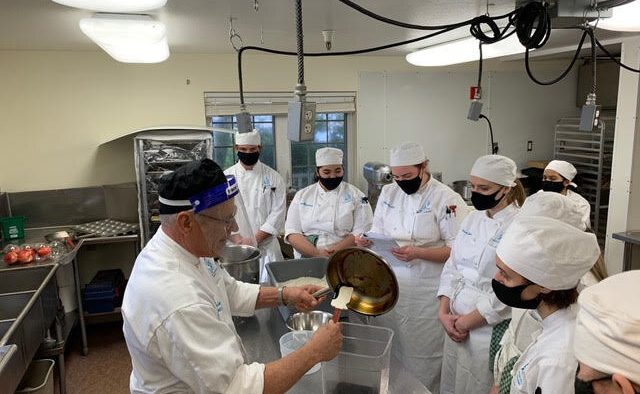 Although the sun was barely up in this small town on the Oregon coast, 12 of us were listening to a "fromage lecture" in a classroom decorated with pictures of food groups. Our windows looked out into a parking lot dotted with puddles from a storm the night before.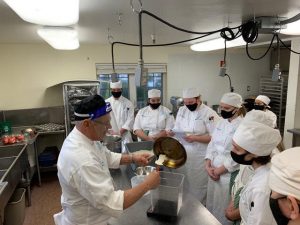 On the west side of the building, waves were curling lazily up on the beach just 200 feet from the classroom.
Each of us had a small plate with six cheeses ("fromage" is the French word for cheese) arranged in a circle. Bowls of toasted baguettes were nearby.
As we listened to the talk by Catherine Limousin, a cheese expert from Tours, France, we sampled the various items: a Rove des Garrigues goat cheese, a slightly nuttier Valençay, then a slightly salty Cantal, from France's central volcanic region.
Following those was a Beaufort, an Ossau-Iraty (from the Pyrenees) and a Blue Auvergne. The lecturer explained the difference between artisanal and "farmer" cheese; how many kilos a typical cheese wheel weighs, which one goes best with cherry jam (the Ossau), and how to pair a wine with a cheese.
Access to MinistryWatch content is free.  However, we hope you will support our work with your prayers and financial gifts.  To make a donation, click here.
The students, three men and the rest women, were dressed in white chef shirts with Nehru collars, cloth knot buttons, and baker skull caps. All had a food thermometer attached to their left sleeves. One could glimpse a Bible here and there on a desk or in a backpack. Yes, this was a culinary school—with a difference. Since 2013, the Christian Culinary Academy has flourished in this artsy coastal getaway, barely two hours away from Portland (named "America's best food city" by the Washington Post in 2015).
There are a handful of other Christian institutions offering courses or associates' degrees in culinary arts, including Bob Jones University, Dominican University, College of the Ozarks, Siena Heights University, Livingston College, and Southern Adventist University (where students learn to cook without using meat as a base protein because Adventists tend to be vegetarians).
But the Oregon program is the nation's only stand-alone Christian school not dependent on a parent university. It is part of Christian Chefs International, a 23-year-old organization of 2,000 members having its annual conference this week in Cannon Beach. Students also cook for a twice-monthly café (see below) and for the school's annual fundraising banquet in April. Those events are open to the public.
"This is not a Bible college slash culinary school," said Ira Krizo, 44, president and founder of the school, which is non-denominational. "It's a culinary school with a biblical foundation. We have devotions every day; all the students are believers so we disciple each other." The bulk of them are evangelical Protestants, but all varieties of Christians are welcome.
The typical student is in his or her early 20s, although older ones do enroll, including a student in her 60s who wanted to start a cooking business on a yacht. Krizo requires students to have worked in at least one restaurant before enrolling and to get used to the memorization, repetition, and hard work. Because the program is a two-year curriculum load compressed into one, the hours are long.
One is not a chef immediately upon graduation. After an internship at a local restaurant, students start a small climb up the food industry ladder, apprenticing themselves for years at various restaurants in an industry that has been devastated by COVID-19 closures.
Various guest chefs drive in to teach a specialty. Today it was Jim Krieg, the retired executive director of the Canyonview Camp in Silverton, Ore., teaching us the finer points of bread and pastries. We retired to the kitchen where the students donned long white aprons.
In one corner of the kitchen were shelves filled with spices, oils, and seasonings. All manner of tables, warmers, stoves, mixers, baking sheets, speed racks, bread, and pastry carts lined the room.
Krieg plunged into lessons on how to cook ciabatta, an Italian white bread, then bagels, which, after being blanched in hot water, were rolled in sesame seeds, onion and garlic powder, caraway and poppy seeds. This was a favorite unit for Emmy Hirengen, 20, of Klamath Falls, Ore., who's been working either in a bakery, butcher shop, café, or bagel shop since age 15.
"I never wanted to go to culinary school, but God put it in my heart to go," she said. "'You're going to go and I'm going to provide the means,' He said. This will take me to the next level where I want to be workwise."
Josh Bishop, 20, of Killington, Vt., always wanted to go to cooking school. After a year at a Bible institute in Florida, he moved to Oregon and wants to open a food truck after he finishes his studies.
"It's great being with like-minded solid Christian people," he said. Krieg approached him and, after fishing around some ciabatta dough that Bishop had been working, found a few dry lumps.
"You should have gotten these," he told Bishop, who looked a bit crestfallen. The students were then handed assignments for various pies after Krieg made a batch of streusel dough to be used for crusts.
Also present was a school alum: Marcos Duran, 25, of Poulsbo, Wash., who completed the program two years ago and was back helping Krizo run the school. He had worked three years for a restaurant on Bainbridge Island in Puget Sound, which is where God, he said, instructed him to go to culinary school.
Duran considered the Art Institute of Seattle, but opted for the cheaper tuition and Christian environment in Cannon Beach.
"I have a heart for teaching cooking," he said. "What I've learned is there are a lot of little things that add up to making a good chef," like the difference 30 seconds makes when boiling pasta.
As for protein, "Seafood is incredibly finicky because it's easy to overcook," he said. "But if you cook shrimp correctly, slightly underdone, then they'll be more than tender. There are things you can learn that turn something good into something great. It's a mindfulness of everything."
What would he suggest for a young would-be cook?
"Start with fast food," he said. "It might not always seem like real food but there's an aspect that comes over into professional cooking. Any kitchen, even fast food, is good entry level, just to dip your fingers in the water."
As the day wore on, yummy things popped out of the ovens. The poppy seed bagel had just the right salty crunch. The pie crust was sensational and flaky. Later we all pigged out on a variety of fruit, meringue, sour cream peach, and other pies the students tried. (Later, I discovered I'd gained two pounds that day.)
To finish off the 8.5-hour day, which had no real break, Krieg gave a talk centered on a verse in 2 Corinthians 5.
The students all seem to believe in a divine guidance that brought them in this direction.
Morgan Georgioff, 26, an alum who guest-teaches Peruvian cuisine, has a five-year history with the school, starting in 2015 when she was one of three students enrolled. She then worked at a popular, high-traffic restaurant in Cannon Beach for several years, then moved to a jungle city in Peru, where river fish, chili peppers, and potatoes (Peru has 4,000 varieties) were the main staples.
Because of transport difficulties over mountain ranges and jungle terrain, "You get what you get," she said of food availability. "Some days it's there and some days, it's not, so you arrange your menu with what's available at the markets."
She eventually returned to Cannon Beach to work as a bread and pastry baker at Sea Level Bakery south of town.
"Being here has changed my life in more ways than one," she said. "It gave me confidence to try lots of things. If you'd told me earlier that I'd go live in the jungle for a while, I'd not have believed you."
She also never thought she could handle work in a high-volume kitchen servicing the hordes of tourists who crowd Cannon Beach in the summer.
"I learned I could do things when God gives me strength," she said. "The school gave me confidence to believe that I could do the things God had for me."
Krizo felt divinely directed toward cooking as well. The son of horseradish growers, he grew up attending a non-denominational church in Tulelake, Calif., just south of the Oregon state line. He dreamed of becoming a commercial airline pilot, but after he moved to Prescott, Ariz., to enroll in a flying school, he realized he needed a side job to pay the bills.
Thinking he'd wait on tables, he showed up at a local human resources office, where a burly man he'd never met before walked up and asked if Krizo liked to cook.
"Two hours later, I started at a Sheraton Hotel as a banquet prep cook," Krizo remembered. "I had no experience whatsoever. Then God told me, 'You're not a pilot; you're a cook.'"
This revelation required quite a shift in plans, beginning with leaving the flying school and scraping together the money to attend the Culinary Institute of America in Hyde Park, N.Y. There, he encountered other Christians, all of whom felt isolated in following such a secular calling. What if, Krizo thought one day, there was a worldwide Christian chef's network of people wishing to run the industry on Christian principles, starting with treating restaurant workers kindly? Then a light went on in his brain.
"Very few times in my life has God given me such a crystal clear vision," he said. "I wanted to find others we could fellowship with, keeping Christ as our foundation."
So in 1998 at the age of 22, he founded Christian Chefs International, attracting luminaries such as Graham Kerr, star of the famed "Galloping Gourmet" TV show, to serve on his board.
"It's a tricky business for a Christian witness to exist," said Kerr, who met Krizo at the culinary school when the latter was a student. Kerr, who is now retired and living in western Washington, keeps in touch with Krizo and guest-teaches via video at the school. He is speaking at this week's conference on how cooks can survive in a post-COVID industry.
Kerr pointed out that the restaurant business is about giving people pleasure, even when what they want to eat (too much alcohol, sugar, refined carbs, salt) isn't good for them.
"So where do you go to work as a Christian meaning to do less harm?" he asked. "If you want to be in business, you have to use those elements to get customers." His solution is to make healthy food so delicious, people are lured to try it.
The hours in this industry are tough. Restaurant workers are "on" (weekends and holidays) when everyone else is relaxing, making it tough to have a consistent time off, much less be with one's family. Plus, it's a risky small business kind of venture; restaurants have been the hardest-hit business in the era of the coronavirus with massive amounts of workers losing all or most of their income.
After graduating, Krizo's next 14 years were spent wandering the world, including a six-month stint in southern France under the late renowned French chef Roger Vergé. He traveled around Europe, focusing on different food cultures, then landed a job at an unlikely spot for Italian cuisine: an Italian restaurant in Sydney, Australia ("under one of the best quality chefs I'd ever worked for,") then moved back to the United States to work as a sous chef for the Calvary Chapel Conference Center in Murrieta, Calif. From there, he worked as a lead line cook for a French restaurant in San Diego.
He moved to southern Oregon to be closer to family, taking a position as a sous chef at a restaurant in Ashland then as head chef for an Italian restaurant in nearby Medford. After three years running his own restaurant/bed and breakfast near Ashland, he moved to Portland as a head chef for a catering company.
"Then I wondered how great it'd be to have a Christ-founded culinary school," he said. "I didn't know that God would have me start one." There was little out there to model such an experiment. He knew of faith-based nursing schools but nothing like that for cooks.
Nevertheless, in 2012, he began a school at the Canby Grove Conference Center south of Portland. Four students enrolled, but the kitchen wasn't big enough for his needs. Then the chef of the Cannon Beach Conference Center contacted Krizo to say they were fundraising for a new kitchen and dining room on some beachfront property. Would he be interested in relocating there?
Krizo moved the school the following spring, and in the fall of 2013, two students enrolled. The numbers have gradually climbed and last fall, in the middle of the pandemic, the school attracted eight students. The $21,212 tuition and fees include room and board, chef uniforms, cooking and baking tools and a knife kit.
Enrollment is capped at 12 for more personal attention. "In a class of 25," Krizo said, "one chef can't watch 50 hands at a time or taste 25 sauces."
Kerr said that students in a large school rarely get such individualized attention, which is why he's supporting the effort at Cannon Beach.
"He has always been the straightest arrow in anyone's quiver," he said of Krizo. "He is deeply committed to the profession and deeply committed to the Lord. He pays attention to everything you tell him and does it well."
If you go:
The Christian Culinary Academy serves take-out meals, to raise money for student scholarships, monthly at Café Dieu—"God's Café," from 4:30-6:30 pm Fridays at the North Coast Family Fellowship in Seaside, the next town up the coast. See cafedieu.org if you're in the area for the menu, order form, and directions.
The academy is also planning an annual fundraiser banquet April 21-22. Depending on Oregon's COVID regulations at the time, the event may be part sit-down, part take-out dining. See cafedieu.org for updates or the academy's Facebook page. Or call 503-794-4083.
If you are already a chef and interested in networking with the group, the Christian Chefs International Facebook page is here.
Where to stay: Surfsand Resort, just down the street from the cooking academy, offers lux beachfront room balconies, parking (very hard to find in this town), a pool, outdoor showers, and an oceanfront restaurant, the Wayfarer, at which several academy alums have interned. Right outside its windows is the striking Haystack Rock plus some very tame seagulls who badger you for a crumb or two. Rates are particularly reasonable during off-season months. Call 855-632-6744.
This article first ran at Religion UnPlugged. It is reprinted with permission.