Graham Kerr To Have A Movie Made About His Life As A Christian And Climate Change Activist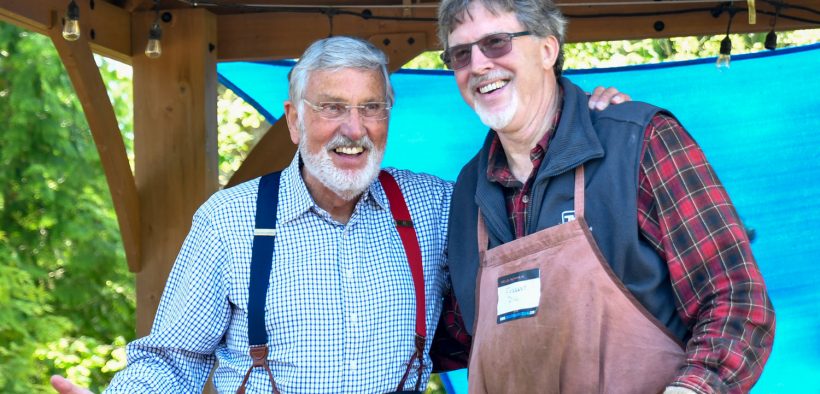 He was once an international TV star, the king of food television, and "high priest of hedonism" with 200 million viewers in the late 1960s and early '70s for his show "The Galloping Gourmet."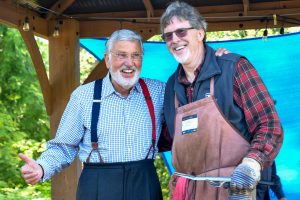 Now 85, Graham Kerr is no longer the comic, wine-guzzling host who lit up daytime TV, becoming famous for leaping over chairs to enter the set, a glass of wine in one hand (which he didn't spill, thanks to plastic placed over it). He taped some 1,800 programs in all, enjoying a stellar career until he and his wife Treena had a devastating car accident in 1971. Eventually, both found Christ: her in 1974 and him in 1975.
Then they walked away from it all, disappearing from public view for years.
These days, he's involved in a whole different mission: the making of a movie about his life and how he has slowly evolved into someone who's part philosopher, part climate change activist, and always a cook. He served on the board of Christian Chefs International, and now guest-teaches via video at the Christian Culinary Academy, the only independent culinary academy for Christian chefs.
Slated for release next spring, the movie's working title is "Galloping Upstream"—upstream against the culture, that is. Kerr focuses on his shift from once impulse-buying a mansion to downward mobility: how to live more simply, leave less of a carbon imprint, give to the poor and "find a way these days to do less harm," he says.
Access to MinistryWatch content is free.  However, we hope you will support our work with your prayers and financial gifts.  To make a donation, click here.
After their conversions, he and Treena resurfaced in the Pacific Northwest, pioneering a low-fat gourmet cooking style that was light years away from Kerr's signature rich menus laden with red meat and saturated fat. The immediate reason was Treena's 1987 heart attack. Kerr began to seek ways for both of them to eat more simply and lightly. Recent years have been mostly low-key, particularly after Treena's 2015 death. In 2018, Kerr republished his 1969 classic The Graham Kerr Cookbook.
These days, he's helping to raise money for the film, which is why, earlier this year, he was preparing a salad outside on a picnic table during a fundraiser in a Seattle suburb.
And only Graham Kerr can wax eloquent on tearing apart spring greens.
"You've no idea how much I've wanted to do this on television," he said, holding up an almost-wilted leaf. "This still has the memory of life in it. Surely you can treat it nicely," as he grabbed more greens, "but you never cut it with a knife."
He then lifted a spoonful of avocado, tomato and dried fruits marinating in Chardonnay and mango dressing. He had a joke for the Presbyterians in the crowd. If a service goes over one hour, the congregation goes limp, he said. Ditto for lettuce.
'The Lord made it'
Kerr is one of the major personalities from Jesus movement days still alive, healthy and alert. Despite the silver hair, he has much the same dashing good looks that delighted TV viewers 50 years ago.
But Kerr is still all about his faith. He quotes John 3:21 while telling supporters about his newest project.
"The film must be about the truth," he said. "I had a major turn. I went from food for profit to food for health and the Lord made it."
Scott Finley, the founding partner of Mighty Media Studios, a local video production company, and Schy Gleason, a marketing expert who is also the film's executive producer, each took an interest in Graham Kerr's story and began to market him once again.
"We're after a great story," Gleason said, "because we have a fascinating man."
Referring to Kerr's astounding audience size back in his heyday, "Game of Thrones had 18 million viewers in the final season," Gleason added. "The Tonight Show on a good night is under three million. The level of fame he had is not what the usual TV star has these days."
Still a showman with an impeccable sense of presence, Kerr, with his British accent and quick wit (although he first became famous in New Zealand, he was born a Scot), kept people entertained as they lunched on various wines, pork, salads, and burnt chicken. Then at one point, Kerr segued into how he mourned his wife's death for many months until he got a mental picture of the Virgin Mary holding Jesus during the Nativity. He seemed to hear her invite him to hold the baby Jesus.
"To hold Him and to feel His heartbeat against mine, I experienced pure joy," he said. "I don't know how to love God with all my heart, soul, and mind but I wanted to try. I wanted to do this film and explore how I could love Him more.
"When I was asked whether to do this (film), I've taken so many steps toward joy. I wanted to show a real life lived and show people that God did it."
Archived footage and Kerr's new terrain
His producers filmed him in some spectacular terrain such as the stunning rock islands in Cannon Beach, Ore., and in various coastal locales north of Seattle, such as an estuary in Skagit Valley, the wheat fields and meadows in Clear Lake and Edison and on Chuckanut Drive in Bellingham.
The filmmakers have also benefited from the enormous goodwill much of the entertainment world still feels toward Kerr. Not only did they get archival footage from Johnny Carson and David Letterman shows on which Kerr appeared as a guest, but the Discovery Channel, which owns the rights to all 455 "Galloping Gourmet" episodes, gave them unlimited access.
Bob Peterson, a Seattle-area photographer who did a spread on the Galloping Gourmet for Life magazine back in 1968, offered hundreds of negatives from his work for almost nothing. He was at the picnic, talking about how he was sent to Ottawa, where the show was being filmed, to capture footage of the "clown in the kitchen."
"Graham came in jumping over the chair with a glass of wine in hand and I thought, 'Yeah, what now?'" he said. He also remembered how Trina, who produced the shows, would produce a multi-page critique after each segment. "She'd grade it and she'd beat you up."
Gleason calls all the free archives and donated footage "miracles that were dropped in our lap," estimating they would have had to shell out $100,000 to pay for those rights plus filming equipment that Finley's company loaned out at no charge.
Finley said Kerr was the perfect subject for a movie.
"For an 85-year-old, he is the best-case scenario," he said. "He has perfect recall and remembers in great detail conversations we had a year ago. He's the most agile brain of anyone I have ever met in my life. He fearlessly examined his life with great honesty. He is someone who acts with perfect integrity.
"Graham said we could ask anything, and we did."
Kerr's environmental consciousness 
The film starts with Kerr at a private school in southern England and works through his incredibly varied life, including his slow march toward environmentalism that sounds more like a 20-something than an 80-something.
"I have been gifted by experience to be useful as a watchman," Kerr says. "We can look back just prior to the United States being formed to the arrival of the biggest single change for mankind: the industrial revolution. That affected everybody everywhere. This cannot continue. If it does, we will destroy the planet by the end of the century.
"This is the second stage of the industrial revolution we're facing now. Every person on the planet needs to re-assess where we are going next. Individual choices will need to be made. Assess the harm you may be doing and make a creative choice to change."
And so, he has simplified his own life.
"I've also changed my car, my house, where I fly, and how I vacation," he says. "I'd fly business class because other people were paying. I was put up in great hotels. The Pierre in New York was normal. Well, Holiday Inn is normal now."
"I drive a Nissan Leaf (an electric car). I used to drive a (Infiniti) Q45 and at one stage, a couple of Rolls Royces. In the past 34 years since I've been a Christian, that is a dramatic change. But day by day I am still making choices. It is being environmentally personal."
"And if I changed, so can you."
Living on less
Kerr continues to work on downward mobility, as it were. The very weekend of the fundraiser, he had moved all his possessions from a cliffside 1,700-square-foot home, designed like a boat and overlooking Puget Sound to a two-bedroom apartment (without a view) 18 miles to the south. He's now in a retirement community in the town of Warm Beach. Instead of a kitchen with every imaginable appliance, he now works in one that's about the size of a ship galley.
"He has a joy about his life," Finley said. "He wants to try to live smaller with a smaller footprint. He is trying to live on $250/month (for food) to see if he can do it."
Living on less bothers Kerr not a whit.
"The degree to which you can let go of things that are distracting is the degree to which you recognize that God is leaning in towards you in a completely loving and accepting way," he said.  When you make the relinquishment the desire of your heart, you become more aware of God's love…All I am doing is removing some distractions."
Producers are still gathering footage for the film, including a trip to England next month to get more locations from Kerr's life, and trying to raise more funds for publicity and distribution.
They see the project as a chance for it to be a light during what may be a dark and divisive election year.
"A still small voice will be needed in the media noise of next year," Gleason said.
But several generations have passed since Kerr's fame was at its height and now there's a whole network devoted to food shows. What can Kerr offer today?
The Rev. Robert Dalgleish, a longtime friend of Kerr's and an Anglican clergyman who attended the fundraiser, suggested that Kerr, who experienced significant success among secular as well as Christian audiences, can reach just about anyone.
"What Graham wants more than anything else for us to do is to be blessed by this and others—that they would see beyond the terrors of their lives to a loving God," he said. "In that end, that is what Graham is all about. He wishes to present God in the most exquisite way. He makes God edible. You can feel God when you talk to him."
Visit GallopingUpstream.com for ongoing information about the film.
This article first ran at Religion UnPlugged. It is reprinted with permission.