Financial Associate of Pastor Kirbyjon Caldwell Sentenced To Six Years in Fraud Scheme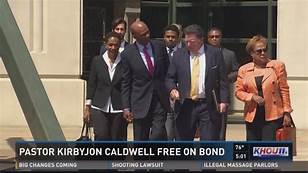 A former financial investment advisor who worked with Houston pastor Kirbyjon H. Caldwell to convince multiple victims to invest approximately $3.5 million in worthless Chinese bonds has been sentenced to six years in prison for conspiracy to commit wire fraud, the U.S. States Attorney Office for the Western District of Louisiana announced.
Gregory Alan Smith was ordered to pay restitution in the amount of $3,588,500, as well as a fine of $100,000. His prison term will be followed by three years of supervised release.
Caldwell, the former senior pastor of Windsor Village United Methodist Church, pled guilty in March to conspiracy to commit wire fraud for his role in the investment scheme. Smith had pled guilty to the charge in July 2019.
Sentencing for Caldwell is set for Dec. 3. He faces between five and seven years in prison, a fine of up to $250,000, and up to three years of supervised release despite making partial restitution to the victims and agreeing to pay the remaining balance of nearly $2 million before his sentencing.
According to the States Attorney's Office, Caldwell and Smith convinced multiple victims, many of whom were elderly and retired, to invest in historical bonds issued by the former Republic of China before the communist regime took power in 1949. The bonds are not recognized by China's current government and have no investment value.
Victims received a "participation agreement" indicating that if the sale of the bonds failed to occur within a certain number of days, their money would be returned.
"In doing so, the defendants abused the trust and respect of their victims for the sole purpose of stealing their money. This type of deceit can be devastating for victims, especially when life savings are lost," said Acting United States Attorney Alexander C. Van Hook.Smith received $1.08 million of the total $3.5 million and used it to pay down loans, purchase two luxury sport utility vehicles, place a downpayment on a vacation property and maintain his lifestyle while the victims did not receive the promised returns, the attorney's office said.
The Shreveport Times previously reported that Caldwell used $900,000 of the funds intended for investment to pay personal loans, mortgages and credit cards and for personal living expenses.
"This case proves that even those you trust to have your best interest at heart sometimes may not. The victims in this case thought their trusted advisor and friend would never lead them astray but sadly, he was merely a con man who led them down an unwanted path," Van Hook said. "Our office will continue to be vigilant in holding defendants such as this accountable for their fraudulent actions."
Caldwell remains a "lay preacher" at Windsor Village and his wife, Suzette Caldwell, is serving as interim senior pastor, according to the Roys Report.