EDITOR'S NOTEBOOK:

Does "He Gets Us" Get It? PLUS: Reflecting On YouVersion's Record Day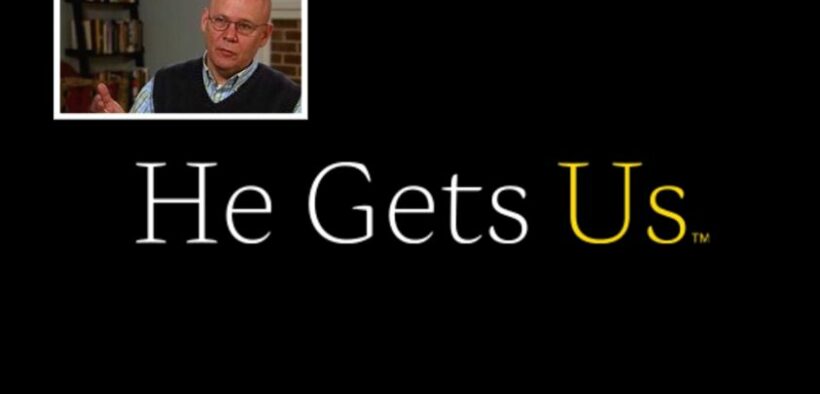 Editor's Note:  Most Saturdays we will feature this "Editor's Notebook" column. MinistryWatch President Warren Smith will comment on one or more stories in the week's news, adding an additional perspective or, sometimes, a behind-the-scenes look at how the story came to be. 
Preserving Anonymity. MinistryWatch mostly focuses our coverage on Protestant evangelical news stories.  However, occasionally we veer out of our lane when we see a story that we think might be of interest to our core audience.  Such a story came our way this week from Knoxville, Tenn.  In an unusual move, a judge said an alleged rape victim is going to have to use his legal name in his lawsuit against the Catholic Diocese there.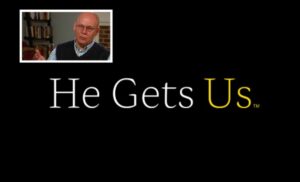 The Catholic Diocese of Knoxville argued that an alleged rape victim must use his legal name instead of a pseudonym protecting his identity before continuing a lawsuit he filed against the church. A judge there bought the argument.
We've recounted a more complete version of this story elsewhere, so I won't tell the whole story here. I mention it now just to say that this decision could be a blow to those who want to hold powerful institutions accountable for their actions.
I'm not alone in this opinion. According to Knox News, the ruling shocked sex abuse advocates. Several advocates called the maneuver an intention to intimidate Doe and scare off anyone contemplating reporting a sexual assault in the future.
If you saw the movie "Spotlight," which told the story of the Catholic Church sex abuse scandal in Boston in the early 2000s, you may remember Mitchell Garabedian, played by Stanley Tucci in the film. Garabedian weighed in on the Knoxville case. He said the diocese was acting in a heartless manner "which indicates a complete lack of understanding of the evils of clergy sex abuse and the damages caused by clergy sex abuse." He said the diocese was trying to intimidate and "revictimize" the victim.
But they have apparently failed. The good news is that the ruling hasn't deterred Doe. His attorney said he will be re-filing the case, using his real name, soon.
Access to MinistryWatch content is free.  However, we hope you will support our work with your prayers and financial gifts.  To make a donation, click here.
Does "He Gets Us" Get It? We've been reporting on the "He Gets Us" campaign for several months.  If you haven't been following along, it's the $100-million media campaign that's trying to sell Jesus to skeptics. You can read some of our past coverage here.
Now, missiologists — the people who study missionary efforts and their effectiveness — are weighing in on the campaign, and they're finding flaws, or at least gaps, in the Jesus the campaign is pushing. Some are suggesting that the message of the "He Gets Us" campaign might have the unintended consequence of giving people just enough Jesus to inoculate them from the real Jesus.
Michael Cooper, an author and missiologist, says he is a fan of the ads, saying they communicate the human side of Jesus, but he also says that there is a fine line between a partial representation and a false representation.
Cooper and a colleague offer what he called a "constructive critique" of the campaign in an upcoming article for the Journal of the Evangelical Missiological Society. That article calls for clearer messaging about the divine nature of Jesus.
Is A Giving Slowdown Coming? MinistryWatch just completed its second quarterly survey of ministry executives. Among the findings: The majority of the country's largest Christian ministries saw their revenue increase over the last 12 months.
 Sixty-one percent of ministry respondents said their organization's revenue increased, about 17% said it remained flat, and about 19% experienced a decrease in revenue.
So if 61 percent said revenue had increased, how did that compare to the last time we did the survey?
When MinistryWatch asked the same question in October 2022, over 72% of ministries responded that their revenue had increased in the last twelve months.  So the survey suggests a bit of a slowdown from just three months ago. One of the values in asking the same questions over time is to surface trends, so…stay tuned.  In a few months we'll be able to see if two data points will a trend make.
Wait.  What?  Two weeks ago we reported that the app YouVersion reported the highest single day engagement of its app in its 15-year history. On Sunday, Jan. 15, more than 12 million people turned on their smartphones to read the Bible.
When we first reported this story, it sounded like good news, but the more I think about it, the more I wonder.  If the story had been that the biggest day ever was a Tuesday, I think I would have a different reaction than knowing it was a Sunday.  It seems to me that this means that a whole lot of people are leaving their Bibles at home and using their smart phone in church. I wonder if we're really seeing new Bible readers, or merely new app users. We've ditched the paper version for the digital version.
Maybe I'm just a curmudgeon, but I've come to the conclusion that this may not have been such good news after all.