Designing Churches is a Calling for Some Architects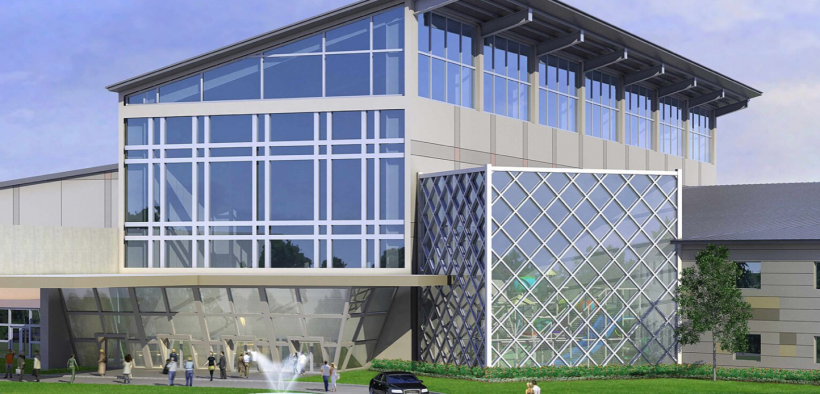 Steve Upham didn't mean to get into the architecture of sacred spaces. When he was an undergraduate at Texas A&M University, one of his professors required his students to work for a real client, and Upham reached out to a friend's father, who was on the building committee of a local church.
Now, at 63, his relationship to church design has changed: The president at Crosspointe Church Architects in Houston, Upham has built nearly 300 churches, and every project he takes on, he said, illuminates his faith.
A church, Upham said, is not just one client: Church architects have to think about structures that serve the current congregation — itself often a collection of different groups with their own interests and wishes — and future congregations.
Upham first assesses what he calls the church's personality. Who are the churchgoers and where do they live? What language do they worship in? How do they do baptism and Communion? Is there a choir? How much Christian symbolism belongs in the worship space? What is the church's mission and what services does it provide?
To answer these questions, Crosspointe conducts community conversations called charettes and Upham attends services to see the church in action. Upham's team may also suggest elements the church hasn't considered, such as coffee shops or space for child care facilities, whether to generate income or simply for group cohesion.
"My observation is Christian fellowship occurs best over food or a beverage," said Upham. "It's not formal, you know. It's very, very comfortable. And then you're willing to really share your heart with somebody. It breaks down barriers."
What a church needs to be in the future depends on whether it's in a growing area, wants to do more in an already tight spot or is trying to shift its mission. The pandemic drastically changed the way many congregations think about how they worship, perhaps paving the way for more flexible seating to allow distancing in larger, airier worship spaces and more capacity for video streaming services.
Access to MinistryWatch content is free.  However, we hope you will support our work with your prayers and financial gifts.  To make a donation, click here.
While some architects say the COVID-19 pandemic will have little permanent impact on how they design, quickly evolving worship styles and ever-diminishing congregation sizes might. What they know for sure is that their services will be needed.
"People need to build community, both religious communities as well as fellowship," said Carter Hord of Hord Architects, founded by his father, Lawrence T. Hord Jr., more than 60 years ago. "So, we will always need to gather."
In this sense, Hord regards buildings that last for centuries as the ultimate sustainable buildings. He is often called on to add new rooms or entire buildings to revive the life of the congregation. Hord Architects oversaw the construction of a 16,300-square-foot single-story "family life center" at a large Catholic church in Memphis, Tennessee, to accommodate administrative spaces, a gym and a room for youth groups.
John Recny, the head architect at Helbing Lipp Recny Architects in Virginia, both designs new churches and restores older ones, upgrading some — such as his firm's wedding of a World War II-era chapel and a later church building in Arlington, Virginia, into a single, light-filled building — and sustaining those that are falling apart or have been abandoned altogether.
When a congregation declines, due to lack of funds, changing demographics in the neighborhood or the migration of churchgoers, Recny said attempting to restore such structures is of utmost importance — even if it means adapting them to homes, schools or worship spaces for other faiths.
"Many of the churches that were built back in the early 20th century, they were all built almost by hand by immigrants — the first wave of immigrants from Europe that came over. I mean, my parents were Slovak, and they built a Slovak church in their hometown," Recny said. "You don't want to throw that away without really considering the history on that."
There are also times when buildings that were not originally intended as worship spaces are turned into churches. Crosspointe Church Architects has previously converted old retail spaces or big box stores that go out of business into churches.
Building God's Way, a Utah-based church architecture firm, turned an 80,000-square-foot office building in Florida into the Iglesia Doral Jesus Worship Center. The Discovery Christian Church in Mars, Pennsylvania, was once a family fun center and the Light of Joy Church in Riverdale, Georgia, was once a Lowe's Home Improvement store.
Church architects learn to be adaptable, both out of respect for the beliefs and established ways of the community they are building for and because the funding comes not from profits but from passing the plate.
"We have to be good stewards of the money that is entrusted to us and entrusted to the project," said Recny, even when the budgets are ample. "Because they come from donations. They come from the sacrifices of the people in the congregation. And so, we are always very budget-conscious in our designs."
For these architects, too, a church is more than just a building; their projects are their way of giving back to the community.
"Our motto is 'service through architecture,'" said Hord. "That means service at three different levels — service to our clients, service to the communities in which they exist, and then ultimately, service to God. Because we feel like while we're not pastors, we are each given different gifts.
"We're doing it for God," he said.