Compassion International Wants Super Bowl Fans to "Fill the Stadium" by Buying Virtual Seats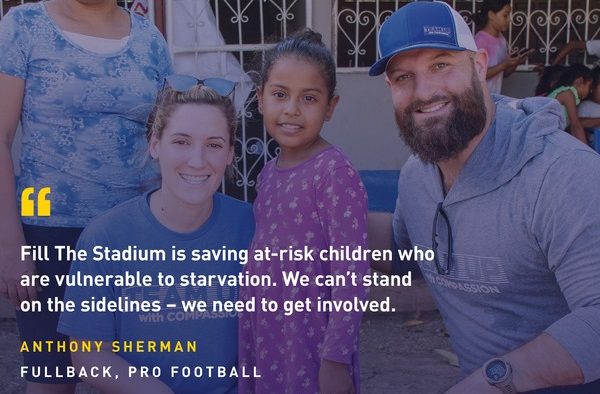 Raymond James Stadium in Tampa will be less than half full when the hometown Buccaneers take on the Kansas City Chiefs on Sunday in Super Bowl LV.
But Kansas City Chiefs fullback Anthony Sherman hopes generous donors will "fill" the empty seats by making a donation to Compassion International that's equivalent to the ticket price they would have paid.
Sherman is one of many professional athletes who have signed on to use their influence to support Compassion's "Fill the Stadium" campaign.
In normal non-pandemic years, campaigning at group events like Christian music concerts is one way the organization finds sponsors for children in need.
But COVID-19 restrictions meant large gatherings were prohibited in 2020, and as many as 70,000 children were going unsponsored, Compassion said.  So, the group turned its fundraising focus toward what empty seats at large sports venues represented—unspent money that could be redirected to a good cause.
Access to MinistryWatch content is free.  However, we hope you will support our work with your prayers and financial gifts.  To make a donation, click here.
"Almost every stadium is sitting empty right now. This is one stadium that cannot stay empty," said Fill the Stadium organizer Steve Stenstrom, president of Pro Athletes Outreach and a former NFL quarterback.  "Now, we watch pro athletes, other couples and people all across the nation stepping up to the plate saying 'Let's all bring our loaves and fishes together. Let's offer them back to Jesus. Let's ask Him, pray to Him to multiply them according to His plans and purposes.'"
The organization estimates that a typical game day experience for four people costs $541—including tickets, parking, food, and programs—although the Super Bowl normally comes with a much higher price tag. Even fans who watch from home spend an average of $88 on snacks, drinks, decorations, and other merchandise for the big game.
Compassion estimates that that same $500 could provide a year's worth of food, nutritional supplements, hygiene essentials, and COVID-19 medical screenings for children and families in crisis.
Raymond James Stadium has a capacity of nearly 66,000, but there will be just 25,000 fans in attendance for Super Bowl LV, including 7,500 vaccinated health-care workers. The Compassion campaign has so far "filled" almost as many virtual seats, about 23,000, according to the group's website.
Sherman, who will be playing in his second Super Bowl with the Chiefs, last year traveled to Nicaragua on a mission trip with Compassion and told Sports Spectrum that getting involved with the Fill the Stadium effort was "easy, a no-brainer."
He said the mission trip opened his eyes to the reality of what the children and families in the program live through each day.
"You're just given the perspective of if you hold God first and have Him in your life, all the stuff around—technology—is pretty pointless. You don't need it," he said. "To see the pure joy in those kids' hearts and knowing where their heart is, it was one of those things where I was like, 'Yeah, I'm getting aboard and I'm rolling with these people because they're stopping poverty in the most extreme way.'"