Christian Talk Show Host Eric Metaxas Named in Slander Lawsuit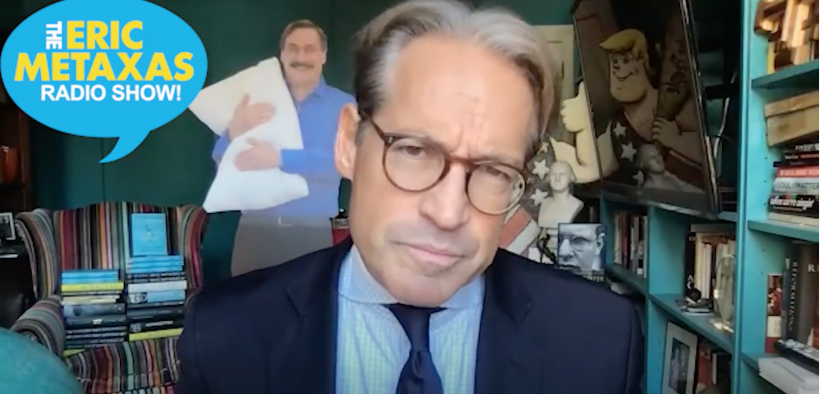 An amended complaint brought by lawyers for Dr. Eric Coomer names conservative radio host Eric Metaxas, among others, in a defamation case.
Coomer accuses Metaxas, former President Donald Trump, and others of spreading false claims that Coomer, vice president of Dominion Voting Systems, is part of Antifa and rigged the 2020 presidential election in Biden's favor.
The 66-page, originally filed in December but amended this week, focuses specifically on remarks made by Metaxas, blogger Michelle Malkin, conservative news and opinion website Newsmax, and Joe Oltmann, who Metaxas interviewed on his radio program, which is aired by the Salem Media Group, one of the largest Christian radio networks in the country.
Law firm Cain and Skarnulis PLLC filed the original suit in Colorado's 2nd Judicial District Court in December. The suit claims Coomer had been slandered and libeled when then-President Trump, his lawyers, and members of the media implicated Dominion in a supposed vote-fixing scheme.
"Specifically, this case is based on defendants' false and baseless assertions that Dr. Coomer…sits at the center of a national conspiracy to fraudulently elect the President of the United States," the lawsuit states, calling the defendants "integral to this effort."
Access to MinistryWatch content is free.  However, we hope you will support our work with your prayers and financial gifts.  To make a donation, click here.
Coomer says Oltmann's appearance on Metaxas' program, and other programs, made him the target of death threats and harassment and forced him into hiding, according to The Denver Post.
During one of the programs on which Metaxas interviewed Oltmann, Metaxas himself said of Coomer: "To have a man with this kind of power, the Director of Strategy and Security at Dominion, huge, powerful, international company…This is everybody's worst nightmare of deep state, George Soros. The idea that a man of this level, at a place like Dominion, which is operating all around the globe in elections, which got started in Venezuela, that somebody like that who despises America. You know, if you despise America, by definition, you become allied with these globalist forces, which are effectively fascist, Marxist, you know…The idea, the idea, that anyone would dare to try to mess with our elections, many patriots have died, suffered, and died, so that we can have what we have."
In a Dec. 8 guest commentary for the Denver Post, Coomer wrote, "A litany of defamatory statements continues to be made about me by officials with the Trump campaign, the president's personal attorneys, the president's family members, alt-media personalities, and countless social media trolls. I want to be very clear: I have no connection to the Antifa movement, I did not 'rig' or influence the election, nor have I participated in any calls, demonstrations, or other demonstrable activity related to any political party or social justice/action group."
Coomer told the Voice he believes the lawsuit will help him "reclaim my personal and professional reputation to the greatest extent possible."
"I put my trust in the legal process, which has already exposed the truth of the 2020 presidential election," he said.