Christian Ministries Deploy to Tennessee After Tornadoes Level Parts of Nashville and Surrounding Communities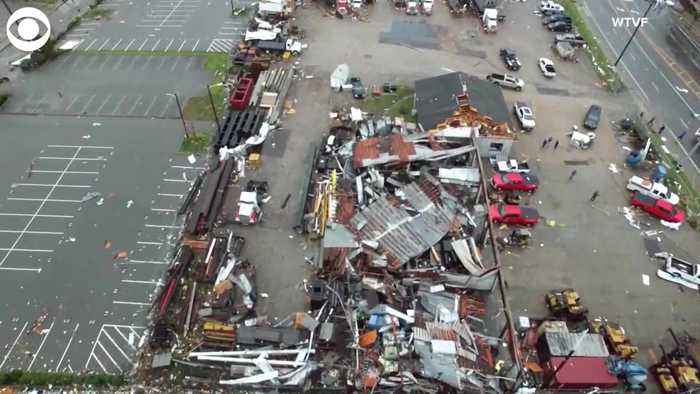 Several Christian ministries are deploying disaster relief teams to Middle Tennessee after a series of tornadoes hammered the Nashville and Cookeville areas early Tuesday, killing at least 25 across four counties.  
"It hit so fast, a lot of folks didn't have time to take shelter," Putnam County Mayor Randy Porter said, according to an AP report. "Many of these folks were sleeping." 
The Billy Graham Rapid Response Team (BGRRT) deployed chaplains Tuesday to the disaster sites. "We have crisis-trained chaplains en route and on standby to provide and offer God's comfort and hope through Jesus Christ to those who are grieving," said Josh Holland, assistant director of the BGRRT. 
Samaritan's Purse sent teams and tractor trailers filled with relief supplies to Mt. Juliet and Cookeville. Cookeville is in Putnam County where at least 16 people died. "Staff are working with local emergency management personnel to mount a strategic response and will coordinate with local churches throughout the deployment," the nonprofit said in a statement. "Our volunteer teams will assist homeowners with clearing trees and debris from yards and homes, placing tarps on damaged roofs, and sharing the love of Christ as we serve in Jesus' Name." 
Missouri-based Convoy of Hope has deployed its United States Disaster Services team to Nashville, carrying disaster relief supplies such as food, water, baby items and cleanup supplies. 
Tennessee Baptist Disaster Relief teams responded quickly even as the extent of the damage was still being assessed. "We have local teams that have already gotten out and are trying to help people in Nashville and the surrounding area," Wes Jones told Baptist and Reflector Tuesday morning. "Meanwhile we are working with emergency management services to better understand where we can deploy resources." 
Locally, a number of Tennessee churches are serving as shelters while others are assembling volunteers to dispatch resources and help to victims of the storm.  
"I'm super proud of our churches," Stone Association Director of Mission Mark Davis told Baptist Press. "In the face of tragedy, in the face of loss, we still find a way to come together as people and make sure that we're identifying with the body of Christ." Stone Association Disaster Relief teams were gathering early Wednesday morning to distribute help to communities. 
One of the tornadoes that slammed through Nashville stayed on the ground for 10 miles, according to a report from WORLD. It was one amongst a cluster that leveled 40 buildings throughout the city and left more than 44,000 customers without power. One of the twisters registered as an EF-3, according to the National Weather Service. An EF-3 tornado has winds in excess of 150 miles per hour and can cause severe damage or destruction to even the most well-constructed homes.   
Gov. Bill Lee declared a state of emergency, and schools and government offices closed, some for the rest of the week. The National Guard and volunteers searched for survivors and victims. 
First Baptist Church of Mount Juliet is one that experienced heavy loss. Their campus was damaged, and an elderly couple from the congregation died in the path of the storm. "Our greatest loss is always people, not property," their pastor Phillip Dunn told BP.   
"We believe in God's promises and all of us just really believe that this is the time to just let our light shine and love our community, put our arms around them," Dunn said. "Buildings can be rebuilt; most importantly, we want to touch lives for God's Kingdom, and this is an opportunity to do that."