Billy Graham Evangelistic Association Takes U.K. Venues to Court Over Canceled Events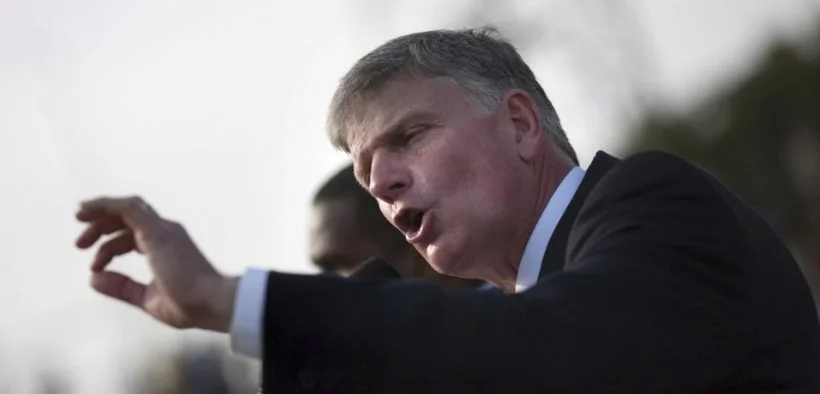 The Billy Graham Evangelistic Association is taking legal action against three venues for canceling events on Franklin Graham's evangelistic tour in the U.K., saying the parties involved broke legally binding contracts. 
The eight-stop tour, known as the Graham Tour, is slated to kick off at the end of May in Glasgow, Scotland, and wrap up in London at the beginning of October. But by last month, all eight venues had canceled their contracts amid mounting pressure from LGBT activists.  
BGEA first filed a claim against the Scottish Event Campus in Glasgow over its cancellation, requesting that the court require the SEC to fulfill its contract. The court gave SEC seven days to tell them why it had canceled the event, according to a statement by BGEA, which it failed to do.  
"The Scottish Event Campus Limited and Glasgow City Council notified the Billy Graham Evangelistic Association (BGEA) that they intend to resist BGEA's request for judicial relief, and have been advised that they will have another seven days to file a substantive answer," BGEA wrote in an update. "BGEA will continue trying to work toward a resolution that will allow the Tour to be held at the Hydro as planned." 
"This is ultimately about whether the Scottish Event Campus will discriminate against the religious beliefs of Christians," Graham said. "More than 330 churches in the Glasgow area alone support this evangelistic outreach and their voices are being silenced."   
BGEA subsequently filed claims against FlyDSA Arena, Sheffield City Council and Sheffield City Trust in Sheffield, England, and against ICC Wales and the Welsh Government in Wales. Graham was scheduled to speak in both cities in June.  
In response to claims that the tour would "lead to a breach of peace" or have a "divisive impact," a BGEA statement says that "in nearly 70 years of public evangelistic outreach ministry, there is no evidence whatsoever that any BGEA event involving Franklin Graham has ever caused a danger to public safety or incited public disorder." 
"The actions taken by these venues and those responsible for them to publicly repudiate these contracts are clear efforts to distance the decision-makers from BGEA, Franklin Graham and other Christians who hold similar beliefs," the statement continues. "There is no question that this was done under pressure from those with opposing views who have demonstrated a relatively predictable pattern of harassment and bullying of those doing business with BGEA." 
Of the eight venues scheduled to host the tour, Utilita Arena in Newcastle was the last to cancel after a petition led by the LGBT nonprofit Northern Pride gathered more than 5,000 signatures in a week urging the arena to drop Franklin from their calendar, The New York Times reported. The petition claims Graham has "publicly promoted homophobia, claiming that homosexuality is a 'sin', that Satan was the architect of same-sex marriage and LGBT+ rights and that gay people are causing a 'moral 9/11.'" 
Graham has insisted all are welcome to the one-day events, and that he is "bringing a message of love, hope, and forgiveness of sins for everyone." 
"As Americans, we should be concerned about the rise of secularism and the potential suppression of religious freedom and freedom of speech in the U.K," Graham said. "What happens there often makes its way to the United States. I will never sit back quietly and let the government—or any other power—silence the church and prevent the preaching of God's Word." 
Despite the canceled venues, Graham has maintained he will move forward with the tour, though no new venues are listed and the tour website says "Location TBA" for each of the cities. More than 2,100 churches have partnered with BGEA in the Graham Tour.