As Russian Attacks Intensify, Churches Organize Rescue Missions, Relief Centers And Baptisms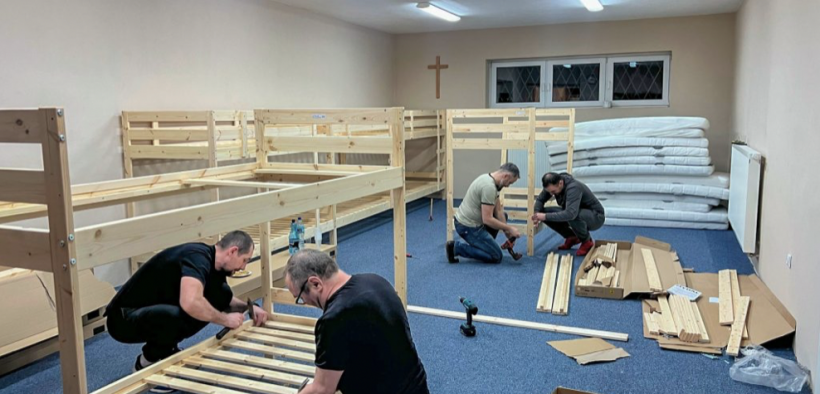 Dima Grischuk drove east on a snow-covered road in Ukraine. He passed a small line of cars—all headed west.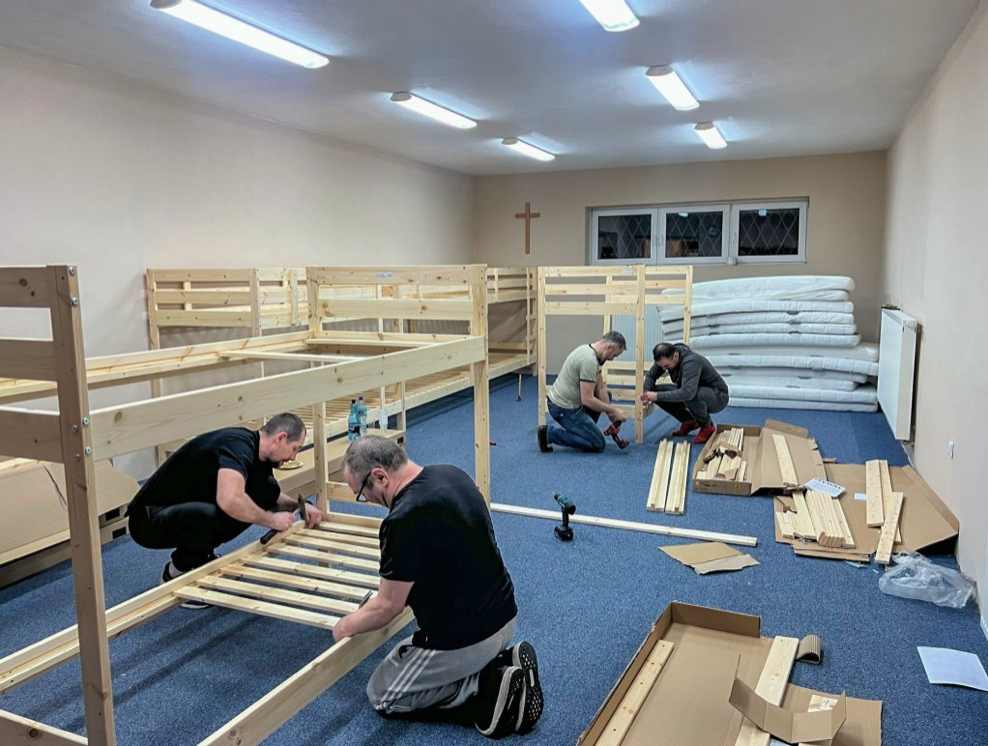 "You see, here is the real winter," the minister said. "We have 400 kilometers (to go), and we really hope that the weather will get better."
Grischuk is part of a caravan of Christians taking supplies to congregations in their country's hard-hit eastern cities. They plan to help churches set up bomb shelters and deliver aid. They also plan to bring refugees back with them.
In Ukraine's capital, Kyiv, Grischuk worshiped with a congregation named, appropriately enough, the City of Refuge Church of Christ. He taught at the Ukrainian Bible Institute, which prepares men and women for ministry in Ukraine. After conflict in eastern Ukraine broke out in 2014, he launched a ministry called Let's Love to provide relief aid for those displaced as pro-Russian separatists seized church buildings in cities including Donetsk and Luhansk.
"Look at these brave guys," Grischuk said in a video posted just before the caravan departed with giant yellow-and-blue stickers bearing crosses on the hoods of their cars and vans. "They are going with us to help people in need and to evacuate women and children."
Access to MinistryWatch content is free.  However, we hope you will support our work with your prayers and financial gifts.  To make a donation, click here.
'We are the pilgrims'
Fighting has intensified in eastern Ukrainian cities near the separatist-held regions, including Mariupol and Kharkiv. Rob Hindman, a former missionary to Kharkiv, posts regular reports to social media from his contacts in the city and across Ukraine.
"The pool of friends and contacts of ours that are still remaining in Kharkiv is shrinking as more and more people are finally deciding they shouldn't keep sticking it out," Hindman wrote in a recent post.
Julie Kachuk is one of the church members who made the painful decision to leave Kharkiv.
"Will I ever see my mother again?" she wrote in a social media post. "We are scattered all over the earth…I'm just crying. I can't hold back the tears. Should I be ashamed of this?
"My home now, it's a suitcase and a path—a path to a place (I) don't know yet. We are the pilgrims. All I know is that God is leading somewhere."
The situation in Kharkiv is bad, Hindman wrote, "but they still have it good compared to those in Mariupol," where many "remain trapped in a place where they are without electricity, internet and phone service and are possibly running out of basic food needs."
A minister for a Church of Christ in Mariupol was caught in the crossfire during an attack in the city and was struck in the head by a stray bullet, Hindman reported. The minister was listed as stable in a local hospital in late February, but Hindman said he has been unable to get additional updates. 
Europe's churches house refugees
As refugees pour across the border into the European Union, Churches of Christ in Poland, Slovakia, and Romania are setting up relief centers.
In Sopot, a town on the Baltic Sea in northern Poland, church members assembled bunk beds and prepared their meeting place to house Ukrainian guests. Brandon Price, an instructor at the Ukrainian Bible Institute, is working with the church and welcoming his fellow Christians.
"The Sopot Church of Christ has been such an example of what it means to love your neighbor as yourself," Price said. "It's a blessing to work with them in this."
Molly Dawidow, a longtime missionary in Sopot, assists in the distribution of food and supplies for the refugees. In addition to the essentials, "someone had donated a plastic bag full of these little cars," she said. She poured them out on a table so a young Ukrainian boy could take one.
"His little eyes lit up," she said. "He jumped up and down and clapped his hands together. I am telling you, folks, I couldn't hold back the tears.
"He couldn't decide between the green one and a red one but finally settled on the green one. I couldn't help it. I gave him the red one too. Later in the day, unprompted, he brought a translator and thanked me…Pray for God to heal his little broken heart." 
Good news in dark times
Back in Ukraine, the caravan from the Let's Love ministry planned to stop in the city of Poltava and assist members of a Church of Christ there.
Years ago, the small congregation in Poltava had split over doctrinal issues, church members told The Christian Chronicle during a reporting trip to Ukraine in 2015. Then a minister from Donetsk who graduated from the Ukrainian Bible Institute arrived in the city after his city fell to pro-Russian separatists. He asked the church members about the cause of the split and helped the two sides resolve their differences. The church began to grow again.
The latest conflict could produce similar stories, Ukrainian Christians told the Chronicle. In Kyiv, a Church of Christ experienced two baptisms as it sheltered Ukrainians in its basement.
In Warsaw, Poland, a young woman who fled Ukraine was baptized, said Jeff Abrams, a minister from Alabama who is working with refugees there.
"Our freshly washed sister has given us some desperately needed good news in these dark times," Abrams said.
This story first appeared in The Christian Chronicle.