Ala. Pastor Who Resigned Over Celebrating KKK Leader's Birthday Charged in Theft Case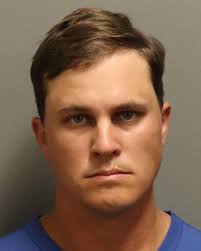 A week after resigning from his church over controversy for his invocation at a birthday celebration for the first Grand Wizard of the Ku Klux Klan, Alabama pastor and Republican state representative Will Dismukes was facing felony theft charges.
The former pastor of Pleasant Hill Baptist Church, Prattville, turned himself into Montgomery County Detention Facility Aug. 6 and was released on $5,000 bail. Dismukes, R-Prattville, has been charged with first degree theft of property and is accused of embezzling money from his former employer Weiss Commercial Flooring Inc. in Montgomery, where he worked before being elected to the state's House of Representatives in 2018.
Dismukes refutes the charges, and his attorney Trey Norman questions the circumstances surrounding the investigation. "In the political climate that we're in right now, the timing of all this is really interesting," AL.com quoted Norman.
The theft was first reported to authorities in May, Montgomery County District Attorney Daryl Bailey said Aug. 6 in a press conference announcing the charges.
"After countless hours of investigation, which consisted of witness interviews, obtaining bank records, and gathering other evidence – a decision was made by myself and prosecutors in my office, along with these investigators, that probable cause existed that a crime had been committed," Bailey said. "The warrant was signed for an amount exceeding $2,500. I will tell you the alleged amount is a lot more than that."
The charges follow Dismukes stepping down as bivocational pastor of Pleasant Hill Baptist Church on July 29, The Alabama Baptist reported. He resigned amid a firestorm of controversy over him posting a photo three days earlier on Facebook of himself standing amid various Confederate flags at a podium in front of a portrait of Nathan Bedford Forest, a Confederate Army general and KKK leader, in Selma.
In the July 26 post, Dismukes said, "Had a great time at Fort Dixie speaking and giving the invocation for Nathan Bedford Forest annual birthday celebration. Always a great time and some sure enough good eating!!" The post has since then been removed. Both Republican and Democratic lawmakers soon began calling for Dismukes to resign as state representative. That same weekend, friends and family were gathering at ceremonies in Selma to remember the late civil rights leader and U.S. Rep. John Lewis.
As of now, Dismukes has announced no plans to resign his post.
If Dismukes is convicted, theft of property first degree is a Class B felony and carries between two to 20 years in prison.