A Family Affair

The Brennemans include their whole family in generosity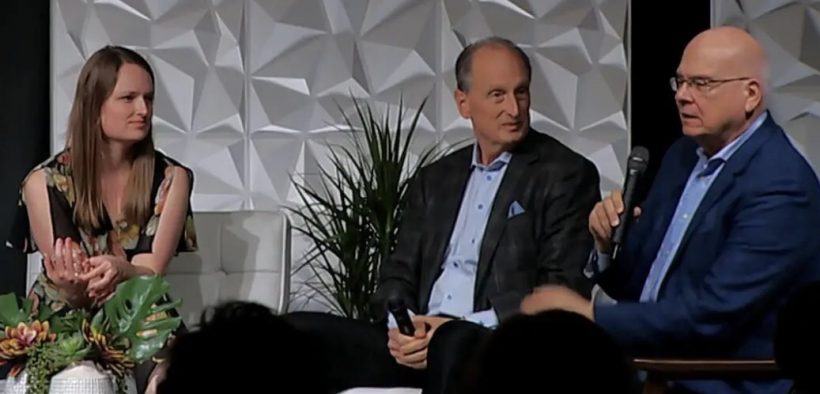 As parents, we wonder how much of our training will stick. Once the kids are on their own, will they eat vegetables or live off soda and pizza rolls? Are their rooms doomed to smell like gym socks? Will they forever be carpeted with unfolded laundry?
Then, the bigger questions—will they be engaged with a local church? Will they be lovers of money or lovers of God? Will they be generous givers?
To that last question, Greg and Ronda Brenneman have worked hard and seen sweet fruit. All the money they give to ministry, they give as a family. Each of their three adult children give of their own incomes regularly. They even spend Christmas day as a family allocating funds to charities.
As a businessman, Greg has been president or CEO of PwC Consulting, Burger King and Quiznos. In his early thirties, he brought fledgling Continental Airlines back from the near-dead. He's now executive chairman of CCMP Capital, a private equity firm. He's written two books: "Right Away & All At Once" and "Five Steps to Transform Your Business and Enrich Your Life."
Greg is known for pushing people to develop a one-page plan for their lives. "I suggest people use the five Fs—faith, family, friends, fitness and finance. If you can get those on a sheet of paper and really order your life around them, it has a dramatic impact," he said in an interview with his alma mater Washburn University.  
All in all, he's the big-picture guy. Ronda was the educator.
In an interview with Tim Keller at the 2019 Generous Giving conference, Ronda said teaching generosity started with a simple tool in elementary school—a ledger. "This is a book of pluses and minuses," she said. "How do you teach generosity? Well, first you have to understand money."
Grandma sends a $20 birthday gift. The ledger and pencil would come out, and the child would scribble in "$20—gift." Ronda became "the bank." Her daughter, Bethany, and two sons, Aaron and Andrew, could earn money by pulling weeds and other household chores.
At the store, when the kids drooled over a toy, Ronda would pull out the ledger. I don't need any toys, but you have money, she'd say. Spending money is a choice.
"Some children spend it all without any thought," she said. "Some don't spend the money. At very young ages you start to see someone is bent toward money."
Ten percent of any income would automatically be subtracted for church tithes. "[It] really instills in you that none of the money you get is yours," Bethany said in the interview.  
Now in her late 20s, Bethany remembers losing her glasses—$360 gone. "I remember that because I wrote that in my ledger." Money was also subtracted from their accounts for bad behavior.  
Bethany admitted that growing up she was "a bit sassy." She'd be in the car talking back, and her mom would calmly start saying, five, 10, 25, 50. "It was a painful lesson to put that in my ledger," she said. "But sometimes it's worth it."
As the kids grew into their teen years, they spent Christmas in a family meeting allocating charity money for the next year. Each family member was assigned charities they would present a due diligence report on.  
The kids could bring a new organization into the mix, but they had to prepare a budget detailing where the money would go and how it would be used. "It taught us from an early age there are so many different places you can give money to, but you want to give your money where its effectively going to be used," Bethany said.
The learning curve was not without hiccups. Ronda recalls one of their Christmas Day family meetings: "The youngest one came with this amazing presentation, and he wanted us to fund his own audio business. We were like, not quite what we're looking for—but it was a training ground."
The training ground began bearing fruit. Ronda remembers when Andrew was at college, and a piece of his mail got sent to their house. "Do I read it?" she asked herself. "Ah, I'll go ahead and read it." It was an annual contribution of giving summary from his church. It was "like fire in my hands" to know her son was giving without his parents managing him.
Bethany says she and her siblings sometimes collaborate on giving. Andrew gave to an organization where he lives in Texas and told Bethany about it. "He shot me all the information, so I could get involved and give money to that same organization in Denver."
For Greg and Ronda, their greatest joy in the last 15 years has been giving with their children.
"We only have so much time with kids before they're on their own," Ronda said. "Through a simple thing like a ledger we were able to manage moneys in, and then how they would choose to spend money."